I've been working with Party City on a few things lately – being that my little man's first birthday party is only weeks away!
I am REALLY excited for Halloween this year.  More than I have been for the last several years.  Want to know why?
The last Halloween I was able to enjoy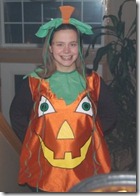 (as Halloween) was before Andrew was born.  I was 7 1/2 months pregnant if you can't tell.  The next Halloween I was in Ukraine doing a Dental Missions trip – and the following Halloween – well.  I was having a baby the next morning via c-section.  We worked all night on the final preparations while Andrew was at Grandpas house for Halloween.
So I have yet to spend time with my kids and enjoy Halloween with them – even though it is one of my most favorite Holidays.
So I need the perfect baby Halloween Costume this year for Ethan.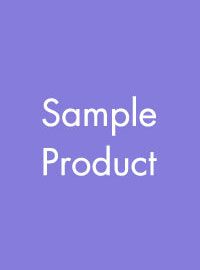 Ethan is my 'little monster' because he is SO grabby –So I REALLY started looking for monster costumes – but when I saw this costume I was totally smitten.
However.  … Then I saw the costume right next to it?!! and I was instantly in love.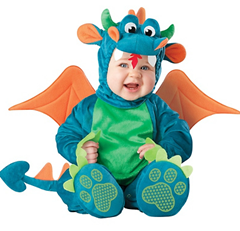 He's never really been a dragon, per-se… but – I love the colors!
Look at my little Dragon – He's so cute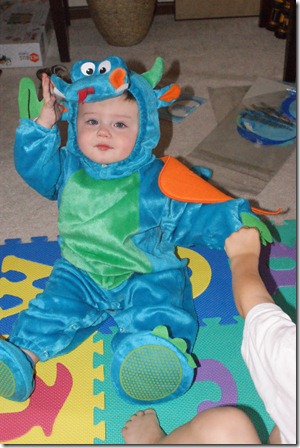 We had just pulled the costume out of the bag and put it on him – so it still needs to be ironed.  It also seemingly runs a bit larger than I had imagined (which might be a good thing depending on how cold it is!) but I ordered a 12-18 mos size for Ethan, and it's got plenty of room for warm clothes underneath.
The costume is SO well made – from the stitching that is fully finished, to the button snaps in the legs and the wings that also are button snaps – it's a great costume.  Best one I've ever seen actually.  Usually they're made really cheap and the seams are just not finished.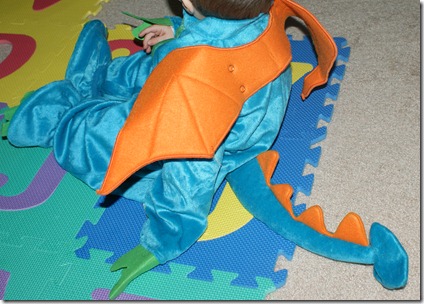 I was worried about the feet because Ethan has super long legs and doesn't fit well into most 'feet attached' type pajamas – but was pleasantly releived when I saw this one had booties that go over the feet instead of being attached.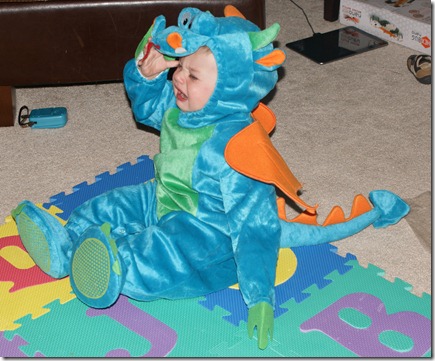 Ultimately if I had to do it again – I'd probably go with the little monster costume, because Ethan is not a big fan of the dragon head that droops in his face.  We're going to have to figure out a way to prop it up, or just go without the head on.  Whatever will keep a smile on his face!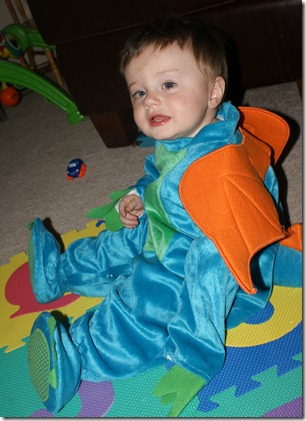 So when you're looking for your next Halloween Costume: Check on PartyCity.com or go to your local Party City! They've got tons of selection – and free shipping right now with the costumes!