I'm really sorry for those of you who are not in the Minneapolis/St. Paul area – because I'm about to make you all really jealous of my new 'gig'.
I've been working with a few other local bloggers (Jen from www.LifewithLevi.com and Erin from www.TheSlackerMom.com) on a very awesome and exclusive behind-the-scenes showcase of Let's Dish!.
With Let's Dish – you make nutritious, restaurant-caliber meals your family will love – with no trips to the grocery store, no time-consuming preparations, and no messy clean-up – all for LESS per serving than it costs to buy take-out or fast food.
Let's Dish! is an innovative store where you can make (or pick up) family-friendly dishes designed to be frozen and cooked when you need them. Unlike frozen food from the grocery aisle, these dishes taste fresh and homemade – because they are.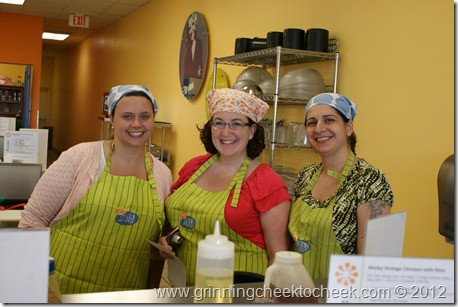 Last Wednesday night – the three of us met up with Darcy, the owner of Let's Dish! for a session – so we could experience what it was like to Dish! and have some first-hand experience at how great of an asset it is to go Dish! for your family.
Not only was it so fun – it was SO easy!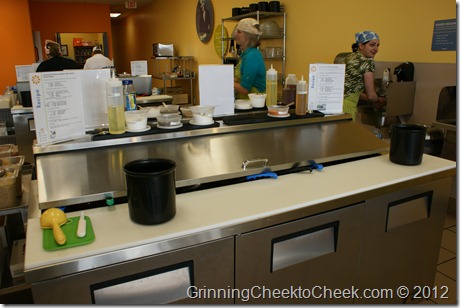 I literally went to a station, and everything was set up for me!
It told me exactly what I needed to grab, and all the proper measuring spoons and cups were in the proper containers – where I just grab it and fill it up.  Each meal took me about 4-5 minutes to put together – and then put a label on it, put it in the fridge and move on to the next meal.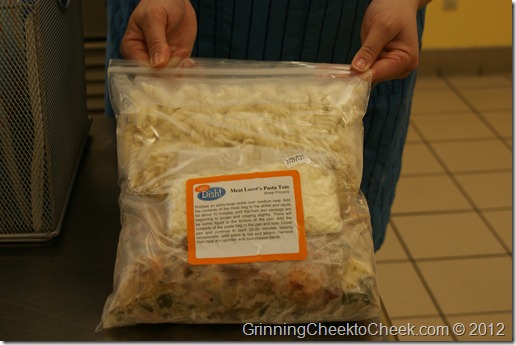 I didn't have to clean up either! Which is always awesome!
Let's Dish is super awesome not only for yourself – but they're a perfect gift for new moms too!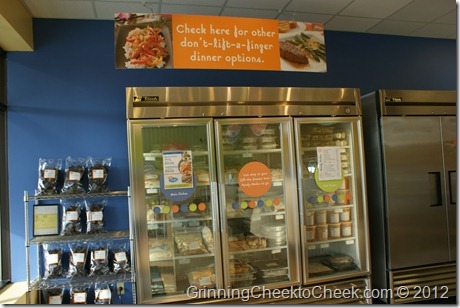 My MOPS leader just had a baby two weeks ago, so I dished a meal for her family as well!  Its so easy to put together the meals and have them in mom's freezer for an easy solution for dinner when sleep isn't exactly in abundance.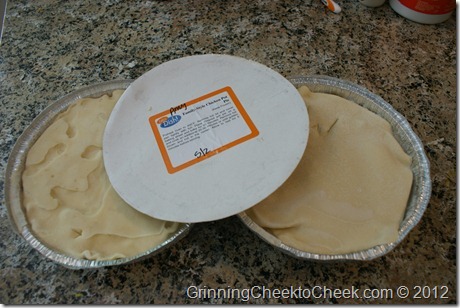 Also for the pregnant mom toward the end of the pregnancy when it's hard to move and hard to think of things to make for food!
The meals at Let's Dish! are made for 4-6 people, but often can be easily split into two meals that feed 2-3 people.  The pot pies above – are ONE meal, split.  That's a LOT of pot pie!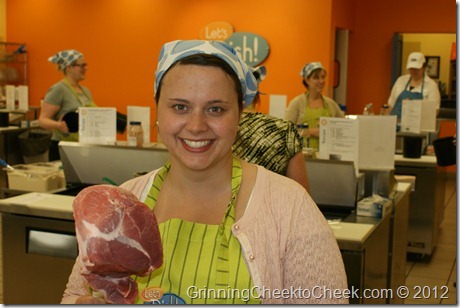 While dishing for my family, I split a few meals into 2 – which works perfectly fine for our family!  This below is one meal – but TWO full pork tenderloins.  Definitely one to split.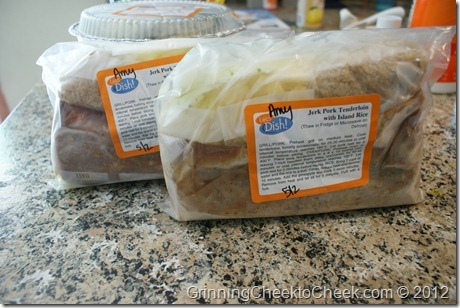 At home I have already used the meals to my advantage!  I was SO tired after getting home from Brandcation – that I had no time or energy to get to the grocery store.  I purchased enough food for the boys while I was away, but we were pretty much on empty when I came home.
Before going to bed I pulled out the Honey-Garlic Pulled Pork with Mashed Potates and let it defrost. The next morning I put it into the crockpot – and by dinner, I had an amazing meal with little effort.
And I'm still enjoying the leftovers!!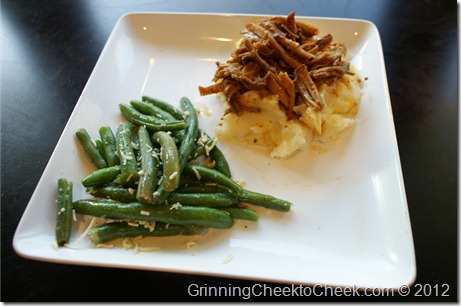 Even last night, Still haven't had time to get to the store (We did get milk and juice and bread… but nothing else yet!) so I pulled out the next meal: Pork Chops with Brown Sugar and Baked Beans.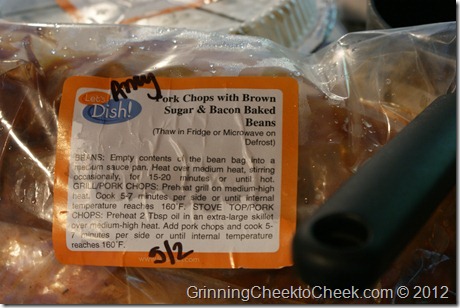 SO easy! Dinner was ready with little preparation, and very few dirty dishes!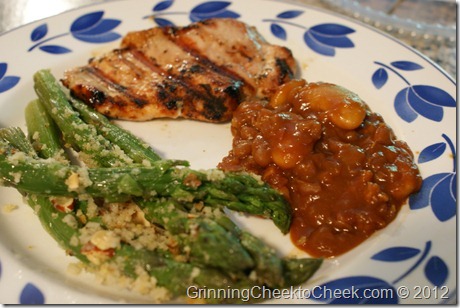 I'm hooked!
So Friends, Family, Spouses, etc – When you're looking for the perfect gift for a crazy busy, or tired, or NEW mom even – check out Let's Dish!
If you have a family member in the Minneapolis/St Paul area – you can also set up a gift card for them to come and dish their own meals –
Or if you're in the five state area – they offer delivery as well!! North Dakota, South Dakota, Iowa, Minnesota, and Wisconsin can be delivered to overnight for a $50 delivery charge – but an amazing gift that will be appreciated and remembered!
Do you often cook on Mother's Day?
I'm saving a meal for Mother's Day so I don't have to cook.  No Kidding.
While I do think that Let's Dish! is super awesome – I also have to admit that I was given the opportunity to Dish! free of charge. This in no way influences my opinion about them – it only makes me love them more!
Be Sure to Check out My friends' posts about how they're using their Dishes!  LifewithLevi and TheSlackerMom