My Father In-Law was married again almost a year ago.  Since then, him and his wife have been weeding through their possessions to try and fill one house, and not any more.  But being that Joe's mom had passed away just over two years ago now and they had a full house to begin with; and my Step-Mother-in-law had her own house full of furnishings – they're having to downsize quite a bit. They just brought over a bunch of stuff today to add to our house.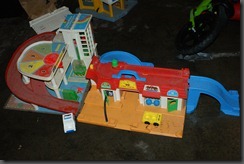 They've been going through the garage and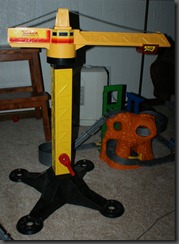 sorting through all the childhood treasures of my husband and his siblings – including a whole bunch of fisher-price toys and a giant crane.  My husband had been talking about the importance of getting Andrew and Ethan a nice big crane to play with, because he had one growing up.  Little did he know that they found his crane in the attic of the garage – and now we have it in our house!  Andrew has already taken a liking to all the toys and can't wait to play with them even more!
They've also gone through many treasured possessions of my late mother-in-law – like her oil lamps and some solid wood end tables.  Her end tables are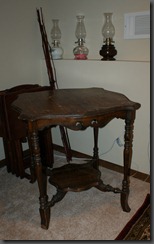 beautiful and we love them – Its more so that our style is more contemporary – and if we were to buy an end table today it would be more like this Winsome End Table because it would match our décor.  But every time I see her end table, it reminds me of her, and visiting them for various occasions.  I Love that it is filled with such memory.  I'm sure that we will treasure her end table though for much time to come.
We might be moving around our office furniture next though because we're going to be getting their piano. My office will be moving downstairs (Which is quite nice because its cooler down there).  Our house is getting smaller by the minute.