If the men in your life are anything like the men in my life?  They like to have books… in a VERY special place, by the ol' commode.  Christmas is a perfect time to refresh those books that have been there for the last year – and to get some new great information going through the brains of those men!
My father-in-law has always been one who enjoyed these types of books, so when I saw the press release on them, I just had to get my hands on each and every one.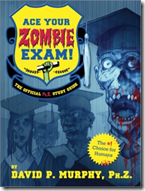 The Action Movie Buff – If he's into action movies, there's a good chance he's spent some time thinking about the zombie apocalypse. Help him prepare for that day with…
Ace Your Zombie Exam!
Humans, Zombies—we're not that different. We're all hungry for a better life or post-life. This guide offers not just any sample test, but the PhZ exam from the esteemed Port-Au-Prince Capon Academy. The Capon Academie's winter quarter does begin on December 19th. Get the classes you want by signing up early. Death Spells and Meat 101 usually fill-up quickly.Visit the Facebook page for trivia, videos and more! Find it on Amazon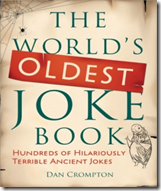 The Jokester – Do you know the guy who tells the world's worst jokes? He'll get a kick out of this collection of jokes so old they Greek, er, creak!
World's Oldest Joke Book
From absurd situations, to farting and foolishness, The World's Oldest Joke Book contains a wealth of jokes, some of which still hit the mark and some that will have you groaning with laughter (even if it is because they're so bad, they're good).
This is the book that we most wanted out of the pile, and man – my husband has had some great laughs already.  Find the World's Oldest Joke Book on Amazon.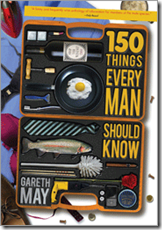 The Renaissance Man (or Renaissance Man Wannabes) – For both the guy who can fix the sink, iron his shirts, and wrestle a wild bear, as well as the guy who is calling a plumber, wearing a burned shirt, and looks a little mauled.
150 Things Every Man Should Know
The essential MANual to mastering everyday life as a guy. It's not easy being a man in today's world—living up to others' expectations of manliness can be nearly impossible. But if you memorize and utilize the tips and tools in this indispensible handbook, you'll no doubt find yourself dominating even the most challenging aspects of manhood. Find it on Amazon.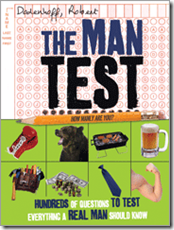 The Trivia Guy – Does he always know the answer (or at least pretend like he does) to everyone's random questions? He'll love plying everyone in sight with this quiz-format book.
The Man Test
Forget all those obsolete sports stats and useless action movie facts. Test your knowledge in the real categories that make a man, from finance and negotiation to etiquette and domestic skills. Do you know what a "master cylinder" is? Or what do when a shark is about to attack? Each chapter has a quiz followed by the answer key and fun facts!  Find this book on Amazon
So when you're looking for a great set of books to buy for that special guy in your life, look no further. These ones are sure to impress!