Ok – so don't let the title throw you off – I didn't REALLY fry Caterpillar Cocoons – I just made a tasty Halloween Treat Which I am Calling 'Fried Caterpillar Cocoons'!
They're really simple to make and are a great tasting, yet a little ghoulishly creepy to eat as well!
Simple ingredients needed:
Avocados From Mexico
Bacon
Toothpicks
(Optional Black Bean Guacomole)
Each Avocado makes apx 8 'Cocoons'
Avocados make a great Halloween party treat – While they are available year round, Avocados from Mexico are in their prime during the fall months, and the green just makes such a spooky color  – perfect for Halloween!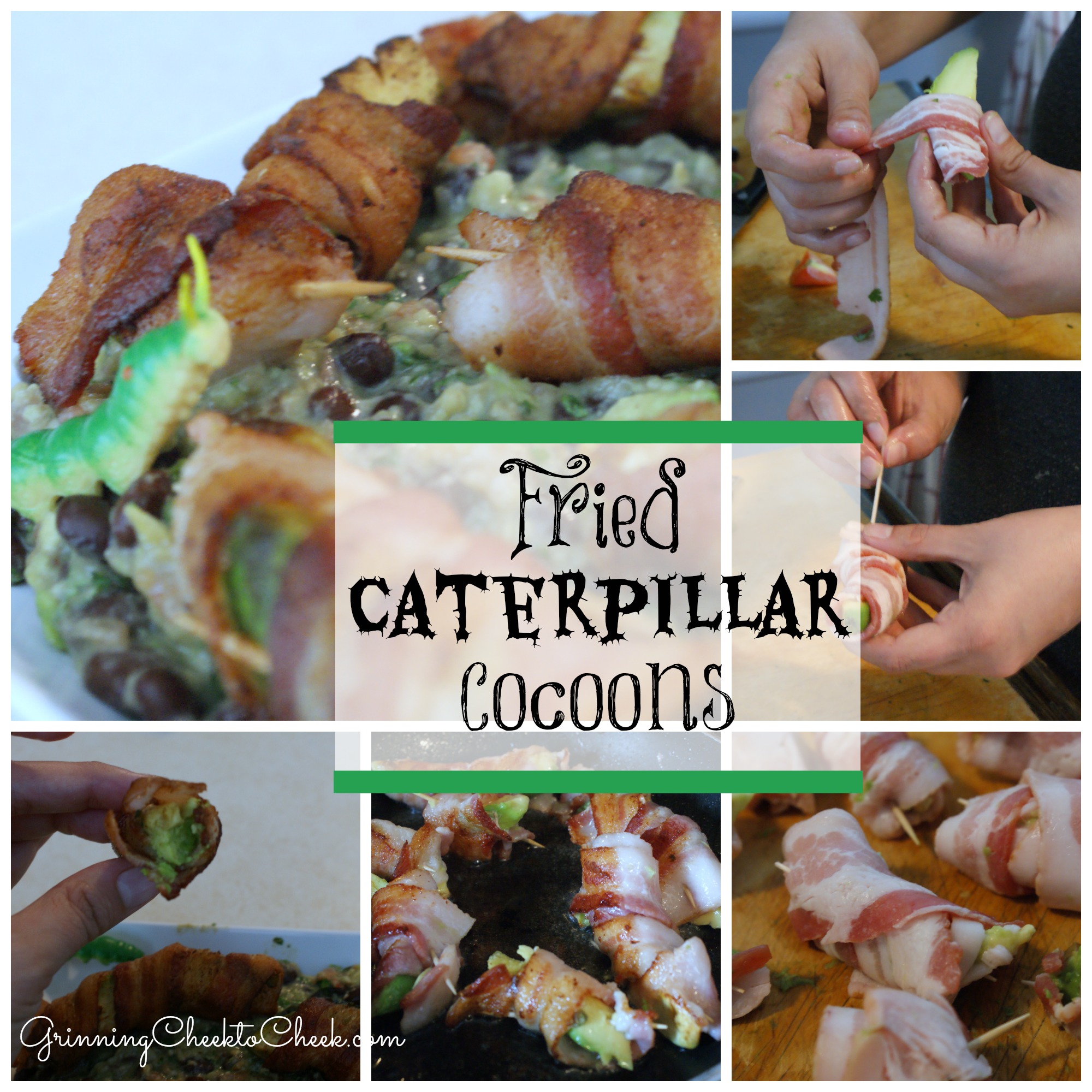 Recipe:
Slice The Avocado in Half, scoop out the pit, and scoop the meat from the skin.  Slice the avocado lengthwise.  Depending on the ripeness of your Avocado, some may break – but that is ok! Caterpillars come in all shapes and sizes
Take a slice of bacon (or half a slice depending on the length of avocado you're working with) and wrap around the Avocado. Put a toothpick through the bacon and avocado to hold in place.  You may need one toothpick on each end if it's loose on both ends.
Gentle hands are key here – especially if your avocado is more on the ripe side.
Preheat your pan on medium-high.  Add the Bacon, and fry it on each side until browned to be as crispy (or soft) as you prefer.  I personally liked it a little more on the crispy side.
Lay on a paper towel to de-grease.
Plate-up and enjoy!  I got the caterpillars and butterfly for $0.35/ea at Party City
They taste awesome – but while looking at them in this setting and thinking 'fried cocoon' they surprisingly are a little overboard for me.  They're crispy/crunchy on the outside, but then soft and perfectly mushy on the inside – but it gives you the feeling that you're eating caterpillar mush…. ew.
I wrote this review while participating in a Spookamole blog tour by Mom Central Consulting on behalf of Avocados from Mexico and received avocado items to facilitate my review and a promotional item to thank me for taking the time to participate.