We had our Birthday Boy Blast event back in September, and now I'm finally able to celebrate the fact that my baby boy is no longer a baby!
He is 1!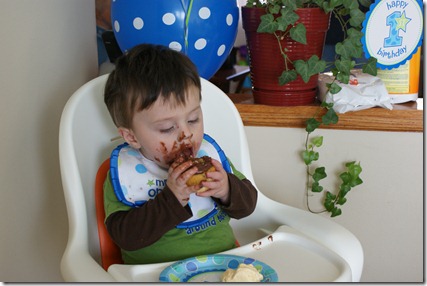 Unfortunately, he was SOOO sick over his birthday.  He had a Cold and double ear infection – and they said Hand/Foot/Mouth disease, but the sores only lasted for one day and then they were gone! He's feeling much better now though!
For his actual birthday we went to Bakers Square to have Dinner and then over to Toys-R-Us, where we had a gift card and coupons to help us get an awesome gift at a great price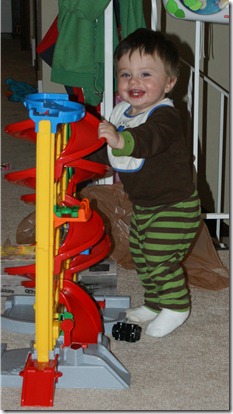 As much as I would love to say it feels like just yesterday he was born – I cannot.  It's been a long year.  But – I have more than enjoyed *most* of our moments!!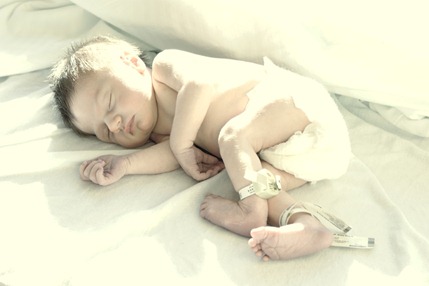 Earlier last week I got a coffee from Starbucks, and they had those cute red cups – and I had a MAJOR flashback – warm fuzzy feelings and all.  I was in the Hospital with Ethan for 4 days, and was constantly having headaches – and so my husband ran out to get me Starbucks.  It was exactly the same day a year ago that I had that exact drink in the hospital while cuddling my newborn…  I savored every sip.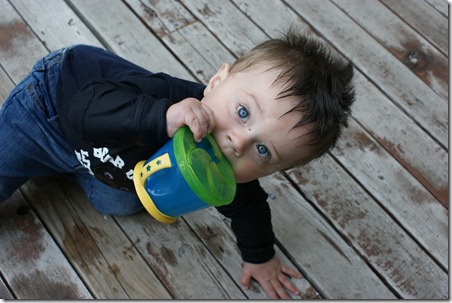 It seems like he just started crawling (well, because he did just start crawling in September…) and then BARELY had started to stand up for a few seconds at a time while hanging on to something – and then a week later he graduated to letting go for a second or two before he sat down – and the next week?? He started walking!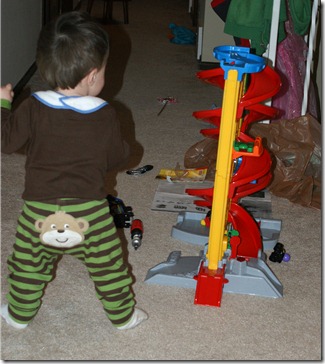 He's still super wobbly and falls often, but he's eager to run.  I caught him a few days ago running for about 4 steps before he fell on his face.  He wants to play with his big brother!
We had a kick-butt Birthday Party on Saturday to celebrate

I'll share over the next few posts about what we did for his party!!
Happy Birthday My Little Man!!!