Think about all those people that you see in the news stories, where a storm is forecasted and they rush to the grocery stores and clear shelves of food just before a storm.
It looks crazy, and almost feels like it would never happen to *ME* but really – without food, we're hardly existing!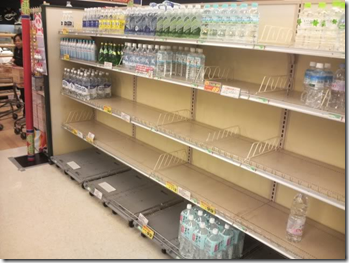 I worry about having to buy emergency foods for things like storms, and especially being snowed in in Minnesota.  (Except for the fact that my lawn is still green and it was 52 degrees on Christmas day.. CrAzY!) What if my power goes out and I can't get out of the house for days? Yikes!
Do you think you'd be prepared if there was an immediate crisis?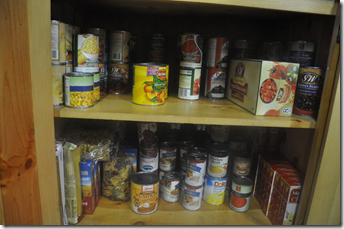 Looking through my cupboards – I think I might be prepared for several days.  I mean… I've got more canned goods than I possibly know what to do with.  I might not be eating deliciously, but I would certainly be eating.

I also keep a pitcher with a water filter in the garage as well for emergency needs.. you never know when the water lines get terribly contaminated and you can't use that water for drinking!  I should probably have several jugs of water though too, just in case.
But what if you're not prepared or you don't have space to store tons of shelf-food in your home?  There are definitely places out there like BuyEmergencyFoods.com that you can buy bundles of foods and materials to survive on for days at a time, that would be stored somewhere other than your regular pantry.
It might just be smart!