I always have a reason to smile about something – I mean, get serious – my blog is very-well named after the fact that I am *almost* always Grinning from Cheek to Cheek! Not only that – but as a Dental Hygienist I'm always interested in helping people have a Reason to Smile!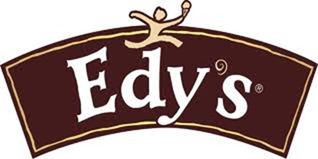 Edy's Ice Cream is also focused on helping people to have a reason to smile in a few awesome ways. First of all, their new limited edition flavors that are out just in time for National Ice Cream Day (which is July 21st!) are so spectacular – they certainly gave me a reason to smile!  My family and I had a chance to try out all of their new flavors: Take the Cake, German Chocolate Cake Spectacular, Sunny Salted Caramel Pretzel, and 3 Stripes You're Out.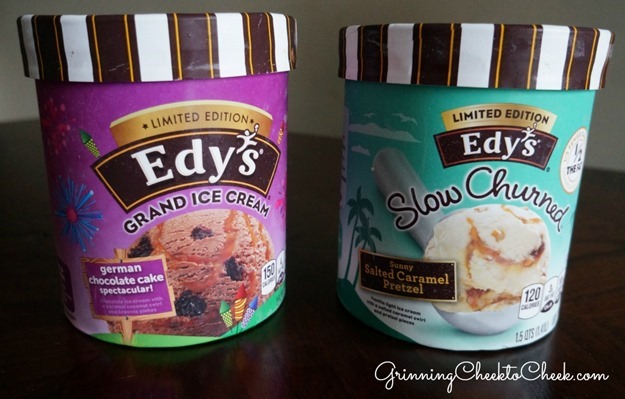 The first two we tried were the new 'German Chocolate Cake Spectacular' – which is a chocolate ice cream with a caramel coconut swirl and brownie pieces; and the new 'Sunny Salted Caramel Pretzel' – which is a vanilla ice cream with a salted caramel swirl and pretzel pieces. Hands-down my new favorite ice cream *ever* is the Sunny Salted Caramel Pretzel.
The Sunny Salted Caramel Pretzel flavor was so amazing that I had two and a half bowls in one sitting (Shh!!). I couldn't believe how perfectly harmonized the caramel was with the pretzels. I also couldn't believe that the pretzels were still super crunchy, and were an awesome surprise for each bite! I sure hope this Limited Edition sticks around forever.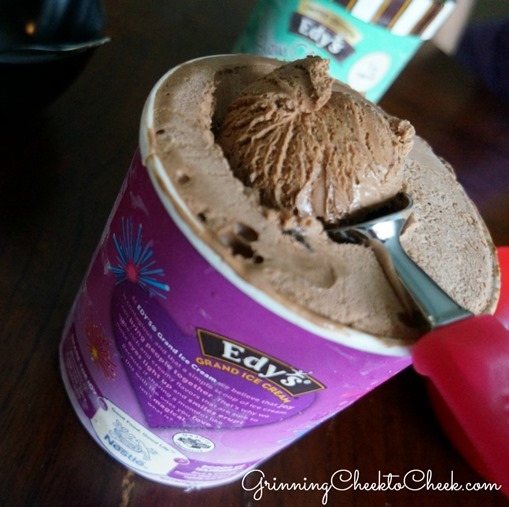 The Edy's Grand German Chocolate Cake Spectacular tasted good – but had a bit of a Kahlua flavor to it – which some might love, but It reminds me too much of my… younger… years. My husband and the kiddos thought it was great.  I just wanted more of the salted Caramel Pretzel.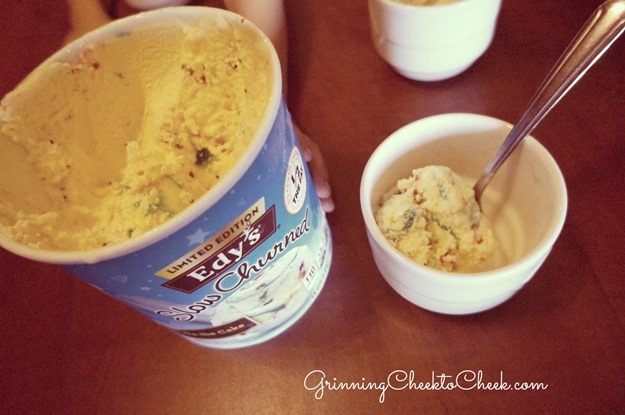 Then a few days later while our air conditioner was out – we decided it was the perfect time to try 'Take the Cake' – which is a yellow cake-flavored light ice cream with a frosting swirl and multi-colored sprinkles; and '3 Stripes You're Out' which is Vanilla Ice cream with mixed blueberry and strawberry swirls.
Both of these were a big success with the boys.  Both of them really loved the 'Take the Cake' flavor the best – and kept serving themselves some more!  <It was dark.  The ice cream is actually white with blue swirls and colored sprinkles!>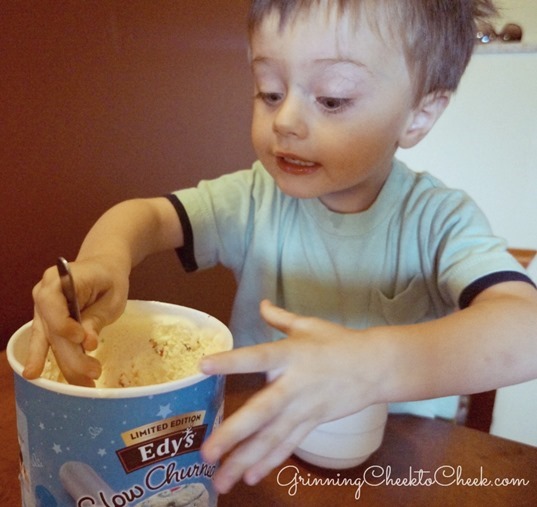 I was extra excited to find out that most of these new flavors are available in Edy's Slow Churned Ice Cream- which is All the taste and ½ the fat (with ½ the fat and 1/3 fewer calories than regular ice cream). That *So-Totally* makes up for my two plus bowls, right? ****Smile Reason #2!
Then – a final – but very awesome way that Edy's is giving reasons to smile – is because they're once again participating along side with Operation Smile, an international children's medical charity, to make possible 500 reconstructive surgeries for children around the globe suffering from cleft lip, cleft palate and other facial deformities.

There are even several ways for you to help them help Operation Smile! If you visit and follow along with Dreyer's/Edy's Facebook page: every two weeks they have been encouraging fans to help the brand donate to Operation Smile with a uniquely stamped "A Reason to Smile" post.  These posts will feature different methods of participation – from liking and sharing to commenting – creating personalized opportunities for fans to engage with the cause and help Dreyer's/Edy's ice cream reach its goal.
Win It!!!!
I really wanted to give you all a Reason to Smile as well – so with the help of Edy's – I am hosting a giveaway for one lucky reader to win two coupons for FREE Edy's Ice Cream!!
How to Enter:
Mandatory Entry: Leave a Relevant Comment on this post
Then: Fill out the Rafflecopter form
Be sure to come back each day for extra entries!!   
Rules: You do not have to be a blogger to enter/win. An email address is required to enter. The winner will be chosen randomly through Rafflecopter and contacted via the email registered in Rafflecopter. A reply to the winning email is required within 48 hours before a new winner is chosen. One person entering per household please. US only please.
This giveaway ends at 11:59 PM EST on August 16th, 2013