The reviewer has been compensated in the form of a Best Buy Gift Card and/or received the product/service at a reduced price or for free.
It's not often that I can admit that my floors are cleaner than yours! But today, I am just going to jump out on a ledge (maybe slightly boastfully) and tell you that they are. You see, I recently received the new Dyson DC65 – which was just released this month exclusively at Best Buy – and I just couldn't wait to try it out… and I may have gotten a little carried away. So I'm going to share my Dyson DC65 Review with you all right now. After a little back-story, of course.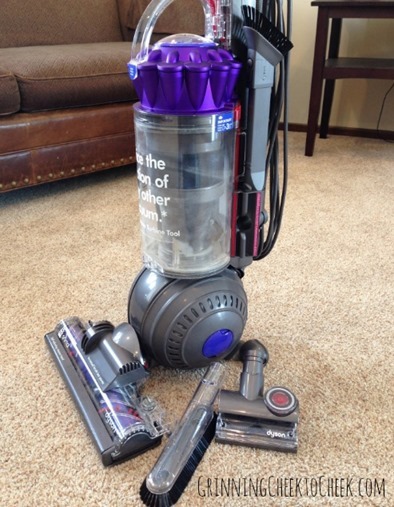 I grew up in a household with tons of animals – and we seemed to be purchasing a new vacuum about every year. It seemed that during the year we would change the belts, and filters, and bags, and everything else in-between, but still our vacuum would somehow get to a state of dis-repair, meaning it was time to purchase the next cheapest vacuum we could find. This happened even into my marriage. My mom gave us our first $100 vacuum. Being that my husband and I lived alone and with no pets, we managed to get that vacuum to last 2 years before it finally died. We went to the store to see about buying our next $100 vacuum… which ultimately lasted one year. When we realized that we would likely be going on this same life-long painful escapade of buying and trashing vacuums- I wanted to break the cycle.
A friend of ours recommended Dyson – as they had one and loved it. I searched online for as many reviews as I could find, and didn't find one that was negative. The only problem was the price tag. BUT: Considering that we were essentially committing ourselves to not needing to purchase a $100 vacuum per year for a minimum of 5 years, the then $500 price tag wasn't quite as terrible. And – Here we are almost 9 years later, and that same Vacuum has been our main vacuum – that is, until last week when we got our newest Dyson. The DC65.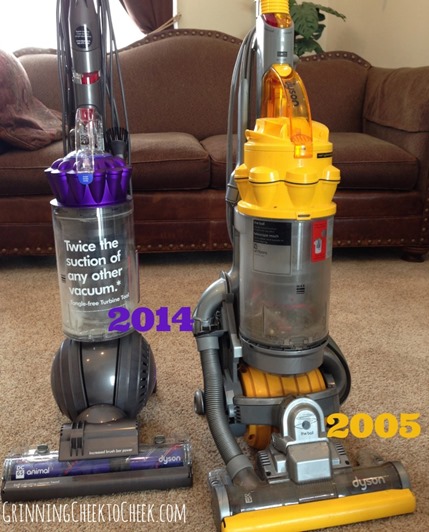 The Dyson DC 65 is a little different than our old Dyson DC15. First of all, it's purple. Essentially this means that it's meant for animal-households. Considering I have two preschoolers, I think we qualify. The changes here are pretty clear to see: it's smaller, which means it's also lighter – and it has a more maneuverable ball.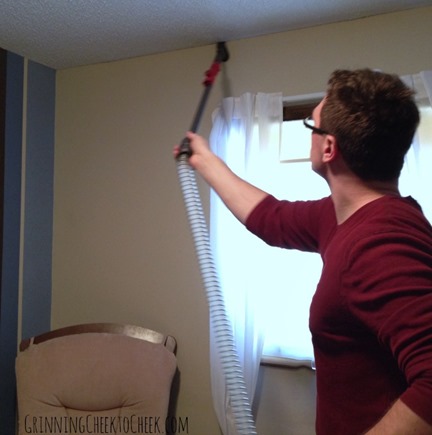 But some of the smaller features that we're loving – are not so noticeable. My husband thoroughly enjoys that the cord-winding span is about 6" longer – meaning that he has to wrap the cord a few less times around. He also likes the extended length of the 'wand' – meaning he can get the cobwebs from all rooms, including the highest points of our living room where our stairwell is without too much fuss.
While we were really focused on putting the vacuum to the test, Ethan got really into the idea of cleaning his bedroom, too – and grabbed his very own Dyson to help out.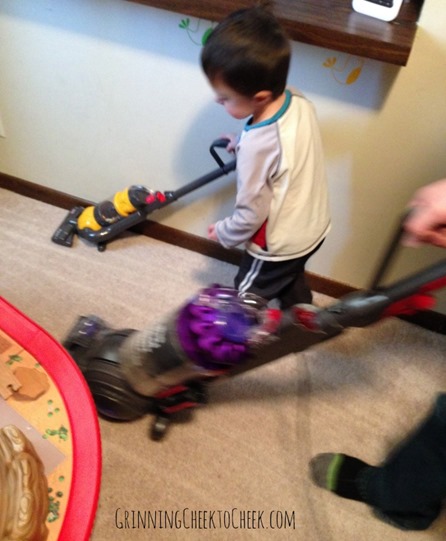 The DC65 is super-charged with power and suction. Technically speaking, the Brush Bar power was increased by 25%, and the new configuration of bristles allow the DC 65 to dig deeper into the carpets to remove more dirt. It also has a different airflow system, allowing the vacuum to remove more dirt, dust, and allergens from your home.
There are also those similar features that we know and love: like the hygienic bin-emptying. Easily remove the bin from the vacuum, and push the button again to dump the contents into a bag. I never get my fingers dirty or sweat over emptying the bin. Also the durability is the same: it's built to last 10 years. They will send you any replacement parts for anything that would break, free of charge.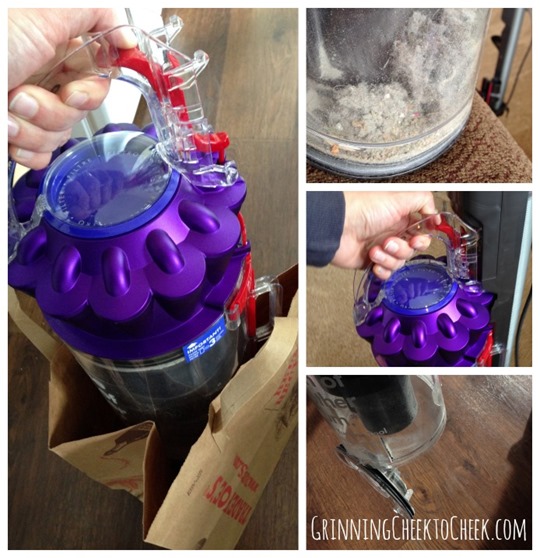 After finally convincing my mom that she needed a Dyson so she could stop purchasing vacuums – she did have one part break. She didn't realize it was broken because it must have been that way for a while – but when I was at her house and I was vacuuming up after my kids' mess – I realized that something was wrong. They called Dyson, who sent out a new part right away. They were VERY impressed that they would be able to continue using their vacuum as always. They're going on their 6th year with the Dyson.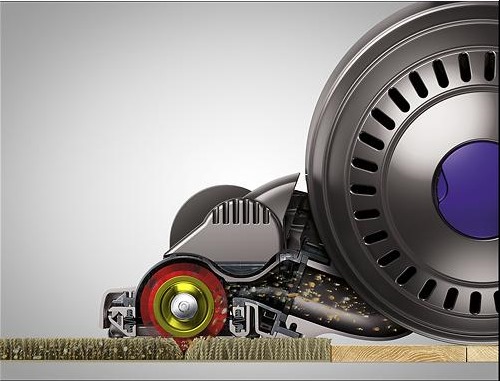 Overall – I really do enjoy having this nice new pretty Vacuum. The main concern I have is the harshness of the new beater bar and better suction on carpets. Last spring I worked closely with Carpet One to get new carpet in the living room, family room, and stairs. We *adore* our new carpet, and want what's best for it. We were sadly informed that Dyson voids the warranty for the Carpet One Carpets (and pretty much any newer high-piled nylon carpets) due to the high speed rotation and strong suction which equals higher heat – ultimately melting and fraying the nylon fibers. It has been a hard fact to deal with. I nearly cried with the thought of not being able to use the Dyson on my new carpet. I did go out and purchase a cheap vacuum that 'qualifies' for our carpet.. but it remains in the box in the garage.
We would much rather use our Dyson with NO beater bar than a cheap vacuum that barely picks up anything.
In fact – that's exactly what we have been doing since this carpet was installed: Using our Dyson with no beater at least once per week, as well as spot cleaning with our Dyson Handheld that we got from Best Buy last Summer. Thankfully all of our other rooms are regular old-fashioned cheap carpet that came with the house, and this has done an amazing job cleaning these carpets!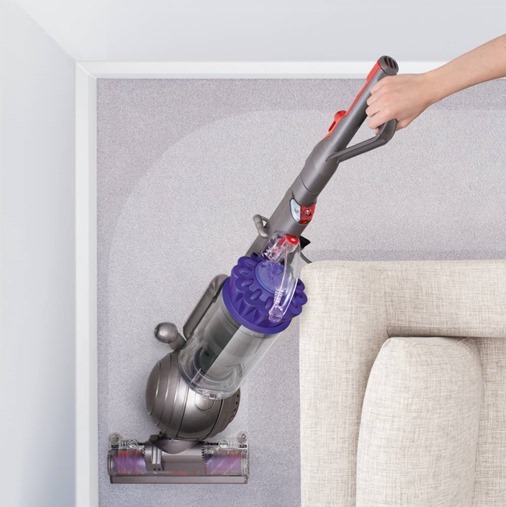 I also am not yet used to and still fumble over removing and replacing the wand from the vacuum. I'm sure this will become comfortable in time – but I feel like it was so much more intuitive on the DC 15. And For some crazy reason I really MISS the foot pedal that you push to lower the vacuum to get the beater bar to activate.
Otherwise, I absolutely am thrilled with the new Dyson DC 65. My friends keep asking me what I'm going to do with my old one – implying that they'd rather ditch their 1-2 year old vacuums for our 9 year old one. I don't blame them, either. I just have to find out which friend want's it most! I've actually considered keeping it in case our kids want a great vacuum for their own when they move out… uhh… 15 years from now.
So if your most recent vacuum has bit the dust, and you're looking at getting a new one – I highly recommend the Dyson. Although, if you have high-piled nylon fiber carpet, double check the warranty before purchasing the Dyson – and weigh the benefits for yourself. I'm sorry that I don't have a better recommendation for that!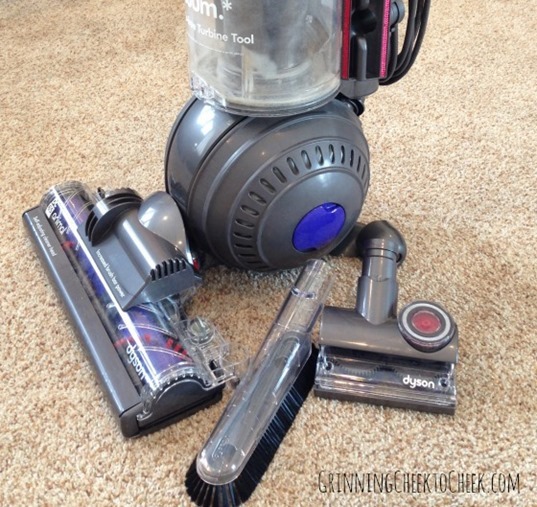 The Dyson DC 65 comes in three colors/varieties and price points. The Multi-Floor is the basic model, which is like what our yellow one was – essentially missing a few extra attachments that work great for removing pet hair – and it rings in at $499. The Animal (the one we got above) is $599 – and comes with the TFT and Dusting Brush. and the Animal Complete is one step up from there at $649. These are available exclusively at Best Buy for the time being. And as always, even if it is available elsewhere – Best Buy has the best customer service, return policy, and warranties. Try it out! If you hate it, return it! (But you won't hate it!).