Todays review was sponsored by Dyson and Best Buy. I received the DC44 in exchange for my review and honest opinions. All opinions are 100% my own.
It's hard work being a part-time working mom. Having a job to get to a few days a week (which is super great for getting out of the house away from the kids for a bit!) but it also means that I'm still home a few days a week. Meaning that I'm still in charge of the majority of the house work…. And let me tell you – it doesn't do itself magically when you start working! Yes, my obsession with my clean floors has had to be re-defined to be just… Ok – and not Perfection. Where I typically would be sweeping/mopping/scrubbing my floors on a daily basis – I'm now lucky if I get to it once a week, and that bugs me SO much!
I have forever been looking for a 'quick' cleaning solution (aren't we all?). So when Dyson and Best Buy teamed up together to offer us a surprise product to review: I was *really* hoping for the Dyson – DC44 Animal Digital Slim Bagless Cordless Handheld/Stick Vacuum. (Remember, it was even on my Christmas Wish List last year.. oh yeah, and the year before)

I was *so* excited at BlogHer when Best Buy had stuck little notes under our dinner plate during our dinner with Dyson to reveal what it was that we were going to review, and I saw that I was getting the DC44! I almost screamed – but Instead – I Instagrammed… (that's a verb now, right?)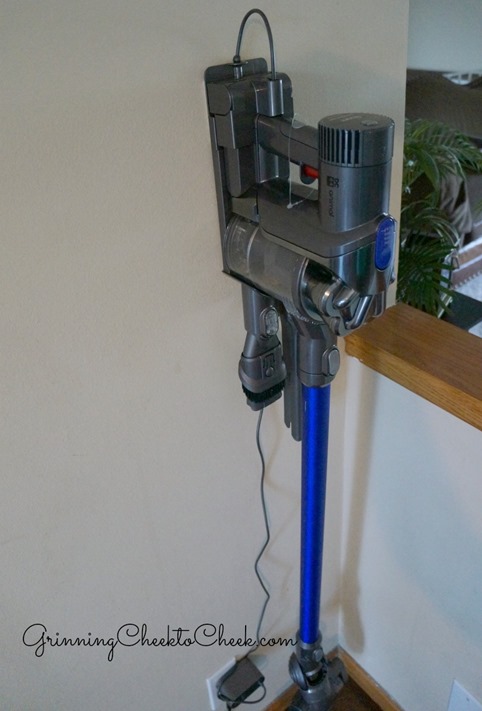 And while I've love my 8 year-old Dyson DC15 vacuum for vacuuming throughout my whole house on a cleaning day – I definitely wanted something more versatile, handheld, cordless, and light weight for my stairs, entry way and my kitchen floor.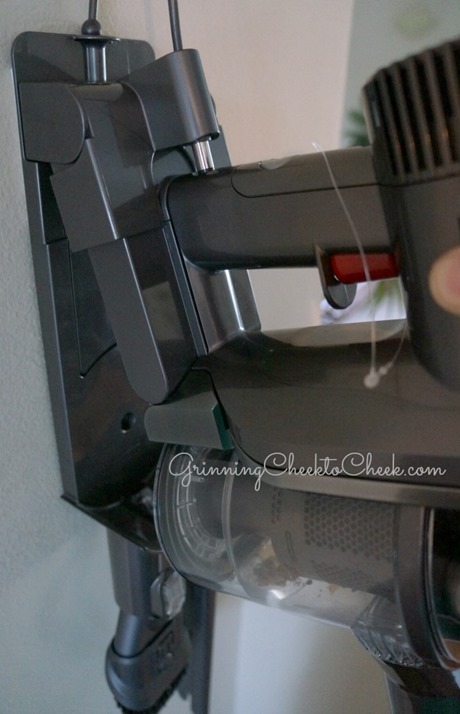 I love that this vacuum attaches to my wall for easy access – and when it is placed back onto the wall holder –it's charging! Love that I will never have to worry about it not being charged when I need to use it. To attach to the wall, you can use the included mounting hardware – but my husband isn't keen on putting holes into the walls until he's sure it's exactly where he wants it – so we used some 3M wall mounting tape.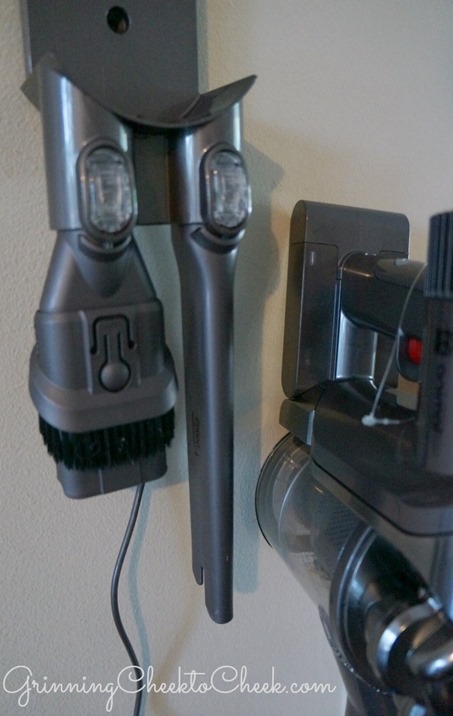 The mount also holds the attachments right onto the mount, so they're there when you need them. There is one extra attachment vs. connectors to place them on – so we leave the smaller attachment in our broom closet – I really only use the smaller upholstery attachment for small places like when cleaning my car or my couches – so it's OK to not have at easy access.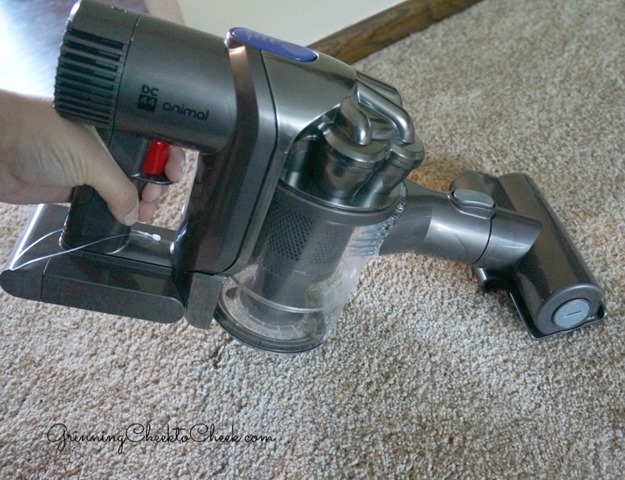 To get the DC44 off of the charger I simply lift up, and pull out. That's It! I'm ready to use it. We did have to mount it near a plug on the wall because the cord isn't terribly long – but that's what made me get my way and have it mounted in my dining room instead of hiding it in the broom closet like my husband wanted to (he may change his mind if and when he gets an outlet in our closet like he's been talking about for so long!).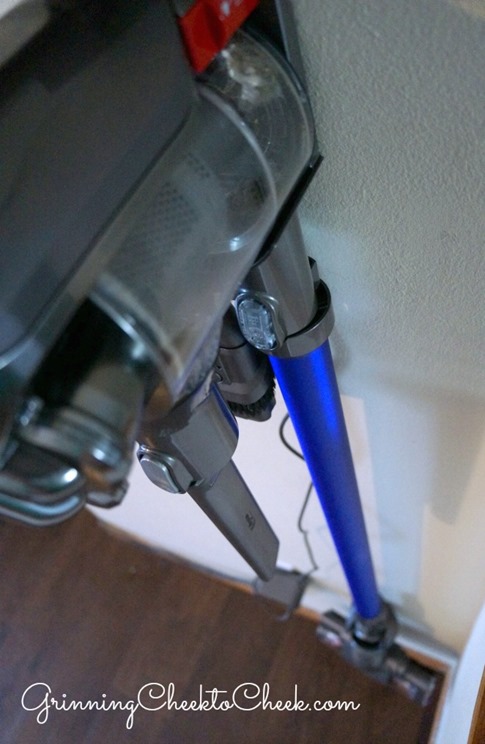 To use the vacuum, you need to push and hold the trigger button. So the vacuum only is running while you're holding the button down. It's not complicated to hold the button, but it would be nice to have the option to just turn it 'on' and leave it on – but the idea is that this is a quick cleaner, so we're not actually vacuuming the entire house with it.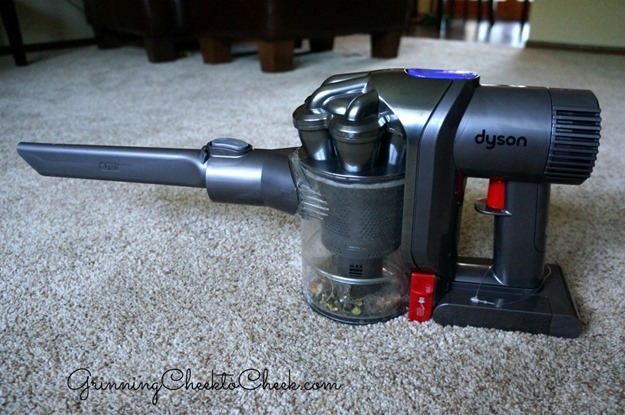 I mostly find myself grabbing the DC44 to clean under the table after the kids eat lunch, and cleaning the edges of my floors against the baseboards, where the mess typically accumulates. My husband loves to grab the DC44 to chase and suck up flies that have made their way into our home… the other day, I got a BEE from my kitchen – the kids were so excited to watch it walk around inside the container (and then we let it go outside).
It's quite easy to empty the canister, too. You simply push the button while over a garbage can or bag. The bottom pops open, and all of the junk falls out.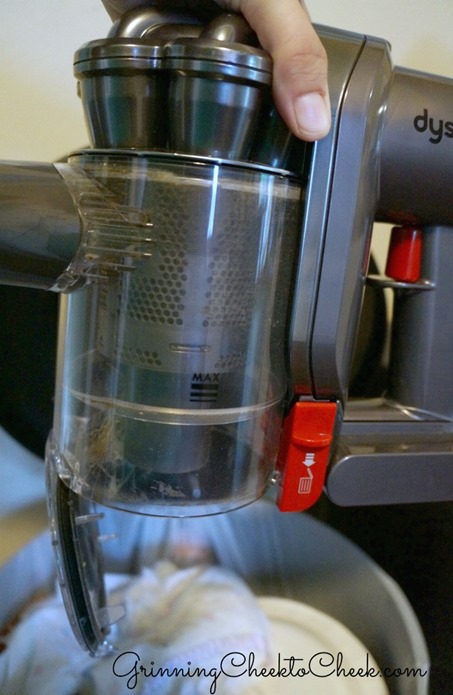 We also use the DC44 for the entry way carpets that easily get messy – they're black and brown, so they show their mess really quickly. We used to have to wait to clean out the entry way carpets until we dragged out the bigger vacuum – which meant that we would vacuum the stairs, too… so… it only happened once a week or less. Now we're able to clean them more frequently without the hassle.
You can purchase the Dyson DC44 and all other models of Dyson from Best Buy. They have a nice display specifically for Dyson products! Also – Don't forget to get the Geek Squad Protection for the Dyson. They last a long time (as clearly shown by the longevity of my DC15 which works just as well as the day we got it) but you never know about these cordless type vacuums. The DC44 retails for $399 – which may sound like a lot – but it's certainly worth every penny!