Dollywood is a major reason to visit Pigeon Forge, TN. Dollywood is hardly 'just another theme park.' When I think of theme parks, I think of crazy kids (Especially under-dressed teenagers), rude college-break employees, and expensive french fries. Dollywood is ANYthing but normal in that sense.
Dollywood takes a totally different approach to their theme park: From the beautiful large trees, classic store fronts, and home-made treats – Dollywood had me in awe the entire day.
I went on as many roller coasters as I could that day – and rode Dollywoods new 'winged' roller coaster – the Wild Eagle, and by far the best wooden coaster I've ever ridden, Thunderhead – it gets up to 55mph, and doesn't throw your head around so much that you get a super-headache. I also loved the Mystery Mine roller coaster – which has an 85 foot vertical drop – and lots of hairpin turns to keep you screaming.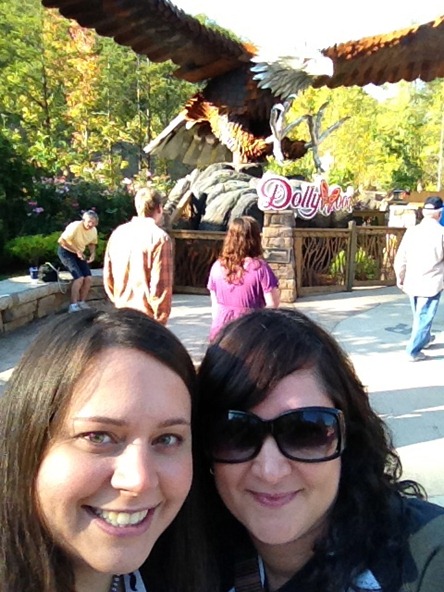 But I think the thing that blew me away the most was the variety of shops and the employees. Shops like Woodworking, blacksmith, and glassblowing – home made breads and food that was good southern, home-cookin. The employees were SO friendly.  I have never before seen so many people happy about their job, and being so outwardly helpful to the customers!
We ate at a great spot – enjoying pork, beef, mashed potatoes, beans, coleslaw, and collard greens.  I've never before had collard greens, so I was a little nervous to try them –but I ate them all up!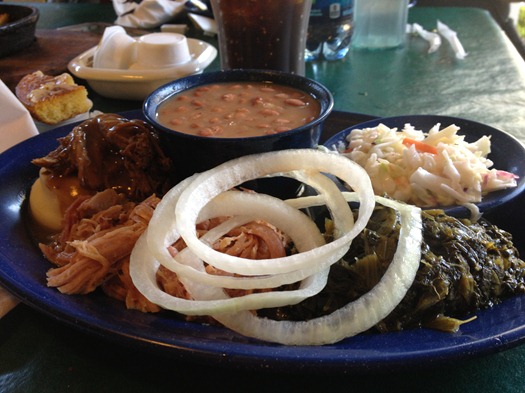 We learned about the care that Dollywood uses in taking care of people with special food needs – and how they really go out of their way to help them eat well while they're at Dollywood.  So generous.
I got to ride the Dollywood steam train as well – which was probably one of my favorite things I did at Dollywood that day!  I took a video of the steam engine playing a song for us:
After the day was done, I was certainly ready for a nap – but I left with awesome memories of a really fun day with friends.  I'm definitely looking forward to returning to Pigeon forge with my family so we can spend days enjoying the parks and activities that Dollywood and Pigeon Forge offers!
___________________________________________________________________
Dixie Stampede
We also visited Dixie Stampede during this trip for a dinner show.  And boy – I was totally in for a surprise! I had no idea what to expect when I got there (so much for me paying attention to what we were doing on Brandcation!).
I loved the costumes that the wait staff had – so beautiful!
We sat in the main waiting area, where we had some (NA) beverages, and enjoyed some Bluegrass music performed by these guys: They were SO funny.
Then we went in for dinner.  I guess I missed the warning about bringing silverware with me – because everything is eaten by hand, and delivered quickly across rows – it's quite entertaining to watch! – and the food was absolutely delicious.  One of my favorite meals of the whole trip.
We were even lucky enough to get some creamy vegetable soup and a color-changing Dixie Stampede mug to take home with us – I can't hardly wait to cook it up.  YuM!
The show was great:  Very fun to watch.  I loved how they got the audience, especially the younger audience involved in playing some of the games.
A special thanks again goes out to Carpet One for sponsoring this trip for me, making this trip possible! Check out their great selection of flooring products at www.carpetone.com.
Dollywood Provided the tickets for the theme park as well as Dixie Stampede free of charge in hopes that I would write about the fun times that I had.  I definitely was impressed and would highly recommend your family visit both locations.