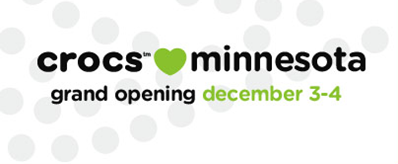 This summer we discovered our love for Crocs.  Andrew needed shoes that were easy and summery, and because he's got WIDE feet, they can get pretty expensive.  We ended up chosing a pair of Crocs for him, and he loved them.  Them much to our surprise – while we were on our trip to the Kalahari in Wisconsin Dells – someone had left a pair of brand new crocs in our hotel room…. and they just *HAPPENED* to be his size.  It was our lucky day.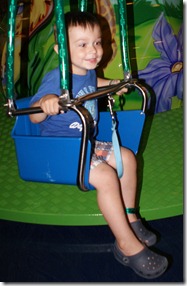 So I'm very pleased to tell you that I'll be joining with Crocs this weekend at their Grand Opening Celebrations at the Mall of America!
I'm really looking forward to going and meeting up with Mimi from www.wovenbywords.blogspot.com and a few other MN bloggers who will be joining me at the event and brodcasting over twitter and facebook!
Store Opening Events:
This weekend at the Mall of America, in Bloomington, MN; as well as Barton Creek in Austin, Texas; and Streets at Southpoint in Durham, N.C: There will be some really awesome celebrations going on!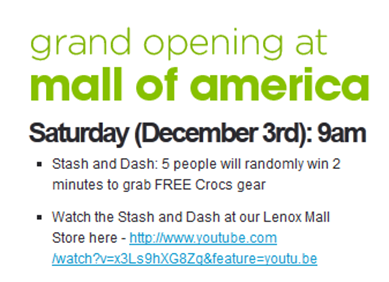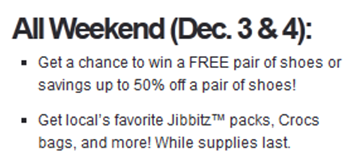 If you want to visit the Grand Opening:
Be sure to print the 20% off coupon before you head out to do your Crocs shopping! It's good through 12/31/11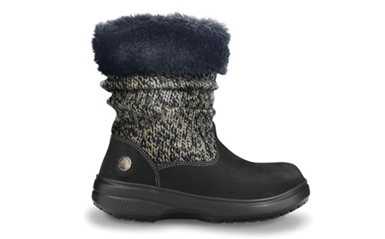 These are the boots that I'm going to be getting!! So excited, I can hardly wait!
ETA:  I tried these boots on, and they are *AMAZING*.  So comfortable – almost like wearing slippers!
If you're unable to attend:
If you're not near any of these three locations this weekend – you'll want to watch your twitter account for people using the #crocs hashtag!  You'll definitely want to hear about all the fun we're having!
Also I'm hosting a giveaway for a FREE pair of YOUR CHOICE of Crocs – up to $100 in Value!!
Win It!!!!!
To Enter: Visit the Crocs website and tell me which pair of Crocs you might choose if you win!! Then Click 'I Did It' on the Rafflecopter form!
I received compensation for this post thanks to Business 2 Blogger and for using social media during the Grand Opening.