So. I have to admit.  I'm not the hugest Harry Potter fan.  *Gasp!* While I do enjoy the movies (the last two or three though, I have not yet seen… **Double Gasp!!**) and I have never read the books ***Triple Gasp!!!***.
But.  I love the game Clue:  So when I had the chance to review the game, Clue: Harry Potter and the Deathly Hallows Edition from Hasbro, I jumped on it!!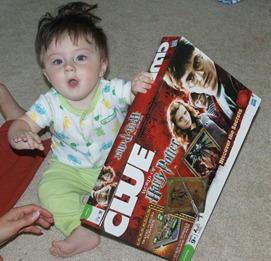 My Brother-in-Law and Sister-in-Law *love* Harry Potter!  They've done all the shows at their midnight showings, and read and re-read every book several times.  So. when I received the game I saved it for a fun night where they came over for dinner to play with us!

A bewitching mystery that has players exploring the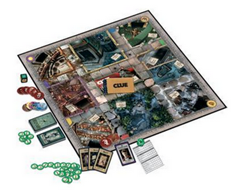 halls of Hogwarts, the Forbidden Forest, the Ministry of Magic and beyond. A Hogwarts student has gone missing and it's your job to uncover the mystery – Where did the attack occur? Who did it? Which weapon or spell did they use? Players take on the identity of their favorite "Harry Potter" character and then race to decipher clues, uncover secrets and solve the mystery of the missing student!
Slightly complicated to set up and a little more detail needed in the fine print of the instructions – but overall – an AWESOMELY fun Game.
The game states that you can play with 2-5 players, although two players seems a little too small, and you CAN in fact play with six players (which in turn, makes the cards deal out evenly!).  The only difference is – that a 'student' didn't go missing – You just try to solve a random crime.. no big deal

So we played it twice with my in-laws the night that we opened it, and then we played it another THREE times when I had family over last weekend!  We had such a fun time with it!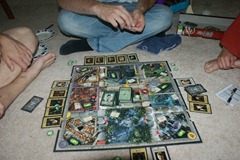 I'm pretty sure I would have been the champion at least two of those games had someone not randomly stumbled on the answer and then beat me to the middle – or cheated

j/k
Technical Issues:
There were a few unanswered questions in the rules: What happens when you get locked inside a room? Do you wait – or can you just leave even though both doors are locked.  The instructions say that unless you have the certain spell, you cannot ENTER a locked room, but says nothing about exiting.  Also: it says that you cannot stay in the same room for more than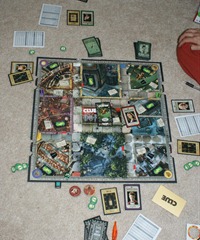 one turn.  We just played where we could leave the room through a locked door if completely blocked in.
Also: we didn't realize until our 4th time of playing the game that each of the 'Dark Deck' cards is addressed to certain players in the game, and not always the person who draws the deck.  The first four times we played, we just said – Oh. Lose two  – done.
There was one Dark Deck card that asked all players to get rid of one item card – did they mean a help card??
It also doesn't make sense to me what happens when one runs out of flu powder?  They're just not eligible to use the Flu any more – but what about the Dark Deck? Either way.
Overall:

Hasbro has a HIT GAME!!! Everyone playing wanted to play again, and try to perfect their skill of detecting.  We had so many laughs and talked after every game about the 'trail' we were following!  .
I love the extra twists to the game that are above and beyond a regular Clue game!  It makes it much more fascinating than regular Clue and more appealing to those that thought it was just too easy.  This is a MUST have for your Harry Potter or Clue Fans this upcoming Holiday season!
My Strategy???  Not Telling.. But it's Killer