What: Both new and experienced parents are quick to document firsts with their child – first steps, first words and first new foods. But there are many other firsts that parents experience, such as the first diaper blow-out or spaghetti-stained onesie. Whatever the first mess may be, Clorox Regular-Bleach is there to help you clean it all up!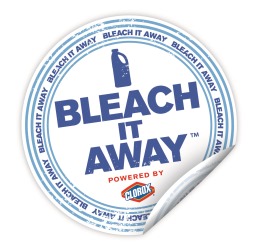 Join us for a fun Twitter party where we can talk – and laugh – about our messy moments as parents! We'll be sharing memorable times that bleach came to our rescue and exchanging our best cleaning tips for home and on the go. During the party, you can also learn about Clorox's Bleach It Away, which can turn your messy moments into $20,000! To learn more and enter the Bleach It Away contest: Click HERE!
Party Details:
When: Wednesday, March 12, at 1p ET / 12p CT / 10a PT
Where: We'll be on Twitter – follow the #BleachItAway hashtag to track the conversation.
RSVP via this Twtvite: http://twtvite.com/bleachitaway
Hashtag: #BleachItAway
Prizes: We will randomly award five prizes throughout the party, from all eligible correct responses to trivia questions. Four prizes consist of a $50 American Express gift card, with a grand prize of a new Kindle. (No purchase necessary. Entrants must be legal residents of the 50 United States + D.C. 18 years of age or older. Void where prohibited.)
Hosts: @theMotherhood, @theMotherhood25, @CooperMunroe, @EmilyMcKhann, @Clorox
Your fellow co-hosts:
Amanda, Coping With Frugality – @LegalChef18
Amy, Grinning Cheek to Cheek – @GrinCheek2Cheek   <—-That's Me!!
Brittany, The Frugal Free Gal – @FrugalFreeGal
Carrie, Carrie With Children – @CarrieWChildren
Jenn, Sweet T Makes Three – @SweetTMakes3
Jennifer, Double Duty Mommy – @DoubleDutyMommy
Jenn, Jenn's Blah Blah Blog – @SJBlahBlahBlog
Kristy, Mommy Hates Cooking – @Momhatescooking
Laurie, Guessing All The Way – @clueless_mama
Linsey, Lille Punkin' – @Lknerl
Shanaka, Mama Bee Does – @MamaBeeDoes
Staci, 7 on a Shoestring – @7onashoestring