Chocolate for Valentine's Day is just one of those things that go hand-in-hand.  I love getting chocolate – and Actually, I typically even give chocolate. 
My husband loves plan-'ol Chocolate that you find in the checkout isles of the grocery stores, but I love all the extra fancy chocolates. They're ultimate for me.

Chuao Chocolatier has some amazing new chocolates that will simply melt in your mouth – and are therefore perfect for giving to your love at Valentine's Day.
Love Child bonbon: an aphrodisiac blend of a port wine drenched dried strawberry in a chocolate ganache
Firecracker truffle: guaranteed to blow your mind with chipotle caramel fudge, popping candy and sea salt in dark chocolate
Potato Chips in Chocolate bar: for the perfect sweet and salty combination. 
Chuao Chocolatier Contest:
Chuao Chocolatier is also hosting a giveaway that is EXCLUSIVE to the readers of bloggers (therefore increasing your odds of winning) for a beach getaway for two in San Diego, or free chocolate, and discounts!
The trip for two to San Diego winner will spend two nights at the glamorous La Jolla Shores Hotel, enjoy dinner at the beachfront THE SHORES restaurant, and attend a private wine and chocolate pairing event with Master Chef Michael Antonorsi of Chuao Chocolatier.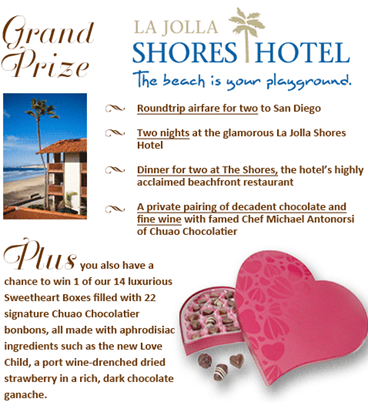 There is also the chance to win one of 14 Limited Edition Sweetheart Boxes filled with 22 signature Chuao Chocolatier bonbons featuring delectable, aphrodisiac ingredients.
The contest ends Feb. 14th!
Want a Discount?
If you'd like to order some amazing chocolate for your love this Valentine's Day – I've got a special promo code for you to save 20% off of your order:  Simply enter the code "BLOGGER" while you're checking out at www.chuaochocolatier.com and receive 20% off until Feb. 14th!