Did I ever mention how much of a freak family we are? We *HATE* dirty floors. Yeah, we might have kid toys scattered across the whole living room – but usually the floor is vacuumed 1-2x/week and I'm sweeping the kitchen and wiping it with my wipes on a daily basis.
With young children in the house it's almost impossible to keep it perfectly clean.
Ethan in particular – still spit's up. Yes, he's almost 1. Yes, he's seen a Dr. They all say it's no biggie – But I very much dislike it.
When he eats carrots – or better – Spaghetti?? Ugh. It always comes back up…
On my WHITE. carpet.
So I have been looking for an answer.
I was given the opportunity to review the Stomp 'N Go pads from Bissell.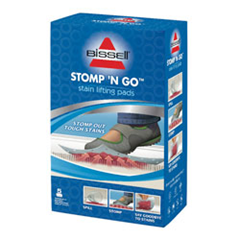 Forget about scrubbing out spots and stains on carpet, stomp them out! BISSELL's new Stomp 'N Go® stain lifting padis unlike any cleaning product available. Using a powerful oxy-based formula, the pre-moistened pads make cleaning easy and fun. Simply place the pad on a spot or stain and stomp on it. Upon stomp, the pad begins working, lifting and removing the mess. You can actually see the stain being absorbed into the pad. There is no need for scrubbing or using other cleaning tools – the pad does all the work.Stomp 'N Go® pads are great for permanently cleaning tough set in stains like red wine, food, fruit juice, coffee/tea, pet messes, blood, mud/dirt and more. The pads leave carpet smelling fresh and come in convenient, individually wrapped packages.
I was really excited to try these. So when we had our first opportunity for stain-removal – I pulled the pad out.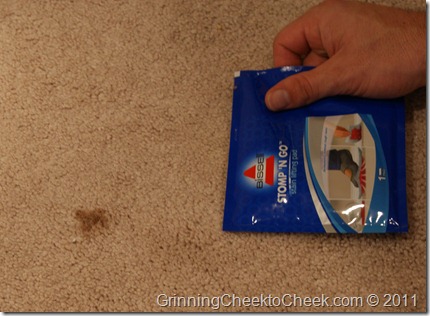 The pad was rather large for such a small spot – so I cut the pad down to a smaller size so I could use the remainder on another stain later.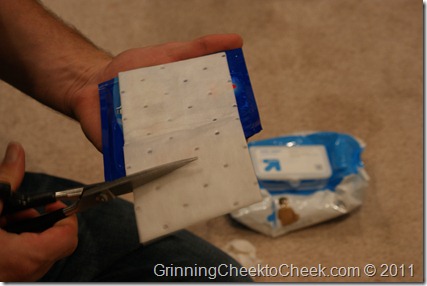 I started to read the directions, and was really not thrilled with them.
Step 5 : "Leave pad on top of the soiled area for at least 30 minutes. For Tough Stains: the pad may remain for up to 24 hours on the soiled area"
Step 7: "When carpet is dry, vacuum over area. Keep kids and pets off of area until it is dry and vacuumed"
After note: "Leaves carpet safe for children and pets when used as directed."
While that might be ok for someone with older children or no children, or in a low-traffic area, it's not very practical for my family yet.
Most of our messes happen to be in high-traffic areas where we could not possibly put our child out of the area for that period of time + dry-time and vacuuming. and I have an infant crawling on the floor who puts anything and everything in his mouth.
I am curious about it saying that it is safe for children when used as directed… does that mean if my infant touches the space while it's wet and before I have vacuumed that it is not safe?
Either way – the pad did get our mess off of the floor – but we decided to scrub the pad to get the mess up. It was just faster. Then I used a towel to dry the spot and then vacuumed it just to be sure.
Honestly I could probably see myself using this product if I was about to leave the house and had recently had a mess that I didn't have time to clean up. Or if my stain was in a low-traffic area that I could reasonably close off – like my bedroom. But the over-all practicality for us as a family with an infant and a toddler is otherwise not there.
Overall
I would recommend the Bissell Stomp 'N Go for Moms with older children who know not to touch the pads or for stains in rooms you can keep children or pets out of. Their overall idea is fantastic, and would be nice to just drop a pad – step on it- and move on with your daily life.
BISSELL Stomp 'N Go® pads are currently available at Kmart, grocery stores and select Wal-Mart stores for $4.99. Each package contains five individually wrapped pads.
I wrote this review while participating in a campaign by Mom Central Consulting on behalf of BISSELL and received product samples and a promotional item to thank me for taking the time to participate.