Soon enough this diaper event will be over – I have seven more posts to write – so that means the Adventure to Cloth Diapering event is going to last through most of next week as well.
But Fear NoT!
There is another great event lined up to start in just 10 days!!
Jen's son (lifewithlevi.com) turned one in August, and my baby Ethan is turning one SOON!! So, we decided – what better way for a blogger to celebrate their baby boys turning the big O-N-E than to throw a huge Event that is Out of this World!!!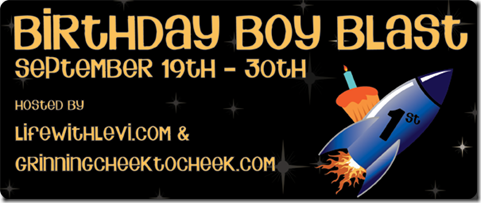 The Birthday Boy Blast will feature several Awesome reviews and giveaways – including, but SO not limited to:
Boon Flair High Chair
Britax Car Seat
Little Tikes Kitchen and Grill Set
Ergo Baby Carrier
and SO many more! There are at least 16 amazing companies that we are working with for this event, and a few more that are possibly in the works! I promise, you will not be disappointed!
So. How do you get extra entries, you ask??
By placing our button on your sidebar!!
We're so excited about the event we're offering TWO EXTRA ENTRIES into each giveaway just for grabbing our event button and displaying it on your homepage before the event starts on September 19th!
To be eligible for the extra entries, leave a comment below letting me know where I can find the button on your homepage (i.e. http://www.lifewithlevi.com, Right sidebar, middle of the page). You must display the button and leave your comment before 11:59pm CST on 09/18 to qualify. Button must be left in place until the final contest ends in order to be eligible for extra entries.
*EXTRA NOTE!!* you only need to leave a comment on one site – Our buttons are the same, and therefore, you do not need two buttons – or two comments – we will figure it out