I have always wanted a "Smart Home". I mean, the commercials always make it look SO COOL to have a smart home. I always think to myself though, does it really work that easily?? I clearly have gotten a few items in the past that were 'smart' but not… intuitive, or user friendly. So when I had the opportunity to visit the Best Buy Tech Home at the Mall of America, I was really excited to see how all these 'smart home' items work together to create a user-friendly living environment.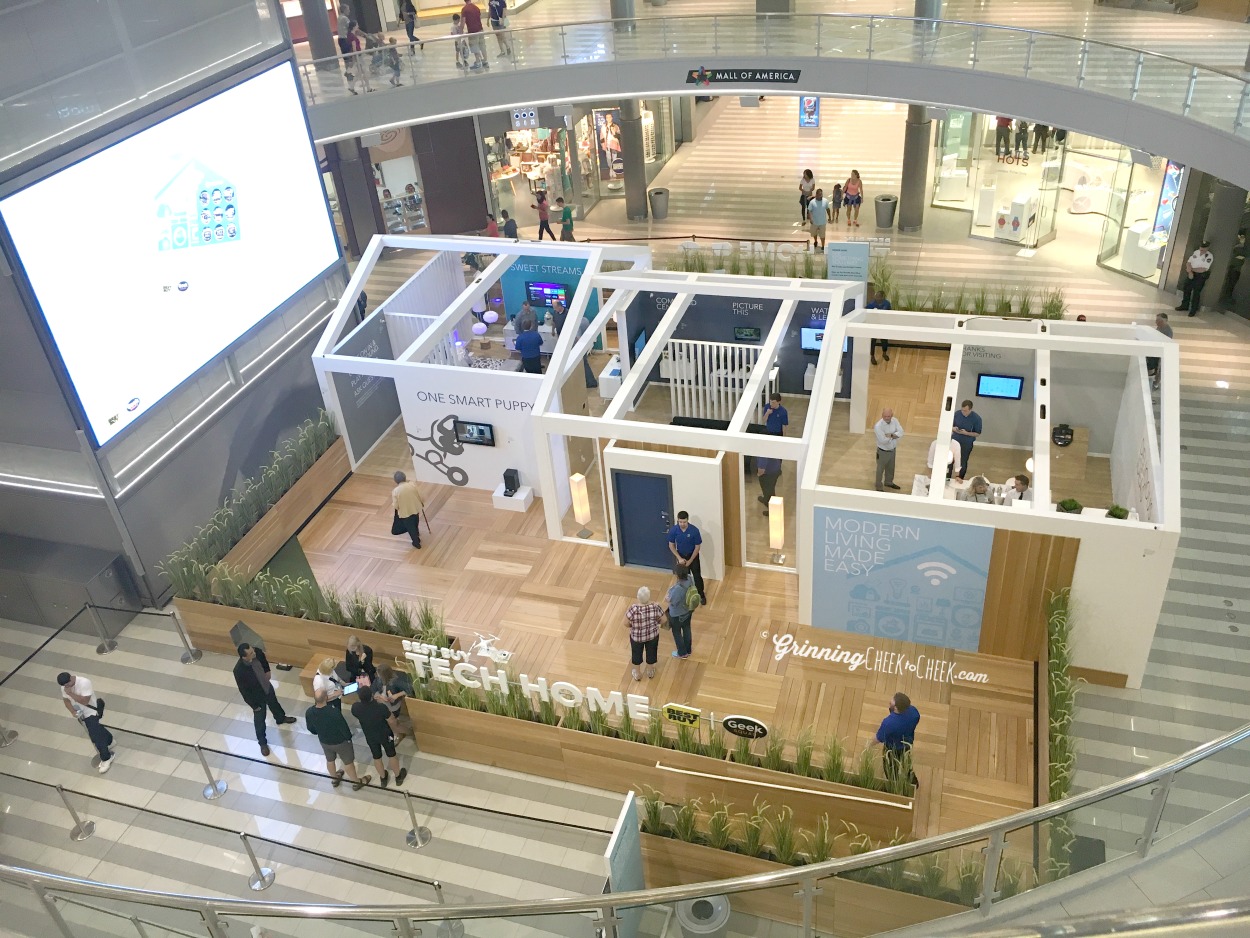 Best Buy put together this huge 'house' layout at the rotunda of the Mall of America. They've included the latest in home technologies so that people like you and I can go inside, tour, touch, explore and experience these products first hand. And.. I just have to say – they're SUPER SMART for doing that! I had so much fun playing around with the technology in the home, and made plans for myself and what I can see working in our home.
Samsung SmartThings products were all over! I think that Samsung has been at the top of their game for a while now -and they're only going UP!
So it all starts with the Samsung SmartThings Hub. This is a must-have to make the rest of the items work.. the 'brain' of the home. It's connected wirelessly so all of the Samsung SmartThings devices can be operated from the SmartThings app, so you can control them from anywhere in the world! And it works with brands outside of samsung, so the progress you've already made in getting your home smarter doesn't have to start over from the beginning, it just ties it all together into one control center on the SmartThings app. When you have the Hub and the app, you can add as many devices to your home as you want!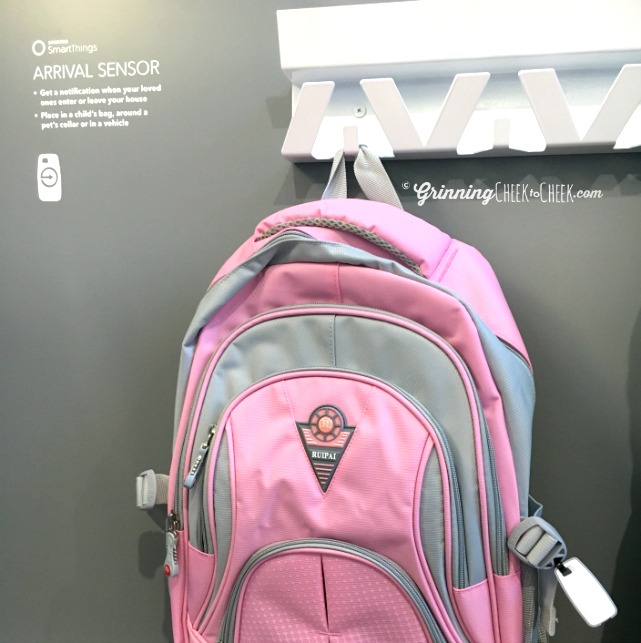 There are so many cool devices to add. I personally love the idea of the Samsung SmartThings Arrival Sensor. Having kids in school now and not always being the one at home when they arrive, makes me a little nervous. ESPECIALLY like yesterday when my 5 and 7 year olds were put on the WRONG BUS! *I was dying* SO having this awesome sensor for your children's backpack, or your pet's collar or in your car – lets you stay connected via the SmartThings app to loved ones as they enter or leave your home. Also you can trigger different actions to happen when they arrive or leave the home: like turning the lights on or off, or locking/unlocking the door.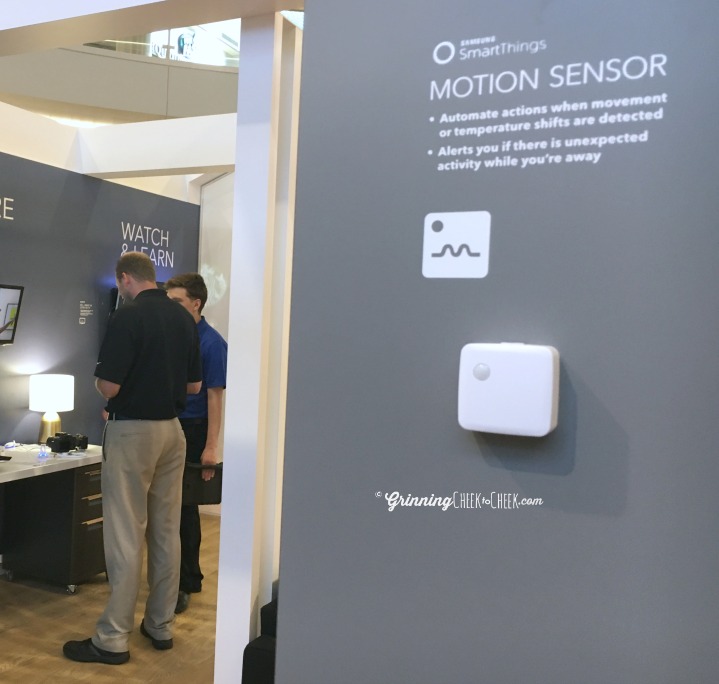 Then also the thrifty-side of me loves the Samsung SmartThings Motion Sensor. The sensor detects movement and temperature in the home and sends alerts if there's activity when I'm away. It detects movements, and can also be set to turn on or off lights as we come and go – and even better – can adjust the temperature according to the motion: so when no one is home, the a/c isn't sucking energy for no good! I love that it also can detect and alert you of motion while you're asleep. I know many a mom who worries about their little (or big!) ones sneaking out in the middle of the night – whether sleepwalking or trying to escape… and this would really come in handy.
Ultimately it makes me want to have it all, so I can let someone else be in charge of controlling the house (through my commands, of course!)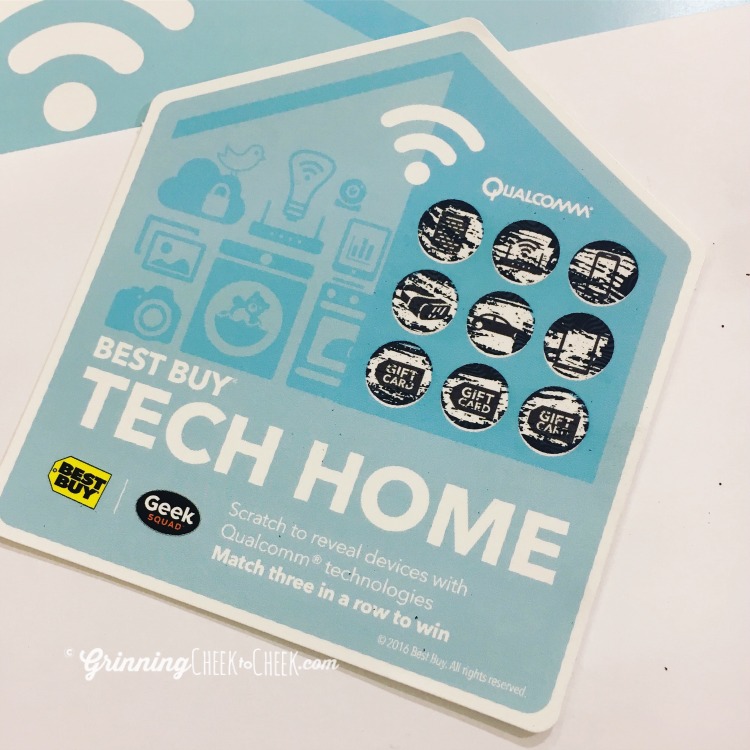 If you're in the twin cities area – be sure to check out the Best Buy Tech Home at the rotunda of the Mall of America through September 17th! If you're one of the first 250 people each day, you'll receive a scratch-off to win one of many smart home prizes like Sonos Play, Samsung Gear S2 and more! I won a gift card, and the guy who was coming as I was leave won a Samsung Gear S2!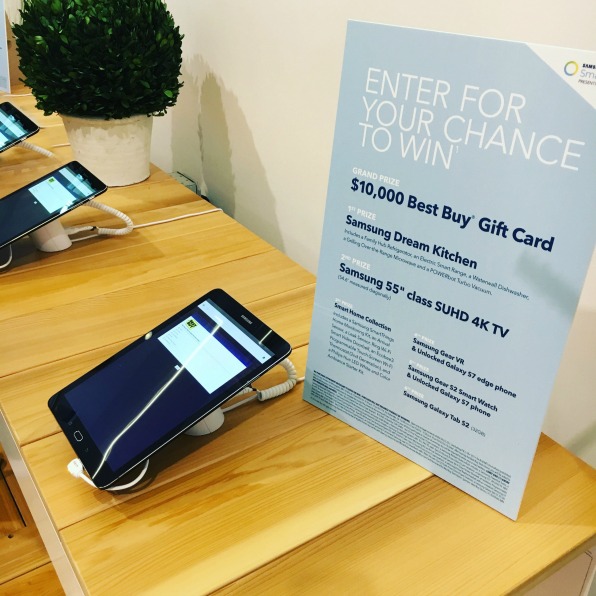 Curious about more. Check out my review on Best Buy Tech Home featuring Philips Hue. There is also the opportunity to enter to win a $10,000 Best Buy Gift Card, a Samsung SmartThings Smart Home Collection, Samsung Dream Kitchen, and a Samsung 55″ SUHD 4K Tv and more!* I'm awaiting my winning phone call 😉
*No purchase necessary. See www.BestBuy.com/TechHome for full rules.
The reviewer has been compensated in the form of a Best Buy Gift Card and/or received the product/service at a reduced price or for free