Recently I was invited to participate in a challenge. A Challenge of Girls' Winter Coats. I was given four winter coats, representing four major brands and was told to give my honest opinion about each of them.
What's the Catch?? I don't know WHICH brand sponsored the Challenge!
So, putting all branding aside, I evaluated these coats along with my 5 1/2 year old niece, Isabella.

Land's End: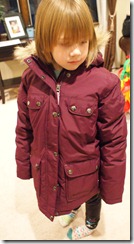 Hood: The hood rim is lined with a removable faux fur liner. The genius velcro adjuster allows for the hood to be propped up higher or lower based on the size of your child. The hood is also fully removable
Wrist Cuffs: One of mine AND my nieces favorite part about this jacket is the wrist cuffs. They're what I would call a 'half-mitten' type cuff. So cool – yet warm!
Buttons, Zippers, and Pockets: The chunky buttons on this jacket stay closed – but are free enough for a child to open and close easily. All the zipper-pulls are nice as well.
There are several pockets: two large inner, and six outer pockets. The hand pockets are fleece lined. Unfortunately, the hand pockets are too small. My niece can squeeze about half of her hand in, but the zipper scrapes her hands – which is painful when they're cold.

Extra Features: This coat has a pull-string waist line. We were able to tell the difference in fit when we left the waist down, vs. when we tightened it.
Another genius feature is the 'Grow Alongs'. There is a red stitching inside each of the sleeves. If your child's arms grow in the middle of winter, cut the red stitching to reveal and extra 1 1/2" of sleeve length!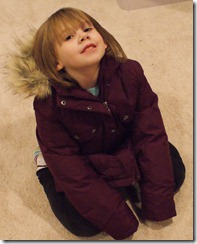 Style: We first put this jacket on my niece and it looked like she was drowning in it. After tightening up the waistline a bit – it looked better. However, this was my third favorite as far as style goes. It's girly, practical, and warm.
Quality: This Jacket ties for first place as far as quality. I love that everything is stitched well and the material seems strong and warm. You know that you're getting quality craftsmanship and it's not going to fall apart – no matter how hard your child plays in it!
Overall: This coat has the coolest features of all of the coats. It has all the things I personally look for in a coat as far as quality. However, It's not my favorite look for Isabella, and I may have passed on it if I was purchasing her a Jacket, due to the look alone.
L.L. Bean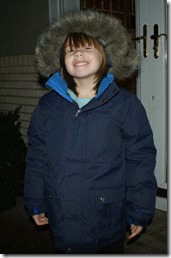 Hood: The hood rim is lined with a removable faux fur liner. There is a elastic band around the inside of the hood to keep the hood up and off the eyes. The hood is also fully removable.
Wrist Cuffs: The wrist cuffs on this jacket are nice, soft fleece and will help to keep your hands warm!
Buttons, Zippers, and Pockets: There is one inner pocket and five outer pockets. The outer chest pocket is zippered, and the hand pockets have a soft and warm lining.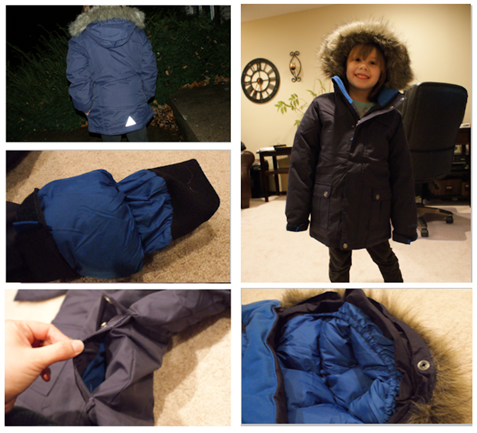 Extra Features:There is a pull string waist, which is definitely needed. This coat is more of a boxy style – and the waist-pulls bring the jacket in and make the coat a little more feminine. I love the instructions it gives for washing the coat – but it does create quite a long tag.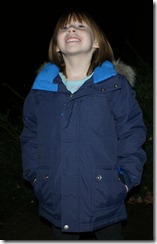 Style: This coat is Blue and a bit more boxy of a shape, which made the coat feel a little more masculine. It's an OK style, for practicality – but it's not as 'cute' as the others.
Quality: This coat is tied in first place for quality. I like the quality of the materials, as well as the extra stitching and reinforcement in places that seem that might need it.
Overall: Overall this is not my favorite coat. Mostly because of the lack of cuteness. It is quite practical and made with quality in mind – I'm just not sure that I would personally buy it for my niece.
J. Crew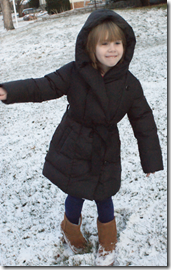 Hood: The hood on this jacket is plain. Because of the crossover front of the coat, the Hood also crosses over her neck area. She loves the feel of the hood because of how soft and puffy it is.
Wrist Cuffs: The wrist cuffs on this Coat are a super soft and stretchy Knit. Very comfortable, and warming.
Buttons, Zippers, and Pockets: There are no zippers on this coat. Two snap buttons and three buttons that you hook around with a loop. This makes for a cute coat – but not as easy for a 5 year old to button.
The pockets are in perfect position for your hands to comfortably rest, and are nicely lined and warm.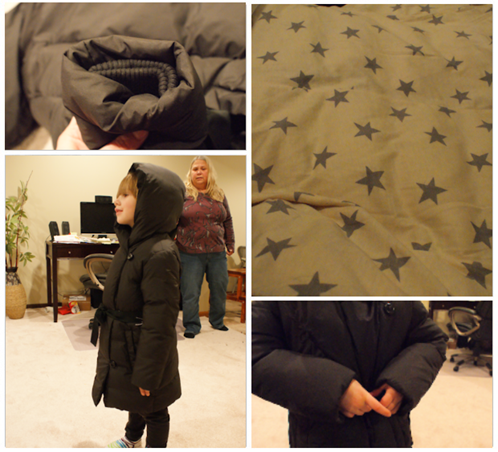 Extra Features: While there are no 'bells and whistles' on this coat – I Absolutely am in love with the softness and puffiness of this coat. It's so cozy and soft – and by far the warmest coat when the temperatures are freezing. There is a Grosgrain ribbon tie around the waist – which makes it look SO cute.
Style: This coat style is growing on me – mostly because of the awkwardness of the hood and the plain look on the outside. While hanging, this coat is adorable, but I think that's the ribbon-lover in me. But it still is adorable on my niece.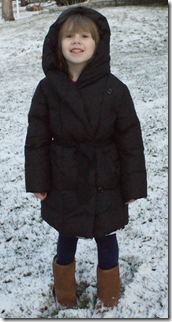 Quality: It feels as if it was made of the softest down and finest materials. The lining of the coat and the pockets is made of the softest cotton I think I've ever felt. If this coat was my bed, I'd be in Heaven.
Because of the wonderful soft fabric, I worry about the coat getting caught and tearing. It's just not as thick of a material as the others.
This coat is really warm and the winner of our 'warmth' test.
The buttons may need reinforcing after a while, and it would be nice if the belt was sewn to the coat, for staying purposes.
The instructions say to wash and dry this coat pretty much like any outfit that you would wash – Bonus!!
Overall: Overall this is my Niece's Favorite coat. She didn't see herself in the mirror at all on any of these coats, but she LOVED how cozy she felt in it and how it cradled her head. The soft insides, soft sleeves, and poufy warmth made her mind up that this was the coat she wanted. It's cute enough that I would have chosen this coat for her after feeling it – Online just doesn't do this coat's softness any justice.
Gap

Hood: The hood rim is lined with a removable faux fur liner. The inside of the hat is fleece lined and super soft and warm.
However, Big downfall of this coat is that the hood covers Isabella's eyes – rendering the hood practically useless. Cute – but Useless.
Wrist Cuffs: The wrist cuffs on this coat are the same as the lining – just simple, elastic cuffs. No extra warmth or lining.
Buttons, Zippers, and Pockets: There is one inner pocket and two plain-lined hand pockets.
Extra Features: There is non-adjustable elastic on the inside waist to pull the jacket in. The belt around the waist is not attached anywhere, and the belt loops seem insecure.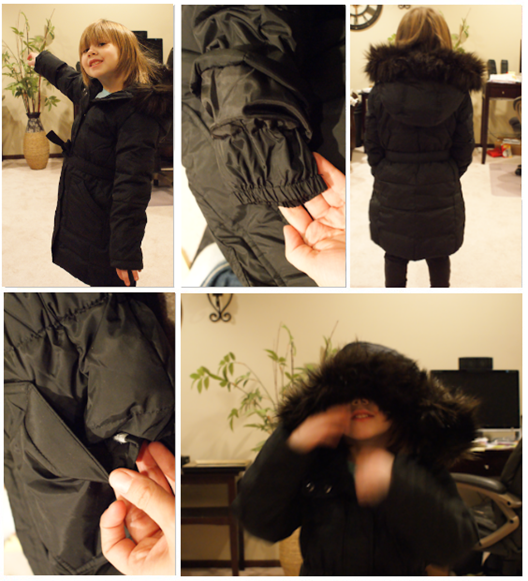 Style: I *Love* the look of this Jacket on Isabella. It's SO adorable on her, and everyone's favorite. Everyone, except for Isabella.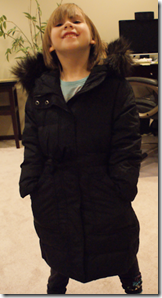 Quality: I'm not terribly impressed by the quality in this coat. The inside lining of the coat feels thin, and as if it would easily rip or tear. I also don't like the lack of detail that went into the coat. No warm linings in the cuffs, or in the pockets. The coat was also poorly trimmed. There was some cotton insulation sticking out on one side of the pocket, showing off some of the lack-of-detail in this coat.
If Isabella were to play rough with this coat on, it might snag and tear.
Overall: Before evaluating all of these coats – If I had to pick a coat for my Niece, this would have been the one I would have picked. Simply because it looked the best.
Although – now looking into it more, I think I would have been disappointed in the results at the end of the winter, or in the fact that my niece would be freezing in our cold Minnesota winters. Isabella felt that this was the least warm coat of all four.
The Cold Test
We took all four coats outside for several minutes in 29°F and tried each of them on from a cold standpoint. I know, I kind-of tortured my niece… but It was for science!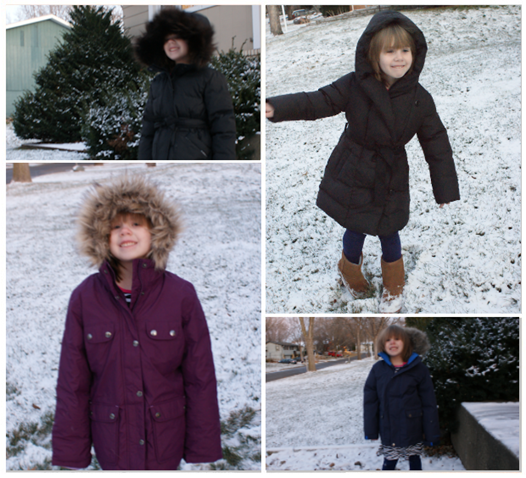 First we put on her favorite coat: J.Crew. She felt warm, and happy!
Second we put on the L.L. Bean coat: She thought it was terribly freezing to put her arms into – but slowly started getting warmer.
Third we put on the Land's End coat: She thought the same thing as above: Cold to put it on, but warmed up shortly thereafter.
Fourth was the Gap coat: This one she never warmed up in, and started crying.
Then just to be sure it wasn't just her entire body getting colder, we put her back into the J. Crew coat, and started warming up immediately. The coat lining is cotton, so it stays fairly warm to put your arms into – even though it's sitting outside.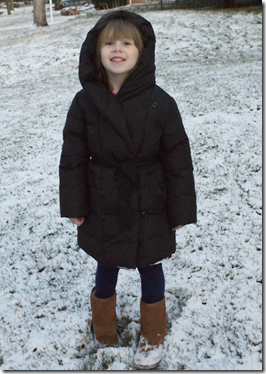 Overall
So while we feel that the Land's End and the L.L. Bean coats are the best quality coat, and might be the best for the snow – the Gap coat looks the best, and would be a great Sunday coat or special occasion coat – and the J. Crew coat is the warmest and coziest. Isabella and I have chosen the overall winner of the coat that she will wear on a regular basis as the J. Crew coat.
So there it is! Very detailed, honest opinions of all four coats. I'd love to hear what you have to say about my reviews and if you might go checking out any of these coats for your little girl this year!
The Quality Coat Review was a blind review. In order to give my unbiased opinions, I am unaware of the company that sponsored the effort. While the opinions are my own, I am being compensated through MomDot for my time.