This recipe was sponsored by Dairy Makes Sense.
Along with making some healthy life-changes for my family – we are slowing replacing some of the 'bad' foods that my kids have come to love and enjoy. The first exchange that I tackled was the Chicken Nugget.
My kids adore chicken nuggets – and being that we live 3 blocks from McDonalds and pass it on the way home every day, they often beg for nuggets. Not that we stop at McDonalds each time – but when we get home, the request of chicken nuggets doesn't end. In the past we have simply thrown some Tyson nuggets in the oven.
I wanted that to change – I know that the store-bought frozen nuggets are still not the healthiest option for my kids.
In my previous experience with Let's Dish (a meal making service – where I go and prepare freezer meals to bring home for easy preparation) our family has thoroughly enjoyed every breaded chicken that I've brought home. Our favorite was the chicken that was marinated in buttermilk. Buttermilk just seemed to soften up the chicken, and make it extra juicy and tender. Not to mention that Buttermilk has added protein, potassium, calcium and phosphorus (source)! So that's where I started.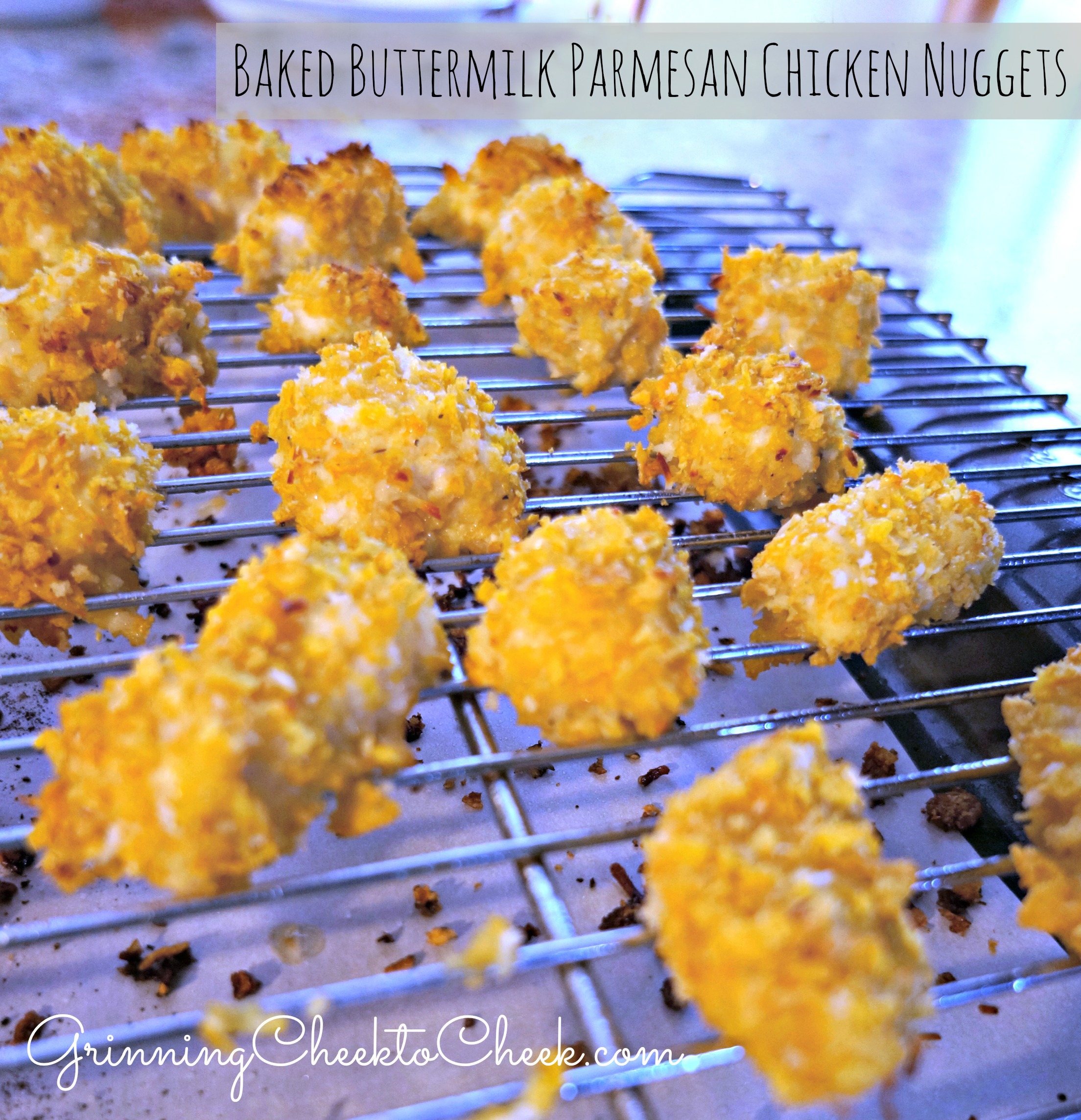 I created the baked buttermilk parmesan chicken nugget. My family enjoys these, and requests these more often now, than they ever did before!
Now – I don't always have the time or patience to make the ingredients for these – so I learned from my freezer cooking experiences, and created extra, storing them in proper serving sizes in my freezer – so they're ready to go any afternoon!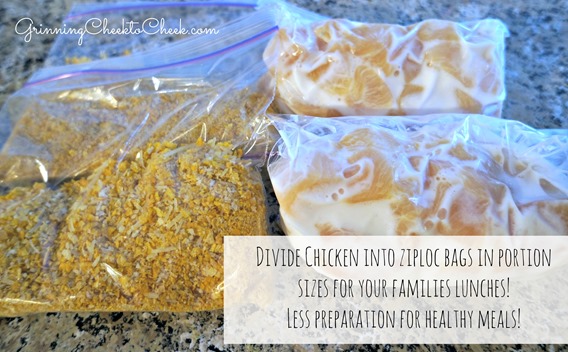 While I do have the actual recipe you can print below – I wanted to show you my process:
Baked Buttermilk Parmesan Chicken Nuggets
First – I cut up my chicken. I like to use semi-defrosted chicken, because it's easier to cut!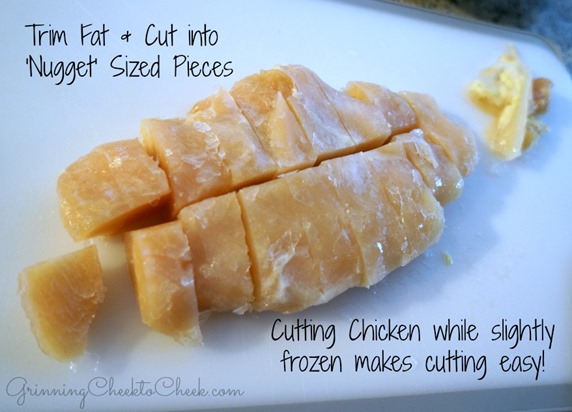 Coat chicken with buttermilk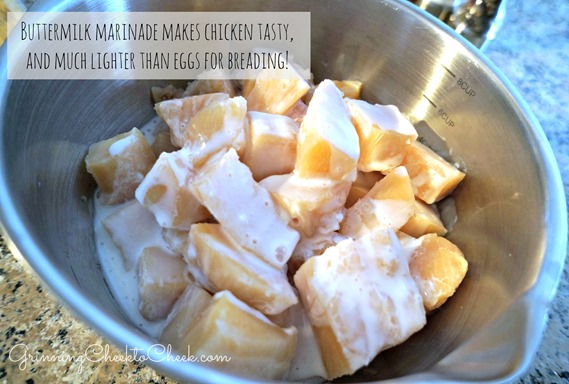 I use a bowl with a tight lid, and let my boys shake it up to coat thoroughly.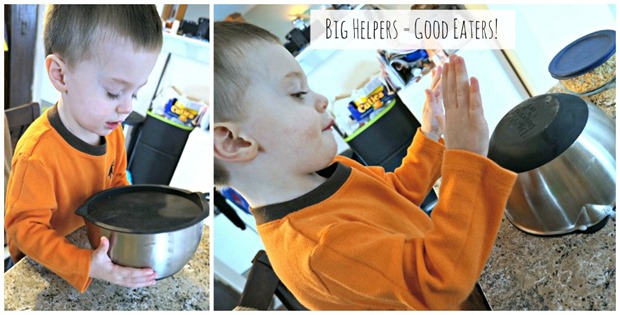 Then – I give the kids their next task: crushing the corn flakes. I put the corn flakes into a strong (freezer style) Ziploc, and let them jump on it!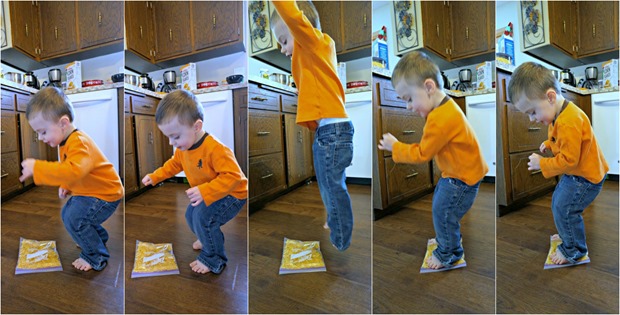 Meanwhile, I mix up the rest of the ingredients – so when they're done having their fun, I can just add the cornflakes to the mix.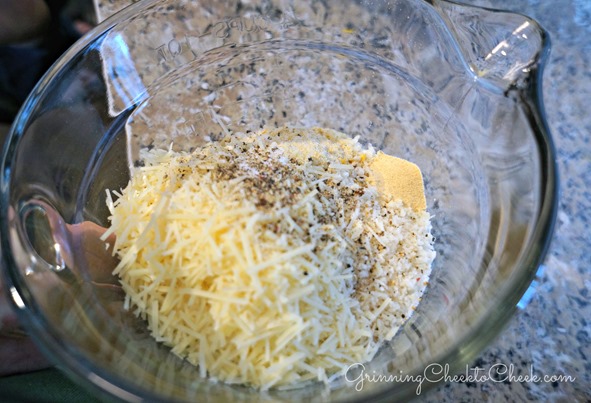 Mix it all together – and divide it out. – Dividing the chicken, as well.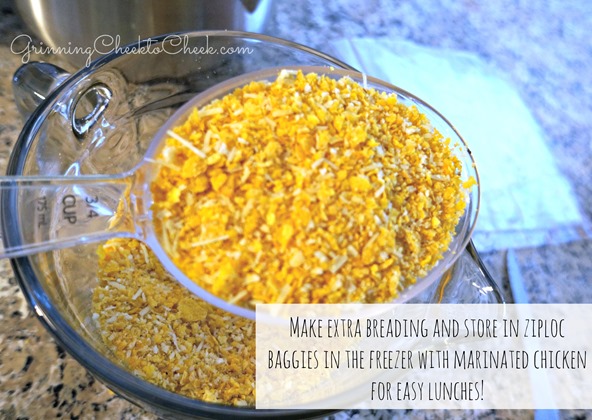 Coat the chicken with the breading, and place onto baking sheet. (This time I was thinking that maybe the chicken would be cooked better on top of the cooling rack, and be crispy on both sides – but it wasn't. It was slightly soggy on the bottom, so I'd recommend placing directly onto the baking sheet or parchment paper.) Bake for 10-15 minutes – depending on size of nuggets.
Often times I also make these little veggie sticks (carrots and/or zucchini) alongside the chicken nuggets – they're way better tasting then french fries – and my kids gobble them up. I'll show that recipe another day!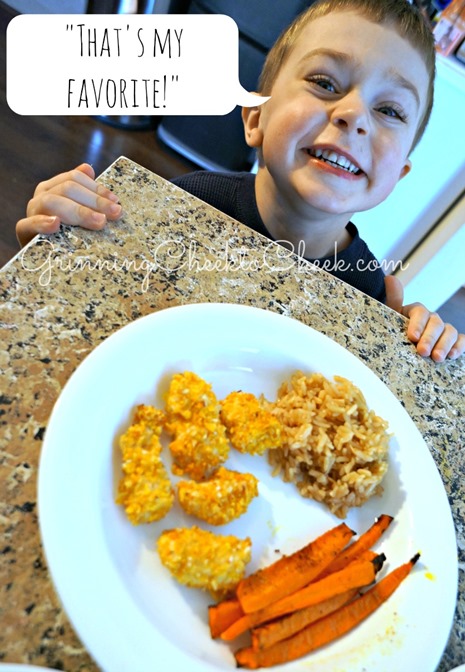 The chicken nuggets are amazingly juicy and tender. The kids can't get enough of them it seems – and I love them on my salads!
I hope you enjoy this recipe – I've got a more printer-friendly version below!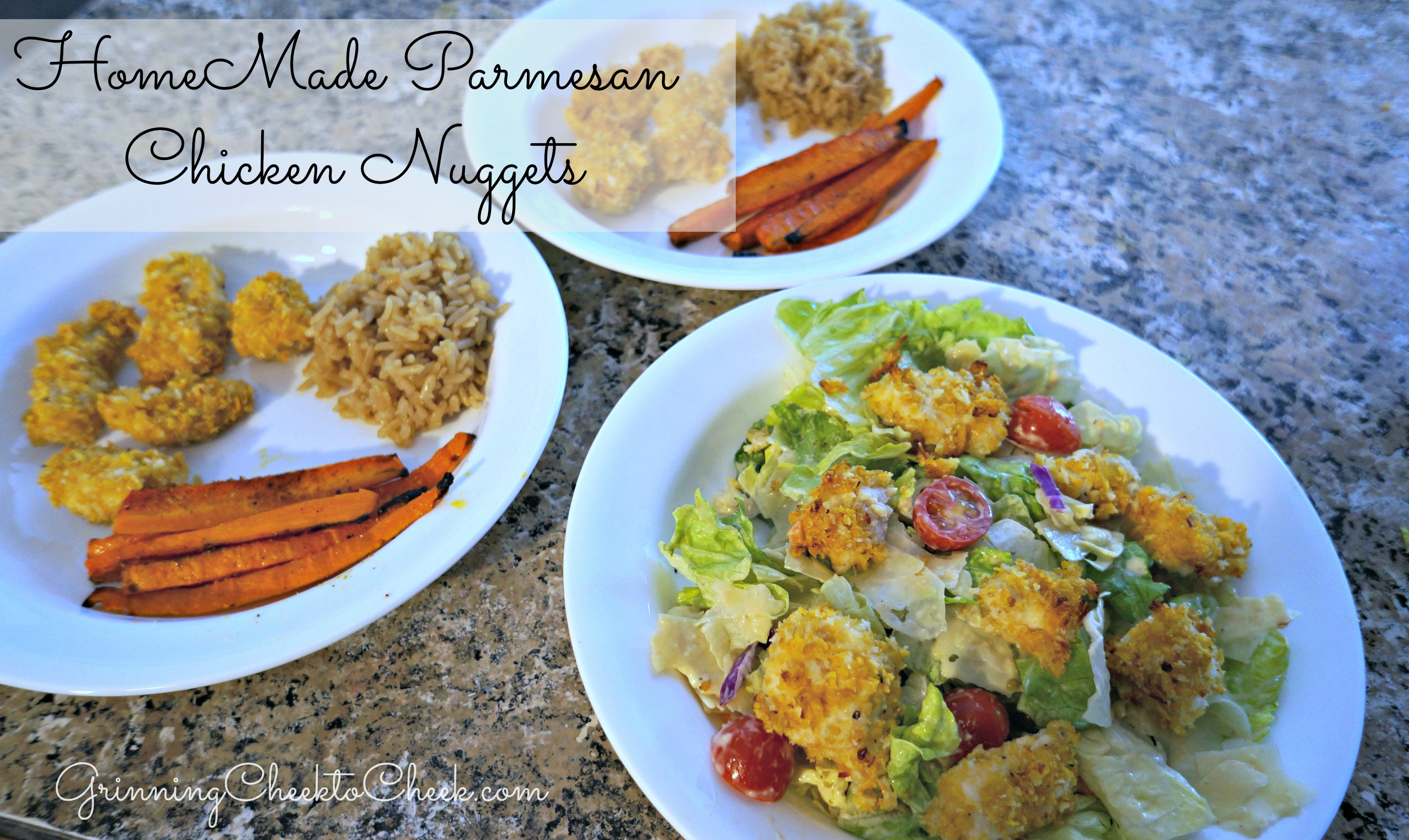 Baked Buttermilk Parmesan Chicken Nuggets
You'll Need:
6 Boneless Skinless Chicken Breast (2 medium breasts feed the 3 of us for lunch, so I usually start with 6)
1-2 C. Low-Fat Buttermilk
2 C. Corn Flakes
1 C. Panko Crispy Bread Crumbs
3/4 C.Shredded Parmesan
1/4 t. Salt
1/4 t. Pepper
1 t. Garlic Powder
1 t. Onion Powder
Directions:
Trim and cut chicken breasts into bite-sized pieces (you can also cut into tenders). Put into bowl and cover with buttermilk. This is best done several hours before hand, but also works to marinade for a short time while preparing the breading and pre-heating the oven.
Preheat oven to 400 Degrees F. Spray baking sheet with cooking spray, or line with parchment paper.
Crush Corn Flakes. Add all dry ingredients into a bowl, and mix well.
*This would be the time to divide breading and chicken into separate bags if you're making some for future meals – about 1 1/4 cup for each 2 medium chicken breasts*
Coat chicken nugget pieces with breading, and lay on a baking sheet.
Bake for 10-15minutes, depending on size of nuggets. My little nuggets take about 10 minutes, strips would take closer to 15 minutes. Be sure chicken is thoroughly cooked before eating.
I would love to hear your great ideas for replacing common kids' meals with a healthier version!
How does your family incorporate dairy into your healthy lifestyles?
Again, this recipe post was sponsored by the Dairy Makes Sense campaign – showcasing recipes that our family loves that incorporate dairy into our lives. All opinions are 100% my own, and in no way reflected by compensation.