Bedtime can be such a struggle for so many young families! But my toddler LOVES climbing into her Little Tikes bed at night now, and it's made our routine so much easier! A good bed is a huge asset in making bedtime go more smoothly. Plus some playtime during the day is an added bonus! The Little Tikes Pirate Ship toddler bed is an amazing option for toddlers!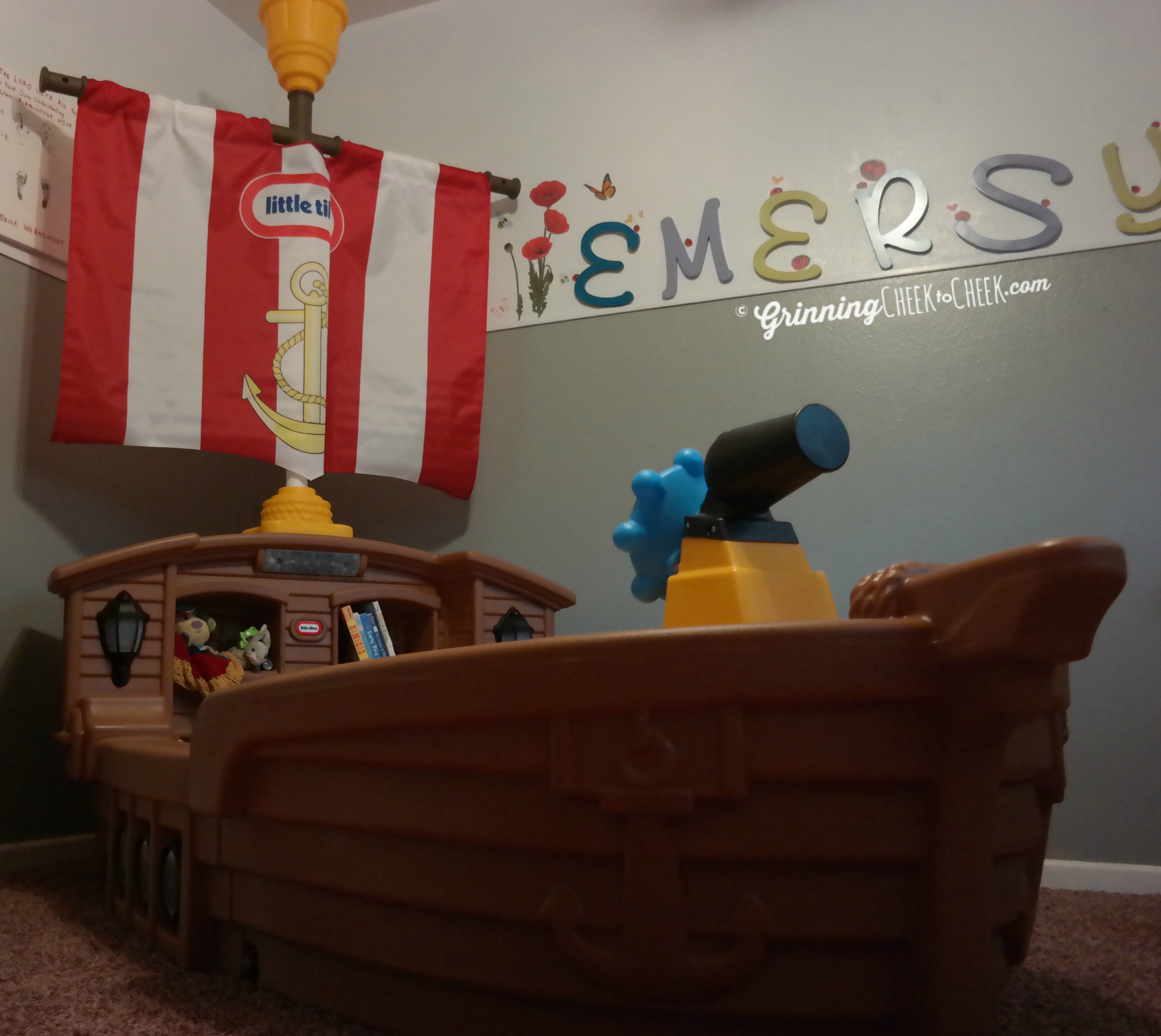 Little Tikes Pirate Ship Bed
My son is totally jealous, but my daughter is thrilled to have her very own pirate ship! They search for treasure and walk the plank throughout the day, but she is the one that gets to snuggle in for dreams of adventure each night. This Little Tikes bed is not only the perfect size for her, it has a handful of treasures that make it way better than your typical toddler bed.
My absolute favorite feature has become the lights. Each takes 3 AAA batteries (have these on hand during assembly) and has a very easy-to-push button for on and off. The two side lanterns turn themselves off after 2 minutes, the middle light stays on for 10. My daughter has decided the the side lanterns are for playtime and the middle light is for bedtime. Which means no more struggle to turn off the big light at night! She simply turns on her "bedtime light", I turn off the big light, no fuss!
Close second for my favorite is the side walls. The mattress sits down inside the ship, which means there is a few inches of wall on every side. I don't worry a bit about my daughter falling out in the night. The walls are short enough she can easily climb in and out. Plus they are thick enough that the kids can stand on them while playing and I can sit on them while reading, playing, or comforting. There are little inset shelves inside the side walls for very small toys, rubber duck size. Plus 2 bigger cubby holes in the headboard piece for small books, sippy cups, or toys. These are very convenient for keeping bedtime-related items so I don't have to stand up and interrupt the bedtime routine to retrieve things. And all the sides are thick enough to set bigger items that don't fit in the shelf space.
My son's favorite feature is the whole thing! For real, it's a pirate ship! Complete with a mast, sail, treasure box, canons, and steering wheel. He jumps around to man the ship, yell Argh matey, climb up beside the mast, fire the canons, and fight the sharks swimming in the carpet. There is even a little plank that both kids LOVE jumping off into the sea while mama shark tries to eat them. He puts books and stuffed animals in the cabin shelves, fills and re-fills the storage bin treasure chest, and steers the ship into port. "Baby" is up in the crow's nest to alert him to approaching dangers.
If this awesome toddler bed didn't hold a mattress, it could definitely be a playplace. Once we don't need a toddler bed anymore, I would love to fill it with sand for an epic sandbox.
My daughter's favorite feature is that it's hers. No princess carriages for this girl, she's all adventure. She's working on her pirate lingo, loving playing with her brother, and doesn't hesitate to hop right in at night. I no longer find her sleeping on her floor or her big bear, she's always cuddled peacefully in her ship, happily lost in dreamworld.
Now I'm definitely not saying you have to have an awesome bed like this to make bedtime go smoothly, but it sure helps! Plus being a great play space during the day. It fosters my kids' imagination, uses some of their endless energy, and is a happy place to settle in for the night.
I really can't say anything negative about the Pirate Ship bed! Assembly was simple enough and took a little over an hour. All necessary pieces are included except the 9 total AAA batteries needed for the lights. I was initially worried my kids might hang from the mast, but the flag totally deters that and they haven't even tried. Everything feels durable and it's Little Tikes, so I know it will last.
I received Little Tikes Pirate Ship Bed for review, opinions are 100% my own and not influenced by compensation. This is honest-to-goodness a great toddler bed.