I love the flavor of the yogurt – I just can't handle the smooth texture.  So I typically don't buy yogurt for myself.  I actually *WISH* that I loved yogurt.  It's so easy to grab a container and go, bringing it to lunches at work, or snacks on the go.  I often buy yogurt for my husband and my kids – and they love it… so I wish I did too.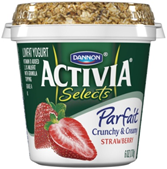 That being said – I had a chance to review my choice of the new Activia Selects Yogurt.  I chose the Parfait.  At first I was a bit hesitant to try it because – it's yogurt.  But then I thought because there's crunchy granola on top, the texture thing shouldn't be as much of a problem.
I purchased the Peach flavored Activia Selects Parfait at my local grocery store.  They come individually, and are priced at around $1.29 each.  The flavors for the Activia Selects Parfaits are: Strawberry, Vanilla, Peach, and Mixed Berry.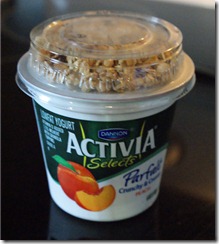 It's nice to have the granola so handy right at the top of the container – all you have to do is peel the foil and mix it in.
The Yogurt smelled so nice to begin with, so I had to take a bite before I mixed the granola.  I loved it.  Actually there are little peach chunks in the peach yogurt and I thought that helped already with the texture thing.  I probably could have eaten the whole thing just without the granola – and not had texture issues.  I wonder if the regular peach flavored Activia yogurt tastes the same as this? if so I'll have to give it a try!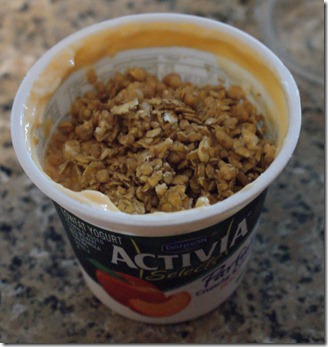 The granola was *really* crunchy.  I'm not sure I prefer overly crunchy granola, but it was really good either way.  It was a nice treat to have for breakfast this morning!
Being that I only sampled one I cannot say much about the overall benefits of using Activia  – but here's what Activia has to say about their benefits:
On top of being incredibly delicious, Activia® Selects contain the unique probiotic culture Bifidus Regularis® (Bifidobacterium lactis DN 173 010) that helps to naturally regulate your digestive system, when consumed daily for two weeks as part of a balanced diet and healthy lifestyle.
So if you're a yogurt fan: give the new Activia Selects a try.
Activia Selects French:
A delicious blended French style yogurt with a smooth and silky texture. Features the popular yogurt recipe from France.
Activia Selects French – Fruit Bites on the Bottom:
Smooth and silky French style yogurt with large and fresh pieces of fruit on the bottom.
Activia Selects Greek:
Thick and creamy blended Greek yogurt, containing 0% fat and an excellent source of calcium and protein.
Activia Selects Parfait:
A blend of delicious creamy Activia yogurt, flavorful fruit pieces, and crunchy granola on top.
I wrote this review while participating in a campaign by Mom Central Consulting on behalf of Dannon Activia Selects Yogurt Series and received a coupon to facilitate my review and a promotional item to thank me for taking the time to participate. However, my opinions are entirely my own and I have not been paid to publish positive comments.