As promised, I'm Continuing on with the previous list I made of Gifts For Her  and Gifts for Kids at Best Buy. This time we're talking Gifts for TEENS at Best Buy!
This was also a tough list – slightly complicated because I don't have teens… but I was trying to put myself into that 'teenager' mode again!  I know a few of these things would still be on my list, as well!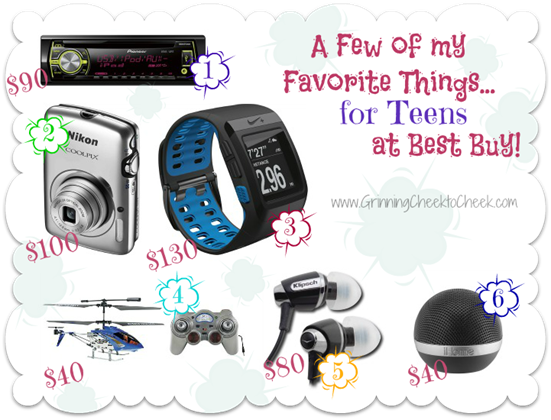 1. Pioneer – 50W x 4 MOSFET Apple iPod-Ready In-Dash CD Deck
For those driving teens that have older cars – but want to be sure that they can hook up their music to play through the car! Don't even have to worry about all the extra cords!
2. Nikon – Coolpix S01
I reviewed this camera just a few days ago, mentioning how it would be a great camera for a Teenager.
3. Nike+ – SportWatch GPS Powered By TomTom
For the runners – this watch is not only a heart rate monitor/calorie tracker – it is also a GPS which tracks where you're walking, your distance traveled, and help you to find new paths to run on! Looks awesome (and I'm not even a runner!)
4. World Trading 23 – Raptor Remote-Controlled Helicopter
What teenage boy doesn't want something remote-controlled for Christmas?  Heck, even my husband gets at least one remote-controlled item every year!
5. Klipsch – Image S4 Earbud Headphones 
Klipsch Earbuds are great – They're so comfortable and I love wearing them to tune out everything else. Sound proof – AND – great quality.
6. iHome – Portable Bluetooth Speaker
iHome Portable Speaker is great for those who like to bring their music with them! I love having the Bluetooth compatibility, too! Great price, and great sound!
___________________________________________________________________
That's all for this list! I hope you enjoyed it! Keep your eyes peeled for the Last list – Gifts for Him!!
Are any of these things on your Teen's lists?
Yes, This is a sponsored post by Best Buy – all opinions however, are 100% my own – and I picked all of the items on my list personally.  Also, this post contains my affiliate links for Best Buy – Please support this site by clicking my links before you purchase!