Our family loves going to Chuck-E-Cheeses. Of course the kids love it because they get to play and run around for a while – and  I like breaking the day up! This time of year we end up sitting inside our homes so often because the temps are sub-zero with (like today) –25 to –35 degree wind chills, so getting them to a place where they can work their large muscles and run around without people looking at us like we're crazy (like at Target!) is our kind of fun!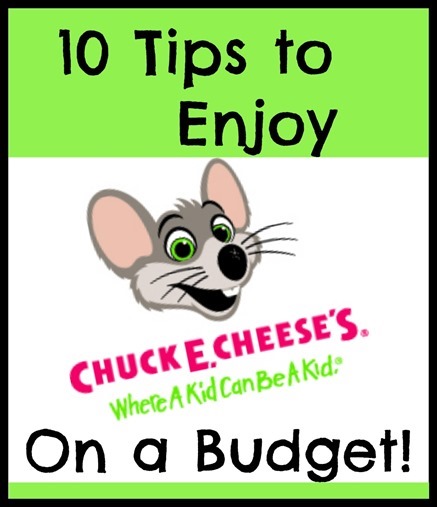 We always try to make it to Chuck-E-Cheese for around $25  or less for our family of 4. That's cheaper than us going out to eat anywhere else! It's easy to be thrifty and enjoy Chuck-E-Cheese:  All of their games are only one token!
10 Tips to Enjoy Chuck-E-Cheese's on a Budget:
Before you Go:
1: Never pay full price:  Always check out their website, because they've got great coupons there.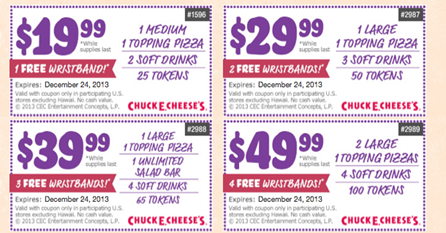 2: Signing up for their emails ensures that you get their best deals emailed right to your inbox. Yep, even right after signing up, you get an email. In the email will be a link to special coupons that are a little better of a deal than the coupons on their site.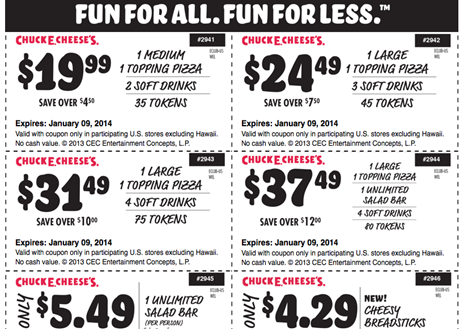 3: Have the kids play a few games on their website, and print off their ticket prizes. You can get 1 print out per child. Earn up to 50 tickets per game!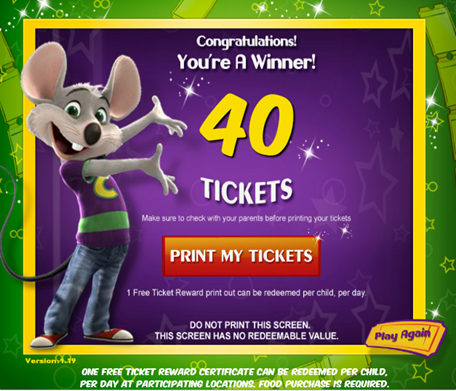 4. Print off a reward calendar for each child (I'm so bad, I print them, cut the coupon off and bring it right in… I know my kids deserve a trip to Chuck-e-Cheese!) Each child can receive 10 free tokens!

5. Bring a Ziploc baggie for each child's tickets if they're concerned about keeping their own. Label each with their name.  I usually split all tickets equally (especially since my husband is usually the one collecting tickets)
While at Chuck-E-Cheese: Extend the Fun!
6. Give the kiddos one token at a time. This encourages regular check-in's as well as spreading out their fun to last longer. My youngest would literally put coins in one by one until they were all gone on one machine. This definitely saves us.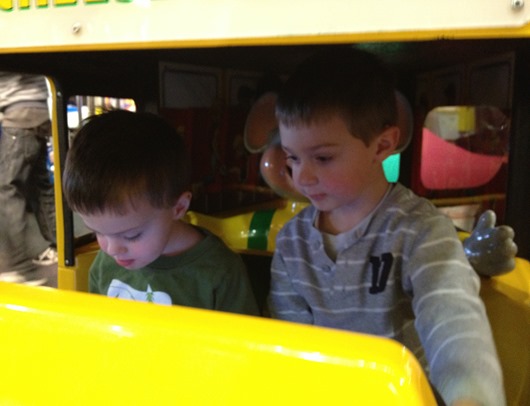 7. Every 30 minutes (maybe each hour?) Chuck-E comes out and does a little dance where the kids can collect tickets. We don't get many, but definitely time consuming and fun for the kids!
8. Be sure to encourage them to play in the climbing structures. This activity is free and definitely gets their bodies moving!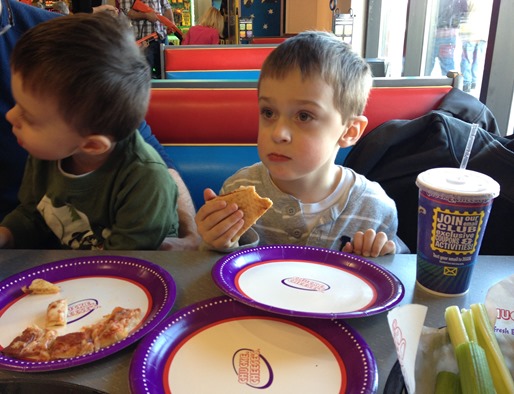 9. If your kids aren't really in to pizza, or like mine, are too distracted by games to eat. Feed them before you go and then just order yourself a salad bar or another side. Chuck-E-Cheese has great small menu items, most of which also have coupons.
10. Look for specially marked packages of food with special coupons. Right now Jolly Time Popcorn and Tyson Cheesy Chicken Nuggets both contain coupons for tokens. Coupons on bags of Tyson Cheesy Chicken Nuggets offer a $25 deal for 130 tokens, and Jolly Time Blast O Butter popcorn coupons offer an EVEN BETTER $18 deal for 100 tokens.
I often try for less than $0.20/token and a few times a year I'll buy that many. Because my kids are still small they can go through about 50 tokens in one trip, and I save the rest of the tokens for future trips.
Do you have any tips for saving money at Chuck-E-Cheeses?