I feel live I've started so many posts with this preface..  My son *Loves* Trains.  He talks about trains most of his day.  So when he opened up the package with the Word World Train Escapade DVD and saw the train on front – he wanted to put it in, immediately.
The premise of Word World is that everything is made with letters.  For example, the Pig's body is made up of a P – I – G. Anything can be done in Word World, so long as you have the right letters – and you can 'build a word!!'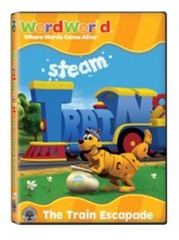 Never Too Many Oo's:

When the two letter O's in Monkey's roof blow away in the wind, its up to Duck to hunt down the /oo/ sound and fix the roof before it rains.  Can Kangaroo and Duck save the day?


Ducks Hiccups:

when Duck drinks down a glass of water too quickly, he gets the hiccups for the first time ever! his Word Friends try every trick in the book to help him, but which cure will work?


Achoo!:

Pig is allergic to peaches! When Sheep brings Pig a bag of peaches to make pies, Pig starts sneezing so much that he can't even tell Sheel what he really needs is a… a… apples.


Get Well Soon Soup:

When Ant gets sick, Pig tries to take care of him by making his special Get-Well-Soon soup.  It has all the letters in the alphabet in it, so Pig can build any word that Ant needs to feel better.

The Train Escapade can be found at Toys R Us, or any of your favorite online retailers including NCircleEntertainment.com

Release Date – 5/3/2011
Run Time – 60 minutes
SRP – $12.99
We have watched world world several times – its on our PBS station.  I love it because it goes through phonics in a fun and creative way – and Andrew loves the bright colors, and the catchy tunes. It's really a cute show.  If you haven't seen it at all, I imagine there are some clips on YouTube that you could probably look up.
Win It!!!
One Lucky Winner will receive Word World: The Train Escapade on DVD. Estimated Retail value: 12.99

This first entry is
MANDATORY

: Visit www.theyarelearning.com and tell me which coloring or activity page you like the most!
Optional Extra Entries: (only after mandatory entry is done!)
Subscribe to my blog via email
Follow my blog publicly via GFC
Follow my blog via Networked Blogs
Post my NEW Button on your blog. This button is different from the old one and the coding will need to be changed.
Follow GrinCheek2Cheek on Twitter on twitter and tweet about this giveaway:  (this may be done daily)
It's Time to Build A Word with Word World on DVD! #Win @GrinCheek2Cheek #Giveaway Ends 5/27 http://tiny.ly/26S9
Like GrinningCheektoCheek on Facebook!
Vote for me on picket fence blogs. One Entry per vote(per day).
Enter any of my other Current giveaways. 1 extra entry per CURRENT contest entered.
NEW: Post my link on any of

that day's

CURRENT

Public Giveaway linky for this giveaway.  Should say something like – GC2C– Word World on DVD – Ends 5/27 *and the link*. Comment to me the link to where you submitted it. (i.e. for a Tuesday Giveaway Linky – post it anytime before midnight that same Tuesday)

Open to U.S. only.  Giveaway ends May 27th, 2011 at 11:59pm. Winner  will be drawn by 'andthewinneris…' the following day, and will be e-mailed. Winner will have 48 hours to respond or a new winner will be drawn.