So just about every year as far back as I can remember, my mom's side of the family has drawn names for Christmas.  When I was younger,  we would all sit down on Thanksgiving day and write out the items that we would like to receive for Christmas. And we would hunt down that specific item that we wanted to get for the person we drew.
That's Great – and we've enjoyed it –  But When gift cards started becoming popular, that's when the nuisances seemed to start.
Rather than spending time writing lists of things that they could go out and find for us – We would instead, write down all the locations we'd like a gift card to.
I mean – gift cards are GREAT. I love having them… it just kind of took the meaning out of the gift giving.  The gifts were no longer 'special' but more… expected.
Really the big problem that I have with gift cards isn't so much about Giving them – because, they are easy – and sometimes VERY needed.

For Instance, one year, we got gift cards to four different home improvement stores.  Which is great and all – but it would have been really nice to have 4 gift cards to ONE home improvement store – that we could have then combined the gifts and bought something larger.  I know too, that you can sell gift cards online and get the money you need to use towards other items you might be looking at – but that wasn't as widely available a few years ago.
The problem I have, is that… a gift card exchange is more of a… 'what can I buy myself' sort of thing.  Does that make sense?
My thought process when asking for gift cards is more finding out the stores/restaurants that I want to go to, that I otherwise wouldn't justify my money towards.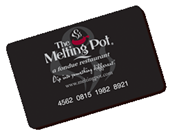 Example: So I get a gift card for $30 to one of my favorite restaurants… that typically costs me $100 to go to.  Well.. now I've got $30 off… but I still have to come up with and justify the other $70.
So, if I want an excuse to go to my fav. restaurant that is out of my price range? I'll ask for a gift card for it.
But if I want to be smart about my money – I just will stay out of the gift card exchange all together.
That's how we came up with the home-made Christmas this year.  In a few days I'll showcase to you what I'm making for my family members this year for Christmas!
I bet you will all want one too