Ok. So I'm going to be controversial.  Just a warning.
I'm just astonished by how many people have this crazy hatred for the Duggars?  Just because they're having their 20th child??
SO many arguments!
These are the comments that leave me.. dumbfounded:

Sooo… You're for Population control??
Last I checked I thought this was a free country?  Should people be only having one child so as to save the planet of the diaper waste?

Would the death of one of your children stop you from having any more children?? So every woman who miscarries should stop having kids all together….  Right?  wow.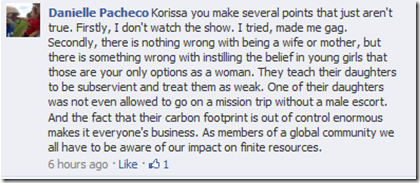 Ok.  Lets let everyone worry about their OWN carbon footprint.  Why is this any different than 20 houses with one child?  It's not.  It's actually better, because they share resources – buy in bulk, reuse by buying used and saving the difference.
This goes right back to the population control issue.  Move to China.
Plus.  I wouldn't send my daughter on a missions trip alone either?  being a woman alone or even two women alone without an accompanying male in another country is DANGEROUS, and STUPID.  Maybe you've never been to other countries?? They don't exactly respect women the way they do here.

Wow….  That's. all.

Ok.  So yes, she had pre-eclampsia and gallbladder issues with her last pregnancy.  I did too with my first.  Same thing, except I was 37 weeks.  It has no affect on subsequent pregnancies and does not mean that you should stop having children..

This woman feels that because her three babies were premature and she has hospital bills stacking up, that she should be ENTITLED to a TV spot?? Are all families that have 16 or more kids on TV shows?? I don't think so.  You're not entitled to anything.
My Two Cents?
I most certainly think that they are doing what God is allowing them to do.  If it's in Gods will, all will work out, and when she is no longer needed to produce children, she will no longer conceive.
Just my personal opinion on God's impact on having babies:  Before Andrew was born, I said we were just going to leave it up to God to choose whether or not we were going to have kids and how many we would have.  I kept that statement until I was exhausted, broke, and was having a hard time dealing with my infant.  I decided around the time that Andrew turned 1 that I was going to go on Birth Control because *I* didn't want any more kids.  I called and scheduled an appointment with my obgyn, who scheduled me for two months out for an exam.  Not but a few weeks before this appointment, I became pregnant.  I totally believe that God was telling me that *I* don't have control.  He does.
End Rant.
My favorite POSITIVE Comment?
…Seriously.  When women stopped teaching their daughters how to be wifes and mothers – this country's problems doubled.  I totally agree.
I'd love for my boys to find a wife who has been taught to cook and clean and be a wife and mother.  I also want to teach my boys what it takes to help his wife cook and clean and be a good husband and father and a leader in his home.
OK.  It's out there.  Let me have it.