I've often wondered in the past when watching TV commercials and whatnot around the holidays about all those car commercials that talk about the spouse buying a car as a gift… or giving your child a gift of a brand new car for whatever occasion?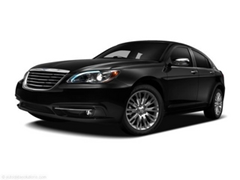 I mean – I know it happens… but I always wondered about WHO it happens to, because for real, do you know anyone who went to a car dealership and got or gave someone a brand spankin' new car as a Christmas Present?
I'm thinking that it only happens within the rich folk.  I mean… I grew up going to a High School that had a parking lot filled with Beamers and Mercedes vehicles, and I'm sure mommy and daddy got them for them – and maybe even for Christmas..  but I've never really thought about it even being close to reality for me.
When I got my license, I didn't head to the nearest Dodge dealership to get myself a new car – I got a hand-me-down from my brother, who got that hand-me-down from my mom… who bought it and used it for several years before that.  It had holes in the floor of the car and shook so bad sometimes that it would loosen the battery connection and in the middle of driving down the freeway the car would shut off.
So that's why I loved that commercial this year where the man is standing in front of a car asking if you're a millionaire – and if you're not? Then you're probably not going to be giving a car for Christmas… But then he's gifting that car to his niece.. ha!  I wish I was his niece!