As a Dental Hygienist – a common question I get from parents of toddlers is 'When should I switch to fluoride toothpaste?'. It's a common question, because it's a real grey area, and there is so much controversy surrounding the use of fluoride. (But we'll just table that topic for now). For the sake of discussion – Let's assume you use fluoride in your home.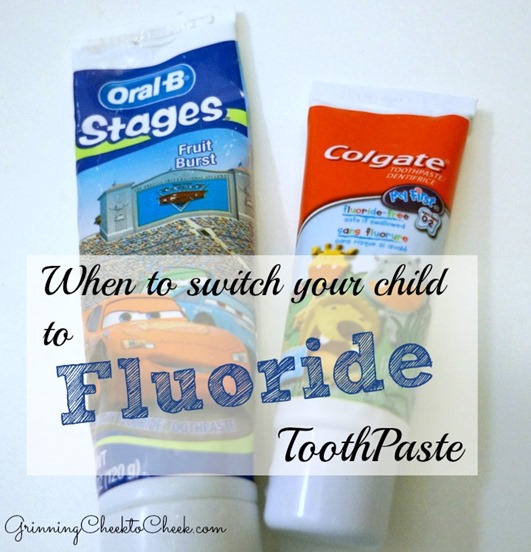 Fluoride is a great adjunct to brushing your teeth as it helps strengthen the enamel and tooth structure, which helps to prevent decay. When used in small, pea sized amounts and spit out after brushing it's very safe and proven effective. However, young children don't understand that they shouldn't be swallowing toothpaste, and therefore we as parents need to teach our kids that fluoride is not ok to eat.
Swallowing fluoride toothpaste in very small quantities occasionally will likely not cause any medical complications or damages. However, when it is done on a daily basis – it will put your child at a higher risk for developing dental fluorosis, where the teeth become more brown spotted and stained (yep, even the adult teeth that haven't come in yet!). When swallowed regularly, fluoride can have some gastrointestinal side effects and can even cause problems with bone development.
The first thing to look at when considering fluoride use for your toddlers is whether or not they spit out their toothpaste after brushing, or whether they like toothpaste because it tastes good and they want to eat it.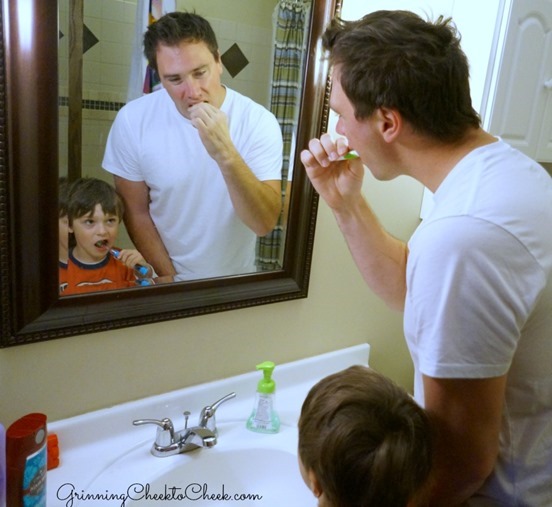 A good way for your toddlers to learn how to brush and spit is to have them take their turn brushing their teeth while you brush yours. Toddlers love to mimic. Make a BIG deal out of spitting in the sink and it will be fun for them.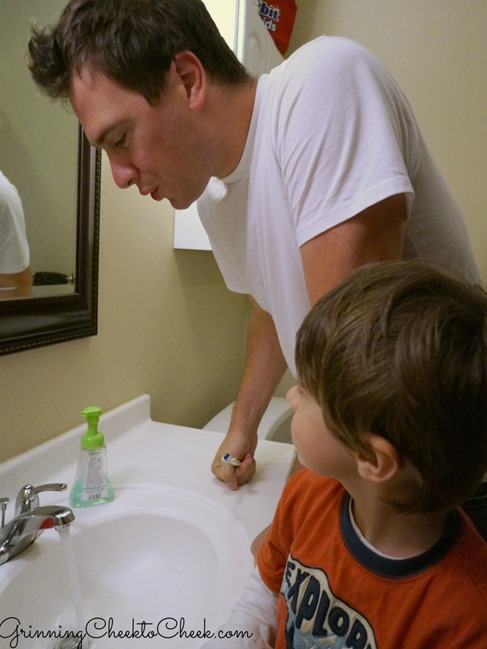 Even when they start spitting, be sure that they are really spitting all of it, and not swallowing the first round and spitting the saliva after. When they have conquered this task, they are ready for fluoride. Keep in mind that you may have to switch back if you catch them swallowing again.
I am super guilty of loading their toothbrushes up and bringing them to wherever it is that they are, and brushing them right there – so they are forced to swallow. When I do this, I grab the non-fluoride toothpaste for sure. We are really close with our oldest learning how to spit in the sink, but he doesn't do it every time – so we don't use fluoride very often with him, either. My youngest is almost 3, but really enjoys eating toothpaste – so we will likely not be switching him over for a long time. We also store our fluoride TP up high specifically to protect him.
I am planning on putting out some more dental articles soon -so if you have any specific questions I'd be happy to tackle them next!