Joe and I met just before my 2nd year of college.  I was infatuated with his good looks and timid attitude.  We fell in love and were married not much than a year later..  In fact, we were married 2 days after my 20th birthday.
We didn't have a lot of money then because we were both in college – so We both got each other the least expensive (but decent) rings that we could find – with the probability of upgrading in the future.
We picked out our rings together, and got a really nice one picked out for Joe.  At the time, they didn't have tungsten wedding bands (as far as I knew!) and so we got him a nice white gold one.
I'm thinking it was several months before our 5 year anniversary that we went back and looked at rings again.  I wanted either an upgraded center diamond, or a new band – and he really wanted to check out the tungsten bands because several of our married friends were talking about how cool their rings were.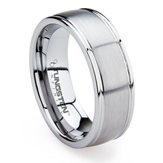 I did end up getting a band for my ring – but Joe decided that he liked his original ring better, because it had more sentimental value to him – and should he ever lose his ring, then he would probably look at the mens tungsten online stores and find himself a ring there.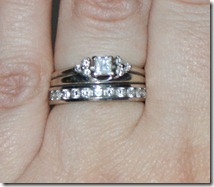 Meanwhile – I go back and forth about the necessity of changing out my diamonds.  They have sentimental value to me – but they're kinda tiny.  It just seems with all of our other struggles financially that it would be silly to get a new diamond at this point.  But I definitely love the look of some of the newer rings out there…
My ideal wedding ring?? It's *Only* $30,000!!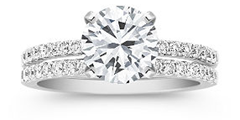 Would you change out your wedding band diamonds, or get a new ring all together? Or are they too sentimental to you?