My poor little boy is such a wreck.  He's so happy most of the time; but I just feel so bad for him

He had surgery back in mid April.  He got a cold about a week before his surgery, and then about the time when we were finishing up antibiotics for the surgery, he got a double ear infection.  Then from being on antibiotics for 3 1/2 weeks straight, he ended up with a yeast infection, which just doesn't seem to want to go away!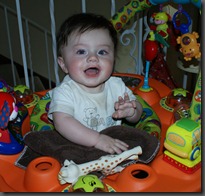 To top it off, he cut his first tooth, which was nightmarish, and is currently working on the second tooth; which has led him to be extra cranky over the last day and a half… or so I thought.
Then last night he screamed, and screamed, and screamed.  Then finally fell asleep – but only upright.  I just knew then that it was his ears bothering him again. He finally slept through the rest of the night and I let him sleep in this morning (until 9:30am!) He woke up with a fever, and a little bit of crankiness; but slightly less active or happy.  I called the Dr. right away and got him scheduled.
On the way there, my car had a flat tire. Ugh. just what I needed.
Cut to the Dr's office, and I figure out that my little boy has a ruptured ear drum.

He gave us a prescription for another type of antibiotic, some ear drops, and some cream for his yeast infection (since the other stuff just is not working.)  The Dr. said that his yeast infection is 'quite impressive.'  I don't know that he meant that as a good thing or not…
So my desk might look like a pharmacy – I just hope that he get's better soon, my poor babe!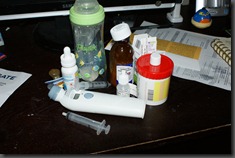 So this explains anything over the past week of not blogging as much as I should be.  But I should be back to business soon, now that we've got some good medicine to help Ethan feel better!
Update: Todays checkup – the ears are almost completely healed. just a tiny bit more to go – but no more antibiotics needed. He's feeling fine – and minimal fever probably just due to teething issues again.  If it isn't one thing…