If you've been following along on my Facebook wall – you've most likely seen the images of our most recent home problem…
Mice.
Yep…We've got 'em.
The weather here in MN has cooled down significantly and therefore the mice have started moving in.  Thankfully, I wasn't the first to see one – and when I did see one, my husband had it in a container for me to look at.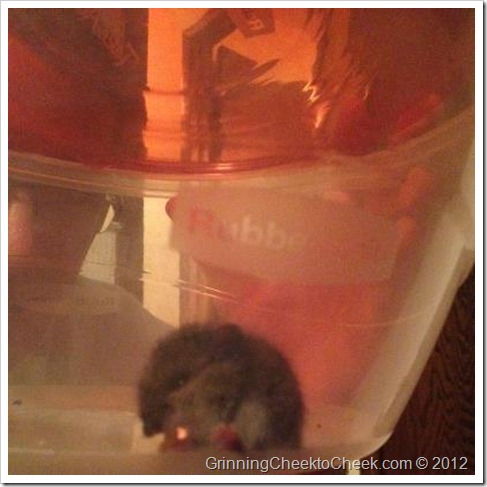 Isn't he CuTE?!
That's what we thought at first.  Joe brought the little mousie up to Andrew's room, where Andrew and I were reading bedtime stories.  We grabbed some Cheerio's to feed him in the container – and then we said our goodbyes, and Joe drove the mouse out to a nearby cemetery – far enough so he can't find his way back home.
Aww – How sweet, Right?
Well.. The next day while I was putting laundry into the wash, Two little mice ran out from under the washing machine.
I scurried to find the container that Joe used the night before, having Andrew keeping his eyes on the mice.  Grabbed the container, and put it up next to one of the mice.
AND HE WALKED RIGHT IN!! Yep!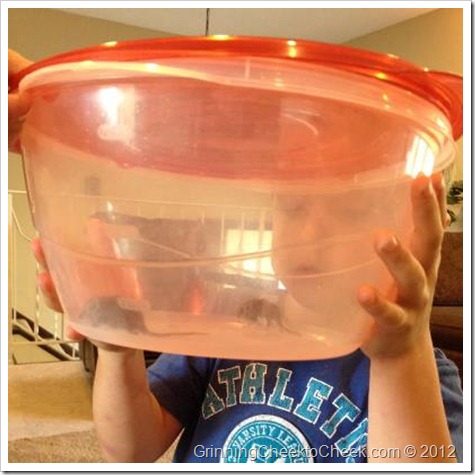 Grabbed another container, and the other little mousie did the same thing!  Jumped right in.  How cute and friendly, right?
I was still Ok at this point… thinking it was just another random fluke, and due to the cold weather and whatnot….  But I still spend the next 6-8 hours getting *EVERYTHING* off of the floor, vacumming in every nook and cranny, and making sure that these mice have no reason to be in my house.
The next night my husband set up the iBaby Monitor downstairs on the floor to see if we could catch them on camera and see where they were coming from.  Well we saw them… But not where they were coming from.
Cute?? NotSoMuch.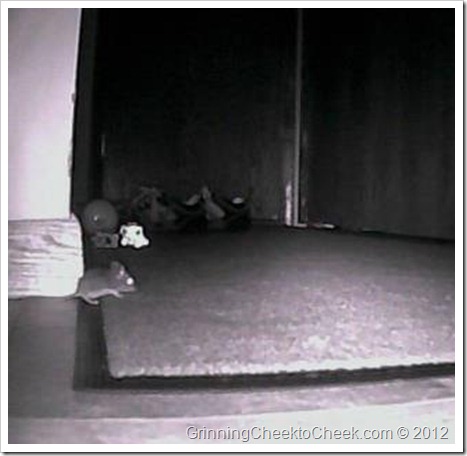 Now I'm sure we have a 'problem'.  I'm mad at them.  They need to get out of my house.
That same night that we set up the iBaby, I was upstairs working on blog posts on the couch with the basement blocked off from all intrusions – and I saw one… out of the corner of my eye – run across the living room near the wall.
I *flipped* out.  Joe and I spent over 20 minutes chasing this mouse – who eventually got away from us (because we didn't have any way to catch them, and this mouse was not as friendly as the others…).
That next morning I was on the phone with Terminix.  They're going to come out and evaluate the house and figure out everything that's going on, and how big the problem really is.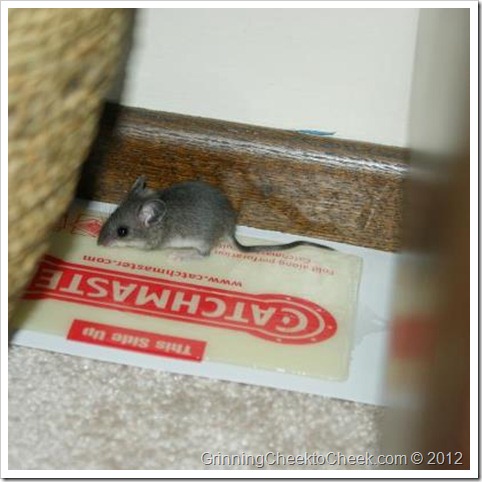 Meanwhile, I've gone to the store to get some sticky paper and some traps – and have started being a little more aggressive when we see them.  We're not trying to be inhumane – but we also want our home to be safe and free of pests.
Have you ever had pest issues? What have you done to get rid of them?
I am working in coordination with Terminix, sharing my stories of pests with you all in exchange for their services.  The opinions and stories here are 100% my own and not influenced by my relationship with Terminix.