I came across the Baby Boutique, Wee Little Changes, while searching for companies to contact regarding the cloth diapering event.
I'm a sucker for anything blue and brown, as well as polka dots, stripes, and scallops – So. I was immediately hooked based on the look of her site. So clean, so organized, and so dang CUTE!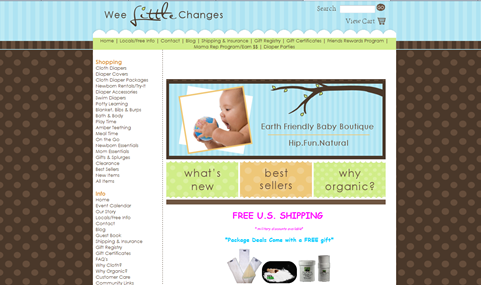 I also love stores who offer free shipping. I'm not sure what it is – but I'm more willing to pay $19.95 for a diaper with free shipping, vs. paying $16.95 plus $3.00 of shipping. Not that this store is doing that…
In comparison to other stores, her diapers are the same price as far as I have been able to tell.
Either way, when I contacted April, she was so sweet and helpful. When asked which diaper I wanted to try – I had NO clue where to even start.
Navigating through her site is a breeze. I didn't run into any problems figuring out what diaper did what. They're all very well explained on her site with the manufacturers images and details about each diaper.
She caries much much more than just cloth diapers – from blankets and burp rags, to amber teething necklaces, newborn essentials, and all things mommy.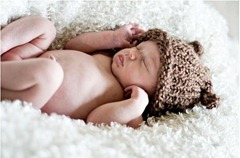 One thing I think that really sets Wee Little Changes ahead of the crowd on cloth diapering stores – is that she has a count of what is in stock on each item – and it is displayed before you buy them.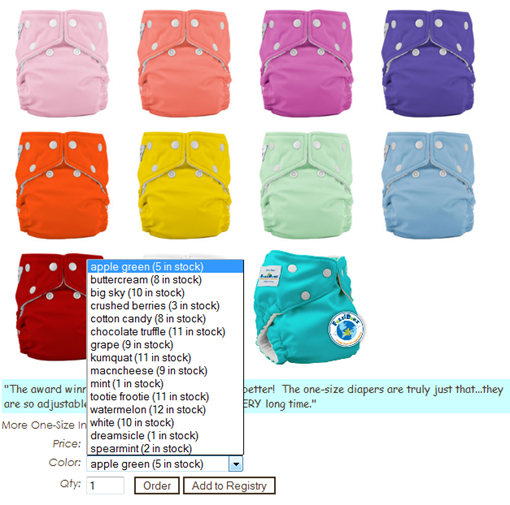 So when she emailed me to pick an 'in-stock' item, I was at first a little confused, until I went down the page to see that I could pick a color based on how many she currently has!
How's that for awesomeness!?!
I picked the Fuzzibunz One Size diaper – because – It's supposedly one of the top diapers out there – I thought I'd get my hands on one of them to try!
Although the diaper hasn't exactly caught my fancy, and is one of the last diapers I reach for in my stash – I am still grateful to have had the opportunity to give it a try! My review of Fuzzibunz Diapers is soon to come.
Please check out weelittlechanges.com, and let me know what you think!! I'm sure April would love to hear your thoughts on her store – and maybe what she could do better, or compliments on what she's doing that is great!
Wee Little Changes is also offering to give away one of their Fuzzibunz One Size Diapers to one of my readers!
Giveaway!!!
(Open to U.S. Only)
One Lucky reader will receive a FuzziBunz One Size Diaper In an 'In Stock' Color of Choice.
Click for Instructions for entry
This first entry is MANDATORY: Visit www.weelittlechanges.com and tell me something that you would love to try from their store.
Optional Extra Entries: (only after mandatory entry is done!) All are worth one entry unless otherwise specified
Subscribe

to my blog via email (Be sure to confirm) – 2 entries

Like

GrinningCheektoCheek

on Facebook

Follow my blog publicly via GFC (Lower Right Box)

Follow my blog via Networked Blogs (Lower Right Box

)

If you grabbed my Adventure To Cloth Diapering Button before 8/22 and left a comment

here

telling me that you did so, add 2 entries

Follow

WeeLittleChange

on Twitter

Like

Wee Little Changes

on Facebook

Follow

GrinCheek2Cheek

on Twitter on twitter and tweet about this giveaway: Can be done Once per day

Want to #win a FuzziBunz Diaper? Wee Little Changes is giving one away @GrinCheek2Cheek #ClothDiapers #A2CDEvent http://www.grinningcheektocheek.com/wee-little-changes
Open to US only. Giveaway ends September 9th, 2011 at 11:59pm. Winner will be drawn by 'andthewinneris…' and will be e-mailed. Winner will have 48 hours to respond or a new winner will be drawn