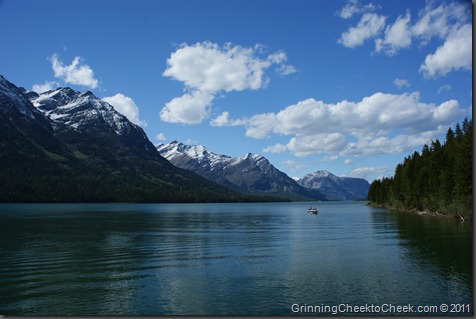 To see the story as a whole: start from the beginning post.
One of the first things we did when we got to Waterton, Canada (the Northern/Canadian Portion of Glacier National Park) was get on a boat and take a tour of the lake and all the mountains around there.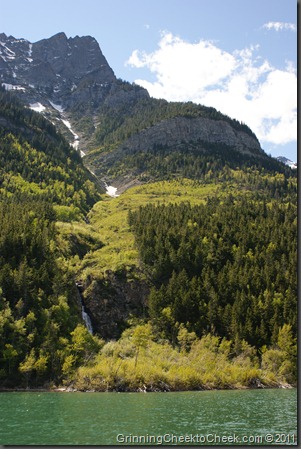 We were able to see the dividing line between the US and Canada pretty clearly- I guess one of the longest un-patrolled borders from the US/Canada… but you have to climb some pretty big mountains to get anywhere.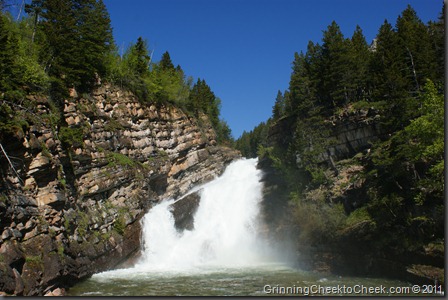 We shopped around the cute town and then took a drive to one of their parks where they had a waterfall and a little bridge.  It was fun to play with the camera and get the little rainbow in the shot!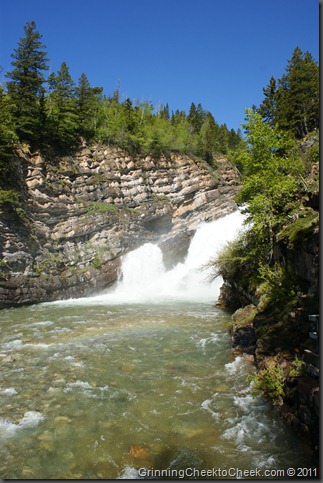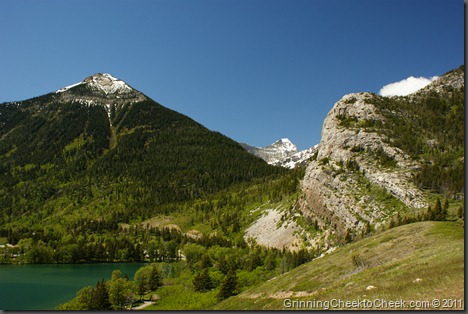 The young guy on the boat tour told us about this mini-mountain (on the right) where you can park at the bottom, and it takes about 20 minutes to walk to the top, and then 20 minutes to come down.  So my Husband and Father-in-Law decided to give it a go.  Ha! 20 Minutes!!! It took them 2 hours.  The guy must have been a rockstar!

They said it was well worth the accomplishment though!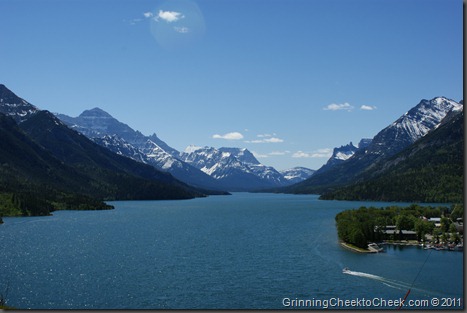 We drove to the big castle-like hotel on the hill. and enjoyed these breathtaking views from the hill over the town of Waterton (on the right)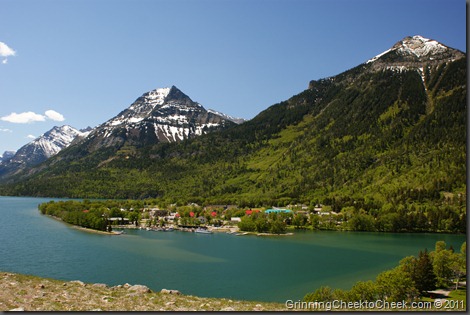 I'd probably say that Waterton was my favorite stop along this whole trip – because I was feeling well for the first time in a long time.  I remember I was craving CORN DOGS.. SO Bad.  We went all around town in search of corn dogs.  Instead, we found a movie theater and enjoyed an evening movie.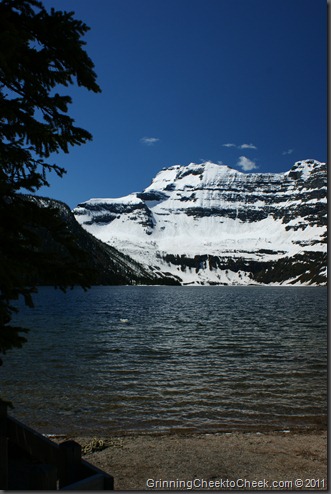 Before leaving Waterton, we drove up the mountains a ways, and got to this glacier area (I can't for the life of me remember what it was called.. but it was pretty

)
We also visited a Red Rock area before heading out: Read Further: Waterton Lakes National Parks of Canada: Red Rock Area