It's no secret that my boys love all things transformable.  So last year when we got the Switch and Go Dinos, they were pretty excited.  They loved them so much that we bought the rest of the set for them for Christmas last year. Then just last month we were informed about the new (and upgraded) Switch and Go Dino's including Jagger the T-Rex, and asked to review them. We couldn't have been more excited! Disclosure: I was sent the Switch and Go Dinos in exchange for this post. All opinions are 100% my own!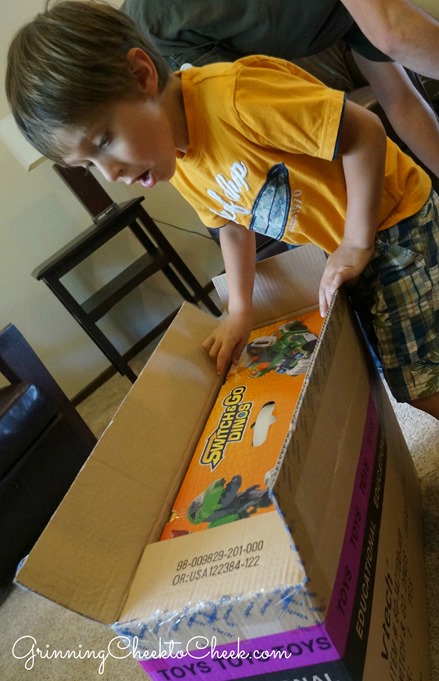 Jagger is awesome because he transforms from a construction crane to a fierce Tyrannosaurus Rex. Featuring voice recognition technology, Jagger even recognizes and responds to specific voice commands. He usually directs his questions at you and tells you what to ask him if you're not talking to him enough, saying 'Tell me what to do.' or 'I await your command'.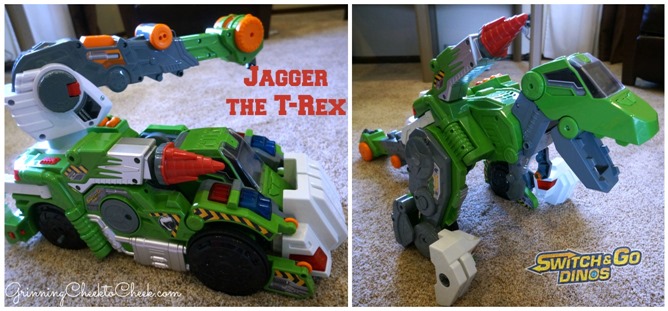 To communicate with him as a Construction Crane Truck – you say 'Hello Truck Driver'. He'll reply with 'You Rang?'  You can tell him to, 'Go Forward', 'Go Back', 'Start your engine', 'Fire the Drill', Turn on the Lights', 'Let's make some Noise', 'Let's Race', 'Sound the Alarm', 'Talk to me', 'Wrecking machine', Monster Truck', and 'It's Quitting Time'.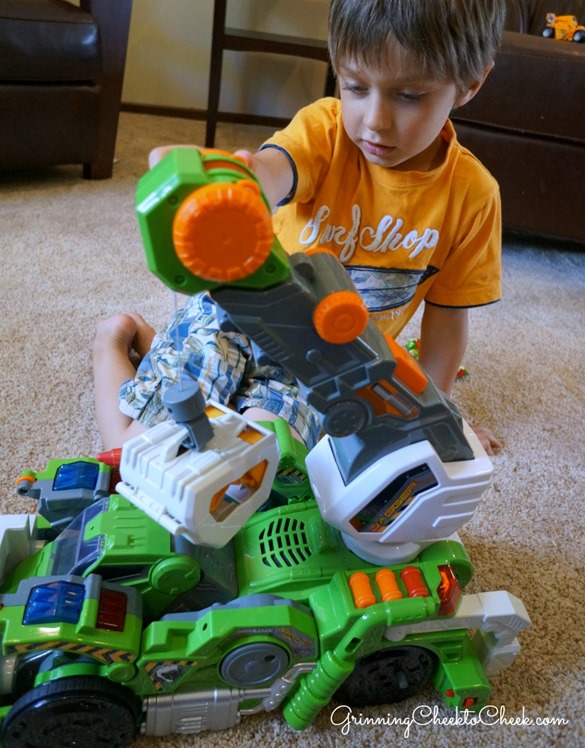 To communicate with him as a Dinosaur, you have to say ' Hello T-Rex'. You can tell him to 'Go Forward', 'Go Back', 'Roar with Me', 'Fire the Drill', 'Change your Voice', 'Go Wild', 'Snack Time', 'Make me laugh', Talk to me', 'Teach me Something', 'Go to Sleep', and 'You're not so tough'
My kids got a huge kick out of Jagger. He's pretty gigantic, but he is so much fun! He fires off a drill bit on voice command or by hitting a button. While shooting his drill bit as a crane, he says 'Look Out Below!' and as a T-Rex it's more of a shooting noise. No doubt that the shooting feature and crane hook are the kids favorite features of Jagger.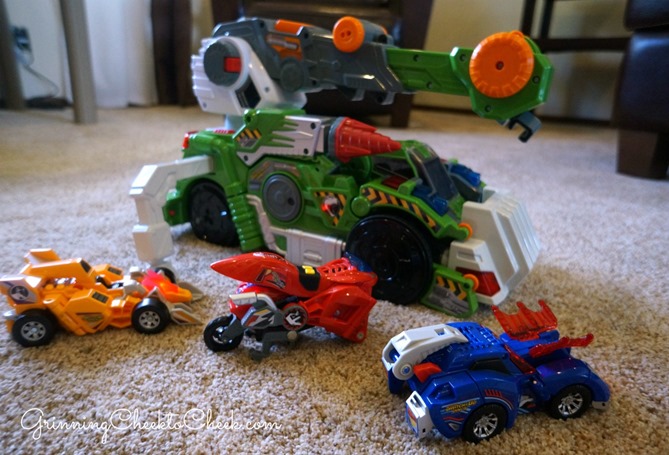 We also received some of the new smaller Switch and Go Dinos.
The smaller Switch and Go Dinos are so much cooler than last years smaller ones. Some of them don't have the digital face, but they do recognize when they are being transformed and make a transformation sound, and then introduce themselves. They also recognize when they are moving or 'walking' and they make stomping noises.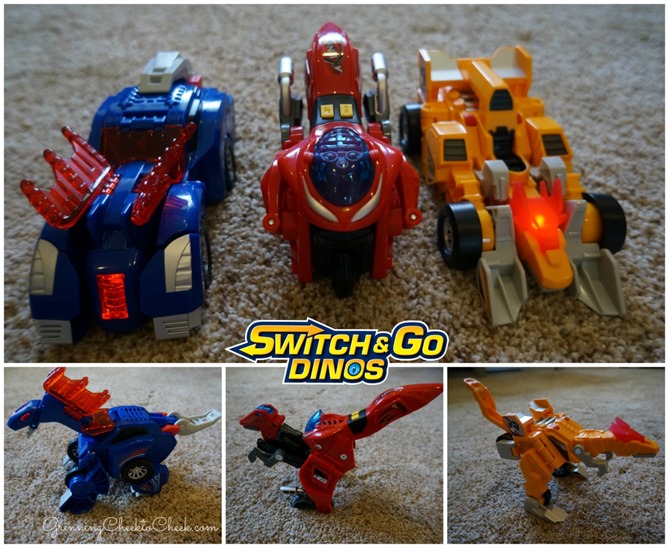 Akuna the Velociraptor (Ninja warrior) – transforms to a Motorcycle. My kids love all vehicles, but they have a special love for motorcycles, So this is the toy that often joins us in the car because they want to keep playing with him. Akuna says things like, 'This bike cuts through traffic', 'I'm too fast for you!', and as a dino he says, 'Ninjas read minds, don't even try messing with me', and 'watch your back, I could be anywhere'.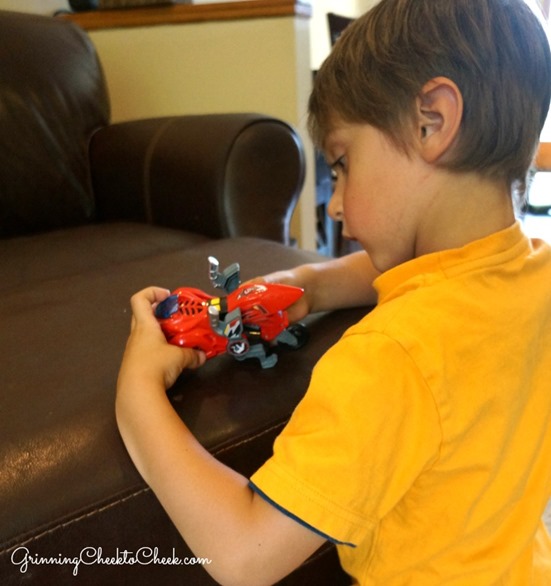 We also got Quiver the Stygimoloch which transforms into a racecar – and has fun sayings like, 'I may be a small dino, but I pack a Punch!', and 'I eat Plants! They make my mouth go Bam!'. He recognizes when he is being transformed, and changes his sayings into race-style sayings like, 'C'mon Gramps, Lets Race!'.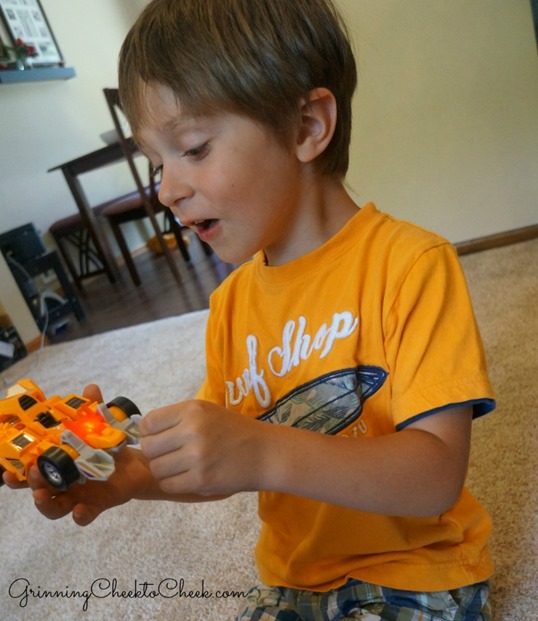 And Sir Stompsalot the Amargasaurus, the Hot Rod Dino. He is a little more sophisticated in his words, like 'Fear not young sire, I am an herbivore', and as a vehicle he says 'Let us ride into battle' and 'I challenge thee'.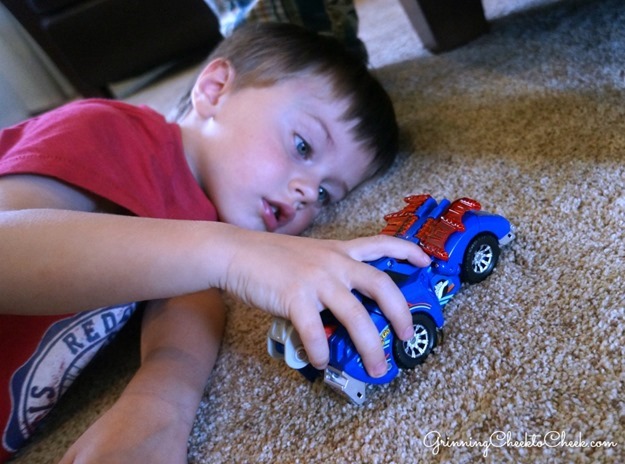 Overall, my kids have spent countless hours playing with these VTech Switch and Go Dinos in both dino mode and vehicle mode, although most often in vehicle mode. I like that each of these toys has a volume control for low or high volume – and that we can turn them off before putting them away so they're not talking to us at other times.  I can hardly wait until Christmas when we get the boys a few of the other Dino's, like the Helicopter Dino – Blister the Velociraptor, and the Jet Plane Dino – SkySlicer the Allosaurus.
Quick Giveaway!!!
I know, I'm running behind… So. I need a giveaway winner by THIS Friday the 13th!! Therefore, we're having a super short and simple giveaway!
One Lucky Reader will WIN 3 Assorted smaller VTech Switch and Go Dinos (ERV $40)
How to Enter: Leave a comment and then Fill out the Rafflecopter form below
Be Sure to come back EACH day for extra entries! Also – Don't forget the quick turnaround: I'll be drawing a winner Thursday, with a 12 hour response time required or I will draw another winner.
Rules: You do not have to be a blogger to enter/win. An email address is required to enter. The winner will be chosen randomly through Rafflecopter and contacted via the email registered in Rafflecopter. A reply to the winning email is required within 12 hours before a new winner is chosen. One person entering per household please. US only please.
This giveaway ends at 11:59 PM EST on September 11th, 2013