My son Andrew is almost 4 – and while he enjoys spending his days riding his bike and playing outdoors – he has recently found a thrill in video games.
I introduced him to electronic gaming at quite a young age through my iPod Touch.  I downloaded a few games about animals, colors, and other misc. educational but entertaining games for him.
Since then, we have been helping the boys' learning process while utilizing the iPod, iPhone, and iPad gaming options (in moderation, of course).  I'd say more often than not when we are on-the-go, and I'm trying to distract the boys from whatever it is that we are doing (like grocery shopping, doctors offices, or long car rides).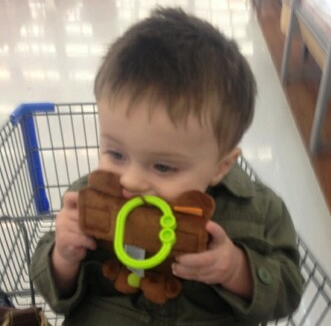 Last year around Christmas, my husband and I intently looked into the Vtech gaming systems, and highly considered purchasing one for Andrew – but realizing that he had just turned 3, and a bit too young for these systems – we waited until a future time.  Like now, since he's almost 4.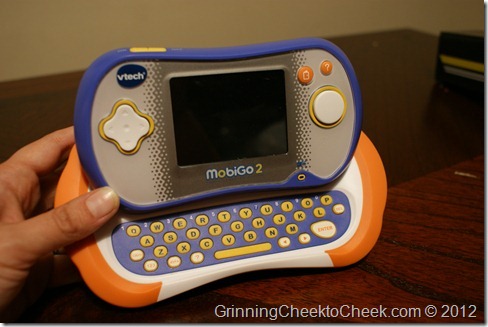 And what a perfect time, too.  The new Vtech MobiGo 2 was recently released – and has all the previous features, plus more.
The new Vtech MobiGo 2 is a multi-functional, educational handheld system that allows kids ages 3-8 to enjoy on-the-go play and hone their creativity. Kids will learn basic skills such as math, vocabulary, spelling, reading, logic, drawing and more. The QWERTY keyboard also helps kids become familiar with a keyboard layout.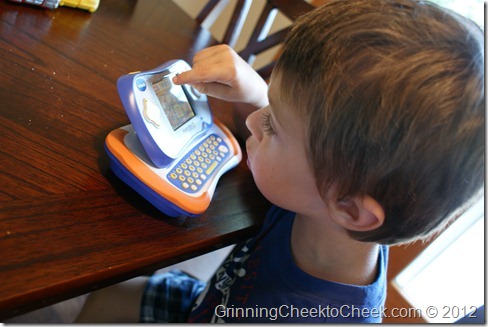 The MobiGo2 comes with the new Motion Sensor and a Microphone in addition to the touchscreen.  The motion sensor provides total game control, allowing kids to create action movements by simply moving or tilting the device.  The microphone gives new dimensions to games through voice or other noise commands (like blowing in the microphone).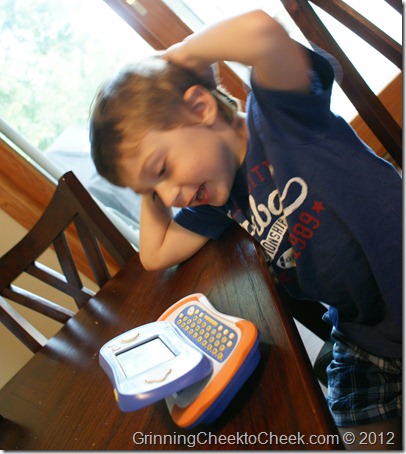 All the same games that you have used on your previous MobiGo's are still fully functional with the new MobiGo 2, and you can download from the choice of 80 new interactive games from online.
The games online can be downloaded directly onto the MobiGo 2, so you don't have to carry around cartidges with you any more – and fully functions as an e-reader, photo album, photo viewer, art studio, and coloring book.
Andrew has really been getting into a few of the games where he matches the letter on the screen to the letter on the keyboard.  He gets pretty excited about it when he 'wins'!  Meanwhile, he's learning his letters!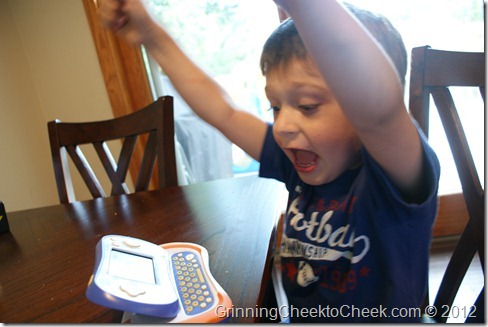 As far as my personal comparison to the iPhone/Pod/Pad products, the MobiGo 2 lacks in speed and graphic design – but it doesn't carry that hefty price tag. Andrew doesn't seem to notice or care about the difference, because he loves playing with it. I also never have to worry about them accidentally getting online, clicking on an add, deleting programs, or buying new games without my knowledge.
You can find the MobiGo 2 for the same price as the previous MobiGo, which retails for approximately $59.99. Find Vtech on Facebook or Online for up-to-date information on their newest products!
I participated in a campaign on behalf of Mom Central Consulting for VTech. I received product samples to facilitate my review.