I'm a chatty gal (as you'll notice by this uber long post).  And I really like talking on the phone.  Serious! I would spend hours on the phone when I was younger – and it drove my husband crazy.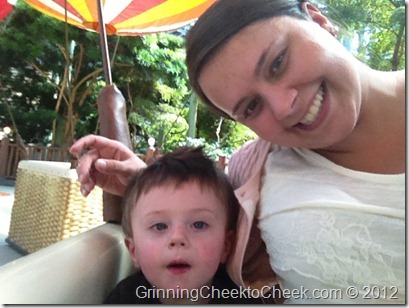 But now that I've got two toddlers, and a work-from-home (blogging) job – Its been rather difficult for me to find the time to call people!
In fact – if you ask any of my friends or family when the last time that *I* called them?? They'd tell you they probably cant remember.  It's bad.
I even considered at this last change-up of cable companies to get just the internet and ditching the home phone all together. I mean, my cell phone works perfectly fine (unless my toddler sticks into a water table…

) and I have more than enough minutes to cover my phone needs with my cell phone.
The problem is, though – that the cell phone is almost impossible to keep up to your ear while you're chasing and caring for two toddlers!
Even the regular phone was hard! First of all, I cant wear earrings while I'm on the phone, because I almost always lose one – and then secondly, I'm usually balancing the phone between my neck and my shoulder – which causes SO many other problems in my back!
It's actually probably the most likely cause that I need to have a massage at least once per month to keep my back in check.
So when my home phone was dying (meaning it needed another set of batteries – which it would eat through at least several times each year) I decided that it was a much smarter investment to get a new phone.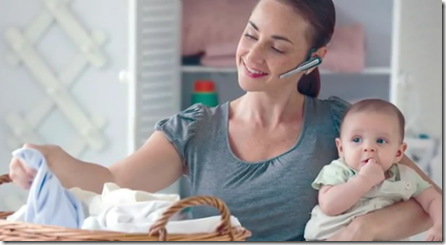 I didn't want just ANY phone.  I wanted a hands-free phone.  My husband and I looked and looked and all we could really find was the hands-free phones that have a cord that attaches to the regular phone – and you put the big portion of the phone in your pocket and then carry it around with you.  But that wasn't ideal (as I often wear sweatpants and other "mommy clothes" while I'm at home!)
But then.  My husband found this ONE box – on the bottom shelf at Best Buy – and it said BLUETOOTH headset!
I was floored.
I didn't look any longer, I picked that box up and we left.
Just FYI the phone I picked up was the LS6475-3 Multitasking phone system from VTech.  I love, love, love this phone! When people call – I can put it on my head and keep doing the dishes, or keep cooking, or blogging!
Or take a picture of myself in the mirror! ha!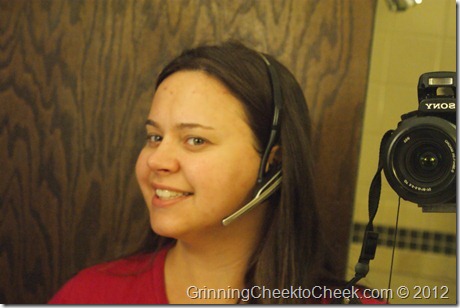 Ok – so I prefer the headband style of the headset.  It also comes with the earpiece – but because my ears are sensitive to things hanging on them I prefer the headband.  So Yes, I am aware that I look like a total dork brain – but… Its awesome.
AND THEN, you know what?
MomCentral (a company who I do several campaigns with) came out with a campaign for this very exact phone.
I knew I wanted in, because – well – I already knew how awesome the phone was – and then I was simply giving myself another reason and making it easier for me to tell you all about this awesome super-sweet phone.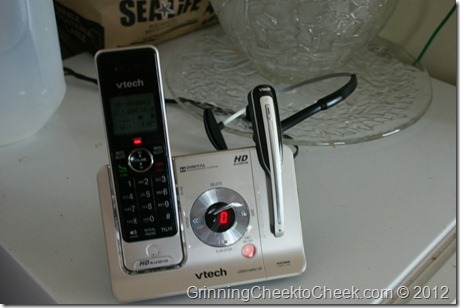 I figured I can then Gift my second phone to another mommy in 'need' – and continue enjoying my current phone.
Ok. So we all know now that my favorite feature of this phone is the hands-free set.  But what else does this phone have?
If you have caller-ID, the phone will announce out loud who is calling(although often mispronouncing names).  We get enough calls from 'Toll Free' and it sounds like it is saying "Joel Freed" is calling.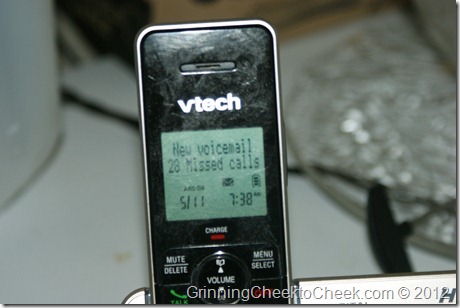 Who's Joel Freed?!! Yeah, that's been a common question around here.
But it is super nice, when I have my hands full and I want to know who is calling before I push the button to answer – it's telling me!
With the VTech LS6475-3 multitasking phone system I don't have to worry about paying extra for a voice-mail service, because there is already voice mail on the phone.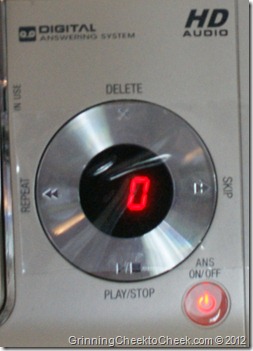 I really miss this actually – because my current line comes WITH the voice-mail, I can't figure out how to use the phone one any more.  I hate calling to get my voicemails – in fact, I often have to look up online which numbers to push to get to voice mail.
Hence, when you call me and I don't answer – It's going to tell you that you're SOL because my voicemail box is FULL.  SoThere.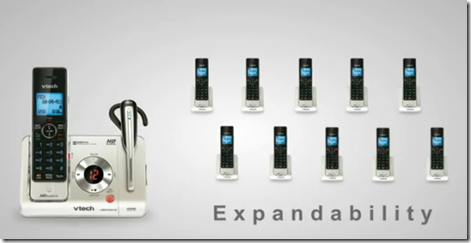 Quickly – another really awesome function for these phones is the push-to-talk buttons. It's like having a walkie-talkie system in the house.  I can call down to my husband and kids downstairs to tell them that dinner is ready – or to ask them a question, etc.  Very cool feature to have.
There are so many more awesome functions to this phone – but this post is already crazy long – and I think you already got the drift.  If you like to talk on the phone – and you're a busy person – and you have a home phone line?  Check out the LS6475-3 Multitasking phone system from VTech. You seriously can't go wrong.  For more information check them out online.
Also Check out VTech on Facebook and Twitter to keep up with their latest news!
I wrote this review while participating in a campaign by Mom Central Consulting on behalf of VTech and received a product sample to facilitate my review.