My little Ethan is a "grabby" boy.  He constantly is interested in touching and tasting anything and everything that he can.  We're constantly trying to keep the laptop away from him – because he always seems to find that teeny button that tells the laptop that the top is 'closed' and then goes into hibernation mode.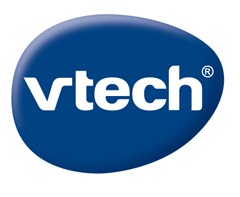 I had the opportunity to review the VTech Baby's Learning Laptop – and help steer the focus of Ethan's playing at the Laptop to playing with his own laptop.
The Laptop has three modes of play – one for Shapes, one for Common Objects, and the other is for Feelings and Music.  It has a light-up screen, colorful keyboard and a moveable mouse.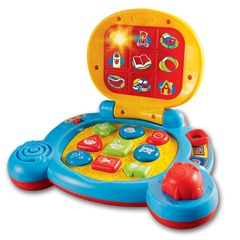 Ethan and Andrew both seem to enjoy this toy, and it is often in use.  I found that it is a great toy to carry into the car.  It's got a nice handle and is perfect to sit on a lap.  We took it on a longer car ride and it kept Ethan entertained the whole way there – and on Andrew's lap the whole way home.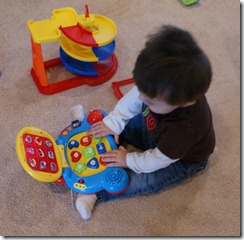 One minor complain I have is the repetitive sound from bumping the mouse with the laptop closed.  My kids tend to have the setting on the Shapes setting – which when you push the mouse with the laptop closed it says in a very exhausted sounding voice, "Let's Go Home…."  and after a long day out and about- it's just like another kid whining when it's constantly being bumped.  To resolve this – we simply change the setting for them so we don't have to hear that saying any more.
Otherwise, with the laptop open – it's rare to have a repetitive sound.
Ethan's Favorite part is the music.  He loves to dance and even sing a little bit to the music on the laptop – and he's so cute when he does it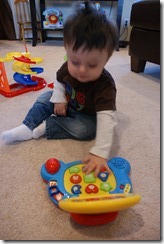 VTech Baby's Learning Laptop can be purchased for approximately $15.00 at most major retailers.  You can also purchase it online at VTech.com.
You also have a chance to win the Baby Learning Laptop Right Here!!
Click Below to see the Rafflecopter Form: