Veggies Tales are Awesome!
I grew up watching Veggie Tales and have fond memories of singing along with silly songs and watching those crazy little vegetables act out Bible stories and learn life lessons. We had quite a collection of Veggie Tales DVDs and spent many long van rides or quiet evenings watching them as a family. If you've never heard of Veggie Tales,
check them out
! The animated fruits and vegetables are funny, easy to watch, and friendly! Bob the Tomato and Larry the Cucumber narrate and entertain for the entire 30 minutes with jokes, hilarious mishaps, and stories.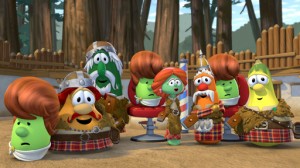 The Veggie Tales DVDs almost always start with a letter from a child and end with a Bible verse and a great life lesson for kids. But the Veggie Tales movies aren't just for kids! They have hidden jokes, plays on words, and connections that only adults could understand, so it's not torture to watch it every time your child demands it. Best of all, Veggie Tales movies are always clean and family-friendly, which is huge in our non-child-friendly world.
MacLarry and the Stinky Cheese Battle
So, when I heard about the newest Veggie Tales movie MacLarry and the Stinky Cheese Battle, I was very excited to watch it! Not only because Peter like stinky cheeses, but because I had temporarily forgotten about the fun of Veggie Tales. Micah is really too young to watch tv or movies, so Peter and I watched it after he went to bed. And MacLarry and the Stinky Cheese Battle lived up to all my expectations! We enjoyed it and I'm planning on watching it again soon, and then again when Micah is old enough to enjoy it.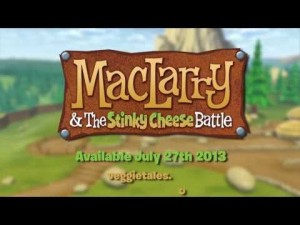 What are these Talking Vegetables Doing?
MacLarry and the Stinky Cheese Battle is about a Barber-Barian Cucumber who is more of a nerdy inventor type than a barber. So in the ongoing prank battles against the Romans, his friends and family can't understand his inability to create a horrible haircut! Of course this leads to hilarious situations, silly inventions, stinky cheese and happy ending, all in the pursuit of showing kids everywhere that everyone has different God-given talents to utilize and be proud of.
Watch the Veggie Tales MacLarry and the Stinky Cheese Battle 
here
Get MacLarry and the Stinky Cheese Battle for Yourself
MacLarry and the Stinky Cheese Battle comes out on July 30th and is a must-have to add to your collection of child-friendly short movies. You can preorder it
here
.
When you pre-order MacLarry & the Stinky Cheese Battle DVD you will get a choose a free DVD (there are 6 DVDs to choose from). This is a great deal! It's over a $30 value! Plus you can get free shipping when you use the code MacLarry!
 Play the Stinky Cheese Toss or check out more
here