Are you dreaming of a Nice Valentine's Day? 
Several awesome bloggers have joined together to give one of our lucky readers the chance to win $300 in our Valentine's Date Night Cash Giveaway Event!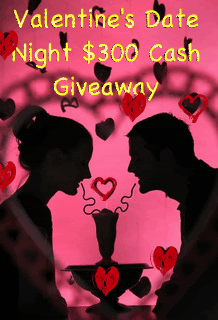 The cash giveaway is open to all worldwide and will be paid directly into your paypal account.
What would you do with $300? 
Splurge on a weekend getaway?
Buy a new wardrobe?
Spend a day at the spa?
Finally get a babysitter and go on a date with your significant other?
Enter with the Rafflecopter Widget below!
Please enter 'GrinningCheektoCheek' in the 'Easy Peasy' Entry below for the blog that you entered from.