Over the last several months I've done a bad thing.  I got out of the habit of doing the double coupon days – and ended up filing the inserts of my newspapers all in one bag and 'planning' on cutting them and using them… eventually.
I cringed and twitched a little each time that I would go to target and the cashier would ask, 'do you have any coupons?'
I typically use some couponing websites like pocketyourdollars.com that are more local to my area to scout out the deals and find Voucher codes for other discounts that I am looking for.  It takes a lot of the guesswork out of the couponing.  I'm super thankful for the people that slave over these blogs for my savings.
Just two weekends ago (The night before Easter) I was able to get to the store and get all of this: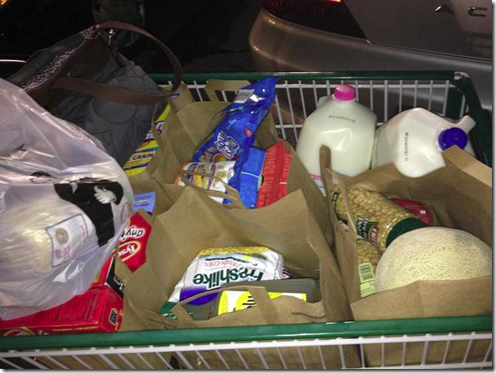 Yes, that's $241 of groceries  – for only $51.
$51 for my two+ weeks of groceries, is amazing.  I tend to buy only what my family uses, and not just anything that is free.  I did stock up on a few free items (like Cereal and cookies) that we go through often enough to keep a general stock, and due to a coupon on Tyson Anytizers expiring the next day, I purchased 10 boxes of chicken nuggets (YiKeS!).
The problem with the couponing for me, is that by the end of the night I'm so excited about what I got, and how much I got for how little, that I am EXHAUSTED the next several days … and have a hard time getting my act together for the next double couponing extravaganza.
It's not exactly EASY to do… because it takes hours of planning and a few hours in execution (I think I was at the store that night for 4 1/2 hours) and then organization – because you're only allowed to use so many coupons per transaction.  I did six or seven transactions this night.
But, When you're on a tight budget? It's totally worth the time.
What are your biggest challenges of couponing?
This post was brought to you by netvouchercodes.