Upright Pro Review
For years now I have struggled with lower back pain problems. Terrible posture and tension headaches. I have tried everything from seeing a chiropractor to every holistic approach you can think of to get rid of my terrible back pain and headaches. After a while I started to wonder if sitting for 8 to 10 plus hours a day was a part of the problem. Considering that it may be the problem I started to pay much closer attention to my posture. My posture was terrible. I was a sloucher and I didn't notice it. After some research I found UPRIGHT PRO. What a great tool to help train my back. Well I've been using it for a few months now and here are my thoughts.
What is Upright Pro?
Upright Pro is wearable posture trainer that helps improve your posture. To make it simple the UPRIGHT PRO attaches to your back and vibrates whenever you begin to slouch. Using the custom training program at only 5 minutes a day you can begin to build better posture habits after only 2 weeks.
As I mentioned I have suffered from terrible tension headaches for years and never thought my posture may have something to do with it. So I started to search and came across some information about natural relief from tension headaches. That is when I thought maybe its my posture? I do sit for 9 plus hours a day most days. During my search I came across Upright Pro. Being the millennial that I am, I figured wow this new technology could really work!
The Details….
Included in the box are:
UPRIGHT Posture Trainer
Micro USB Charging Cable
UPRIGHT Charging Dock
64 Hypoallergenic adhesive (Used to apply UPRIGHT to your back)
User Manual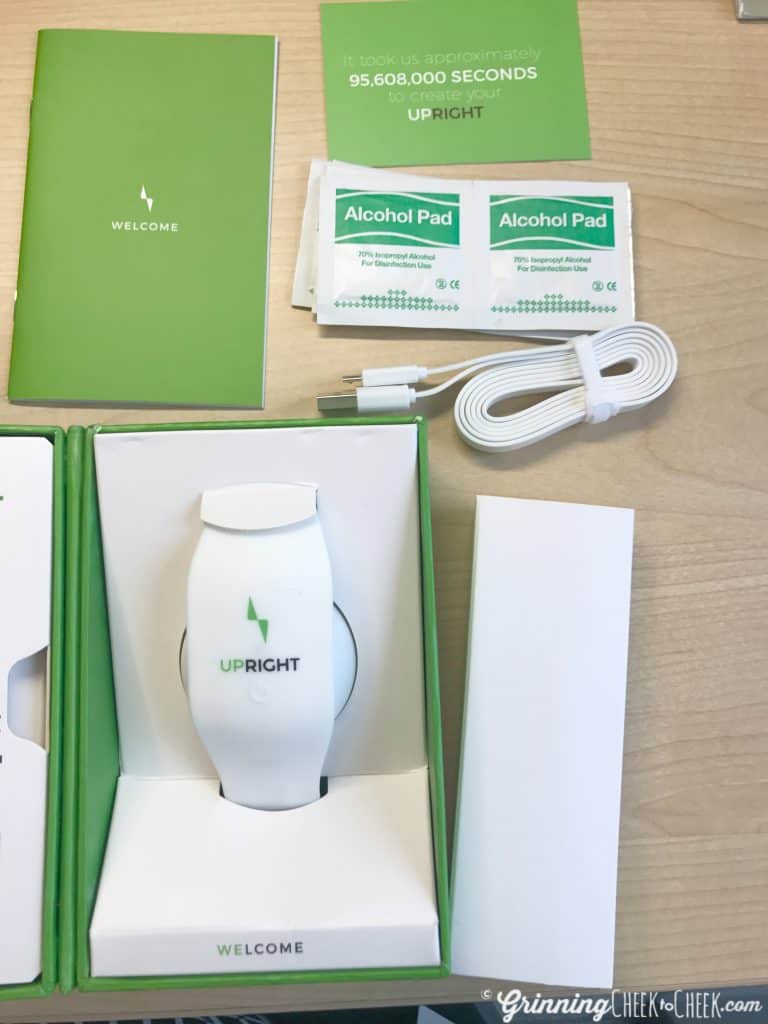 To use UPRIGHT PRO you must have an iOS or Android device. You need to download the UPRIGHT App from the app store on your device. Now you can begin to the sync the UPRIGHT device using Bluetooth. Start by turning the device on it will flash blue and then press next to connect your phone to UPRIGHT.
Now decide where you want to place the device. You can place it on your lower back or upper back. UPRIGHT recommends starting with your lower back. Make sure your back is clean and dry. You then want to use the adhesive to attach upright in a vertical position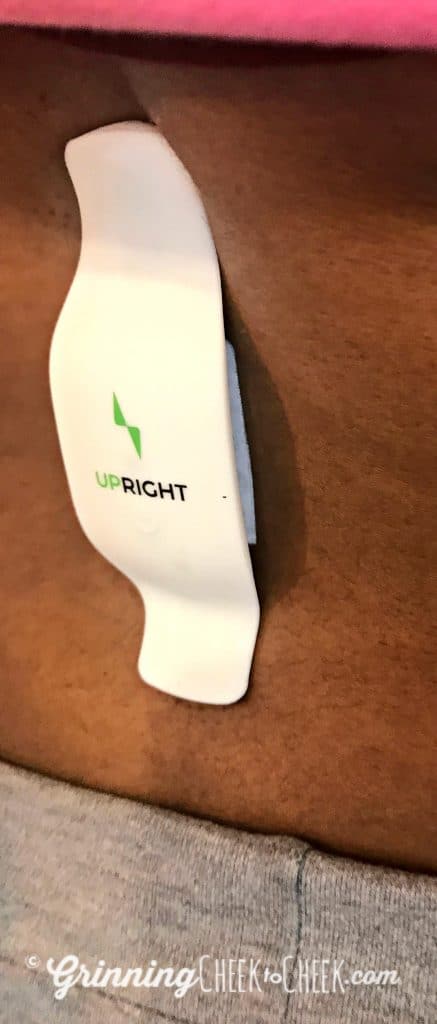 You will go through the calibration process this is necessary for UPRIGHT to learn your unique back and current posture. UPRIGHT recommends training at least 4 times a week. You can adjust the sensitivity in the app, customize the vibration and strength pattern and there is an option to remember calibration so you don't have to re calibrate.
Light indicators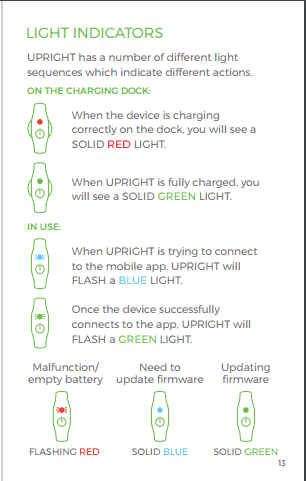 This could really work?
Now that you know a little bit about UPRIGHT and how it works I can share my experience. I have been using UPRIGHT for 2 months now and although it was a slow process. Some weeks I only trained one time other weeks I was able to train more often. I have not had a tension headache in several weeks. I can't say that UPRIGHT solved my issues but I generally have less lower back pain, no tension headaches and posture is much better.
A few tips I have found while using UPRIGHT. If you work and have to sit at a desk for long hours this is the best time to use UPRIGHT. I try to do one training session per day while sitting at my desk. It helps to keep alcohol wipes handy to clean your back before using UPRIGHT.
If you follow the daily goals you will within a week be more aware of your posture. After completing the training program you will be able to maintain an upright posture on your own. UPRIGHT is really an amazing tool. I have recommended the product to my fiance and friends.
You will love UPRIGHT and therefore you will need more adhesive strips. You can purchase them right on UPRIGHT's website for only $11.95 fir a 32 pack. UPRIGHT comes with a 2-year consumer limited warranty.
For more information on
UPRIGHT
you can visit their
website
,
Facebook,
Twitter
or
Instagram
.
If you have any questions about my UPRIGHT Journey please feel free to reach out and ask questions.
I received UPRIGHT PRO to review. Opinions are 100% my own