I love having gifts that people find 'unique'.  I like it especially when those unique gifts are gifts that they will actually use vs. something that gets put into a box and never see's the light of day again.
Uncommon Goods is one of those great places for finding these gifts!! I honestly got LOST in this store, thinking of all the great options of things that I could choose from.

One side of me *REALLY* wanted this growth chart so I could measure my kids on it and keep track in a unique way. But instead I think I'll be saving that for a baby shower gift for a friend.
Did I mention that I love this store??  Just a random thought.
I ended up getting two really awesome other items:
The Zoku Quick Pop Maker – which would make an awesome gift for mom. It has been so fun to put Juice and other things and come out with great popsicles right away.  I haven't made anything THIS cool yet, but I'd love to try

  Andrew loves having a popsicle when he wants one though!
And I got the most awesome set – which would be a perfect unique baby gift for any Baby!  The Constructive Eating Set.  It has got to be one of the best inventions ever for kids to eat with.  I end up washing our set on a daily (or more) basis and using it for almost every meal.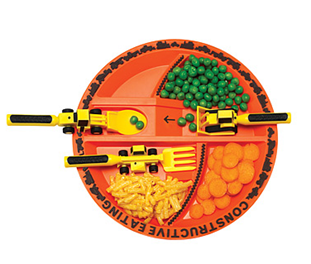 I mean – the Digger – the Pusher – and the FORK-LIFT.. You can't get more creative than that!

Andrew loves eating with these – and will eat just about anything that we put on his plate so long as he can push it, dig it, or fork-lift it.
For the Holidays or for any other occasion – you should check out UncommonGoods.com for the perfect unique gift for that special someone!
I might be able to help you too!! Uncommon Goods is offering a $50 Gift Certificate Giveaway!  Click Below to get to the Rafflecopter Form!