This year, we've been so blessed and able to do a ton of really awesome toy reviews – I just *KNOW* that Andrew is going to have one of the most memorable Christmases ever – and Him and Ethan will have countless hours of fun with their new toys.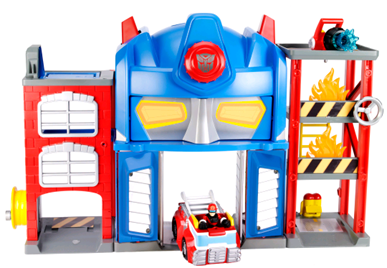 One of the toys I'm most excited for Andrew to open this year is the Transformers Rescue Bots fire station Prime Playset.  Andrew loves Fire Trucks and Fire Stations – and just the pure options that this set offers – of having it be the Transformers Rescue Bots Playset – or the plain Firestation…  Either way, He's going to spend many hours using his imagination with this set.
This playset is the ultimate hero headquarters where TRANSFORMERS and humans can work together! While the set may look like a standard firehouse equipped with fire pole, ladder, and training tower, when the call comes in, the station façade converts into  OPTIMUS PRIME robot's face, complete with lights, sounds and twelve fun phrases! Little hands simply turn the dial to reveal all of the gear TRANSFORMERS need to save the day, and HEATWAVE the Fire-Bot vehicle rolls out to help the humans fight the fires! Playset folds up for quick and easy storage and transport. Includes HEATWAVE the Fire-Bot vehicle, one human fire rescue hero figure, and story book.  Requires three "AAA" batteries, included. Available at most major toy retailers nationwide and on HasbroToyShop.com. ARV: $49.99

Our Review:
We let Ethan Play with the toy – because well… He won't remember by Christmas!  And Ethan. TOTALLY. Loved it.  He couldn't get enough of it!  In fact, I'm pretty sure it's the longest attention span I have ever seen from Ethan on one particular toy.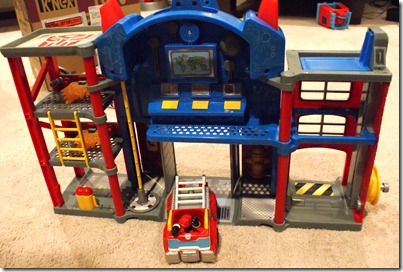 He pushed the fire truck up and down the elevator – which by the way, doesn't make loud noises – Thank God!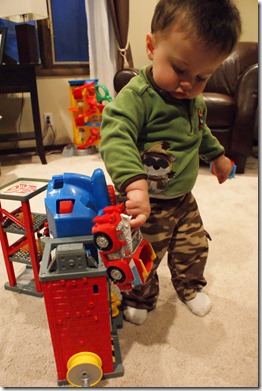 He Drove the Fire Truck all around the living room
He tried to get the fireman into the truck too!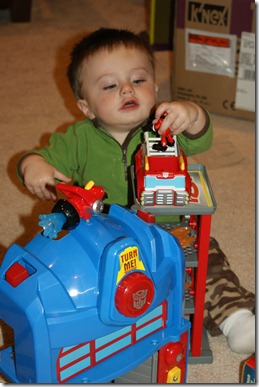 And then he cried when I had to put it away

A few of my favorite features of this Fire Station:
The Fire man actually hangs on to the ladder, the fire truck ladder, the fire pole, and the water shooter. So Cool.
The Elevator makes NO noise – I <3 this – because my kids like to go UP and DOWN and UP and DOWN and UP… oh you get it!
The whole thing folds up into a smaller box shape.
It comes with a story book – so Andrew who has never heard of or seen the Transformers, will get the general idea of the toy.

It's so much fun to turn the knob and have the station go from plain to PRIME!
A few of my "Eh…" Thoughts:
I'm not terribly impressed with the Fire Truck turning into a 'rescue bot'.  It's hardly a 'transformer'.  You simply set it upright, and there's a bot under it.
I was thinking it was going to be more like the Transformers Rescue Bots Heroes Heatwave the Fire-Bot which is WAY awesome.  We'll probably order these.
But – aside from that – this set is way more wicked awesome than I was even expecting – and Any kid would be so lucky to have this under their tree at Christmas this year!