Do you still have movies sitting on video tapes? Do you even have a VHS player anymore so you can re-live those memories? I'm sure so many people out there have loving memories tucked away inside a box – just waiting to be watched again. Now you can – with YesVideo.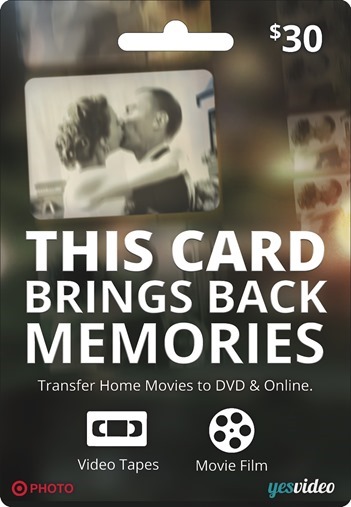 Looking for the perfect gift for your loved ones this Holiday season – Either transferring the videos for them, or getting them a gift card so they can do it themselves – it's a perfect option.  And now you can take care of that gift right at Target! Right now, You can purchase yourself or your loved ones $30 gift cards at Target that are good towards videotape or movie film transfers redeemable online through Target and YesVideo at http://targetphoto.yesvideo.com.
When the transfer is complete, you can choose to keep the movie in the cloud for access any time, or you can also order yourself a DVD copy to share! Your movies will be forever safe in a private online account where you'll be able to share publicly if you wish through social networks or email.
Also after the transfer,  all original materials will be returned.  Movie film will be cleaned, spliced and returned on new reels. So it could be a surprise, without your family even knowing that their movie was taken!
Don't forget to check out YesVideo online, too: @YesVideo on Twitter, YesVideo on Facebook, YesVideo's Blog  – And check out the Twitter party this Thursday for the chance to win some great prizes!
#RememberWhen Twitter Party – this Thursday
September 19th at 8PM CT
To celebrate the launch of their new Target Gift Cards, YesVideo will be giving away multiple gift cards during the twitter party. Gift cards will include Target retail gift cards that are good for use in Target stores, as well as a door prize of an Apple TV!  Definitely check this out, you don't want to miss a prize!
In order to be eligible for the Apple TV Door Prize – you must fill out the RSVP form, and be present during the twitter party to win.
Disclosure: I have been compensated for sharing this information with you. All opinions are 100% my own.