Having little guys means lots of 'STUFF' is needed. The lists are endless of what we have added to this house just because we have children!!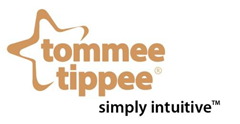 Tommee Tippee is an amazing brand of products that covers just about everything you need from breast pumps, to bottles, feeding gear, bibs, Sippy cups, and so much more! They are an awesome company with high quality products and amazing innovation. And, although I have purchased a few of the tommee tippee items for my kids (Bibs, Cups, Training Cups) I have now had the chance to officially review them!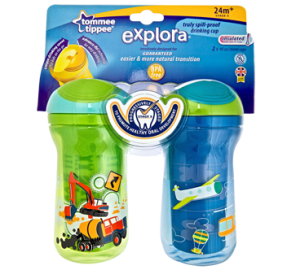 Being that I love to try new things, I figured I'd get a few good drinking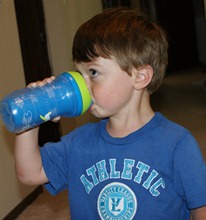 cups for Andrew. Their Explora Line is awesome for all the different stages of children! Andrew has always had a harder time drinking through Sippy cups that make you tilt your head backwards, and therefore he typically uses straw cups. But after getting some of these tommee tippee items, he's been able to do it (with a gentle reminder sometimes that he has to tip back!)
We *LOVE* the spill-proof valve system that tommee tippee uses.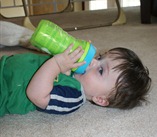 We've never had a leak, and they're easy to wash and easy to assemble. I love that they're all interchangeable too – Even the starter cups use the same valves as Andrew's big cup! After Ethan trying these out for himself, we went and bought him his own starter cup. He hasn't quite gotten the hang of the 'sucking' on the cup yet – though he likes to play with his big brothers cup

We were also able to sample the Bottles from tommee tippee! However – these did not go over quite as well. I am totally in love with their concept, the nipple is shaped great for babies, and love the formula inserts that the bottles have – but Ethan is used to a different bottle nipple, and has a harder time enjoying this one. For some reason, my husband can feed him from this bottle just fine, but I cannot. How's that for Nipple confusion, when he's not even a breast fed child any more?

Either way, I think they're awesome bottles still – and we're working on it.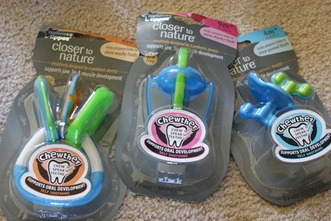 We were able to review the first three stages of Chewthers from tommee tippee as well – It seems that the 4m+ stage is his favorite so far – but he also loves to chew on the others as well. Maybe its just the smaller shape of the 4m+ chewther that is more appealing to him; or it could be that he is able to pinpoint the certain areas in his mouth that might be bothering him and feel good to chew with.
Overall:
So overall, I love the tommee tippee brand, I'm a huge fan – and spend many minutes looking over their stuff in the Babies 'R' Us Isles around here – That's the section that my husband worries about when I go into the store and tell him I'll be out in 5 minutes (yah, right!)
If you've got little ones – be sure to check out tommee tippee, because really – it's great quality, and affordable! Toys'R'Us often has their products buy 1 get one 50% off, so that would be a good place to start!

Giveaway!!!!
tommee tippee is offering a choice giveaway for my readers: So read carefully. You can Choose either:
A 5oz or 9oz Bottle + Choice of Chewther
-or-
A set of age appropriate Truly Spill-Proof Cups
Each of these choices also comes with a color choice!
Click for Instructions for entry
This first entry is MANDATORY: Take a look at www.tommeetippee.us/ and check out their products: Which prize would you like to win (size/age/color/style,etc)?
Optional Extra Entries: (only after mandatory entry is done!)
Subscribe to my blog via email
Like GrinningCheektoCheek on Facebook
Like Tommee Tippee on Facebook
Follow my blog publicly via GFC
Follow my blog via Networked Blogs
Post my Button on your blog. (two entries)
Blog about this giveaway, including a link directly to the giveaway (Five Entries)
Follow Tommee Tippee on Twitter
Follow GrinCheek2Cheek on Twitter on twitter and tweet about this giveaway: (this may be done twice daily, at least 2 hours apart)
Are you a tommee mommy? #Win some Tommee Tippee Products @GrinCheek2Cheek #Giveaway #baby Ends 8/19 http://goo.gl/D4enJ
NEW: Post my link on any of

that day's

CURRENT

Public Giveaway linky for this giveaway. Should say something like – GC2C– Tommee Tippee Products! – Ends 8/19 *and the link*. Comment to me the link to where you submitted it. (i.e. for a Tuesday Giveaway Linky – post it anytime before midnight that same Tuesday) One entry per linky posted on.
Open to U.S. only. Giveaway ends August 19th, 2011 at 11:59pm. Winner will be drawn by 'andthewinneris…' the following day, and will be e-mailed. Winner will have 48 hours to respond or a new winner will be drawn