Father's Day is this weekend, which means it's time to give all the fathers out there an extra special thank you! I know I don't thank my own dad enough for how much he has done for me, and I have a huge appreciation for my husband as we explore this new world of being parents. Raising children is hard work! To all the single mothers: I have a huge respect for you, I don't know how you do it!
Peter is an incredible dad who changes diapers, sings silly songs, makes funny faces, and plays games with our busy baby boy. On days I work, he is often home handling everything from happy giggles to screaming anger about unknown problems. He also does those things boys do best: gross bodily noises and high-energy playing. Micah is too young for sports and talking about girls, but he definitely likes it when his daddy blows raspberries on his belly or throws him in the air. Micah's first smiles and first laughs were for his daddy and I'm super excited to continue to see how the two bond as he grows.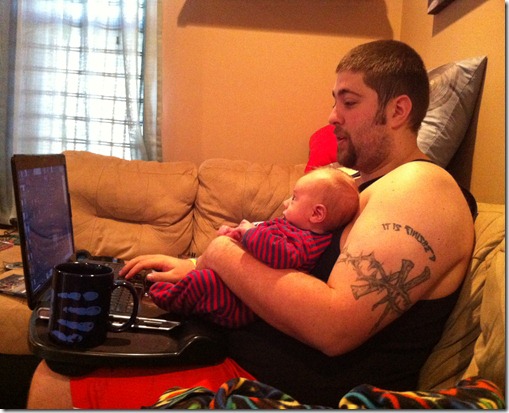 I also think of my own dad who always had a quiet way of being my biggest role model. He always worked hard all day and then came home to spend time with us kids. He instilled a love of camping and the outdoors in us, and he carried on family traditions like eating at the table and Sunday night popcorn and movie night. And that popcorn was unmatchable! Most of anything, he was a solid Christian man who desired for those values to be passed to us. When I went to college, he was the first one I went to for advice about anything technical, and the one I trusted most to give me advice about boys and the future.
Father's are irreplaceable and inspiring, and Oreo wants to help us celebrate them! If you haven't seen their super cute commercial on tv yet (or even if you have) check it out here. And pass it on to any dads in your life to put a smile on their faces!
I passed it along to Peter and laughed as he smiled at the little girl's song and questioned how little girls can have such high voices (as our own little boy squealed his delight in the background).
And what guy doesn't love those "wonderfilled" Oreos? So grab some Oreos and milk and go thank the dad in your life!
Speaking of, I'd better hide our package or they will all be gone within the hour…..
Win It!!!!
One Lucky GC2C Reader will WIN a Oreo Father's Day Package! It includes OREO cookies, a #1 Dad glass and a $25 grocery card for milk, so the special dad in your life will be able twist, lick and dunk his OREO cookies in style
How to Enter:
Mandatory Entry: Leave a comment about the dads in your life.
Then: Fill out the rafflecopter form.
Be sure to come back each day for extra entries!!    
Rules: You do not have to be a blogger to enter/win. An email address is required to enter. The winner will be chosen randomly through Rafflecopter and contacted via the email registered in rafflecopter. A reply to the winning email is required within 48 hours before a new winner is chosen. One person entering per household please. US only please.
This giveaway ends at 11:59 PM EST on June 28th, 2013 (After Father's Day, extend the celebration!)
I was given a similar Oreo's package in exchange for sharing this bit of information with you all. My opinions are 100% my own and are not influenced by compensation.