A garage is supposed to serve as an additional parking space and storage room, but without proper organization, a garage can turn into a dumping ground for misplaced tools and supplies. The key to reclaiming your parking space in the garage is to take advantage of wall and ceiling storage.
Ceiling Storage
Ceiling shelving is perfect for storing seasonal items like snowboards, camping equipment and big boxes. If your garage doesn't already have ceiling storage built in, you can buy metal ceiling shelves that attach to the ceiling with bolts and screws. Storing things on a ceiling shelf frees up a ton of floor space in a garage.
Install A Pegboard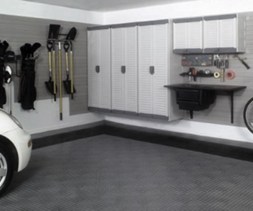 A pegboard is easy to install, reduces work bench clutter and keeps important tools organized. The metal hooks in a pegboard are capable of supporting most small tools like hammers, screw drivers, pliers and small levels. With larger hooks, it's possible to use the board to hold rakes and larger tools. A pegboard can hold dozens of tools at a time.
Tool Tower
Instead of scattering yard tools all over the garage, save space with a tool tower. A tool tower is a metal stand that houses long-handled tools like shovels, rakes, mops and hedge trimmers. The tower itself doesn't take up much space and fits in the corner of the garage. The base of the tower usually includes holders to prevent tools from falling out of place.
Ceiling Bicycle Hooks
Bikes consume a tremendous amount of space in a garage. Attach bike hooks to the ceiling and hang the bicycles for storage. Ceiling bike hooks are the cheapest, but there are also mounting kits for bikes, which are a little stronger than standalone hooks, and attach to the ceiling with several screws.
Stackable Bins
Instead of using large boxes and trash containers to organize things in your garage, buy stackable bins. These plastic bins hold a lot of items and conveniently stack on top of each other for compact storage. Stacking bins are great for holding recyclables and the bins consume less space than large trash containers.
This is a sponsored post from Mid-Atlantic Door Group, a professional garage door repair company offering garage door products and services to businesses and residents in the Mid-Atlantic.