Tips for Buying a Kid-friendly Car
This post is sponsored by Cars.com. Opinions are 100% my own.
If you are in the market for a new car, I'm sure you are thinking about how to get ones that will work for everyone in the family. Especially when kids are little, it's important to get a car that will make life with littles easier. So here are some things we considered when buying ours!
1) Easy to install car seats. This means checking for LATCH ability, having enough space in the backseat to maneuver a seat inside, and no awkward angles in the doorway or seats to work around. Also keep in mind that folding seats don't fold with carseats in them, so don't bet on folding them down frequently if you are hauling car seats in them.
2) Cargo Space. Taking kids places also means taking their stuff! Whether to sports, vacation, or just daily use, kids mean more stuff. So the cargo space needs to be large enough for all that stuff. You know best how much you typically haul around.
3) Backseat space. On top of stuff in the truck, kids like toys and snacks around them in their seat. Get a vehicle with a good amount of space next to and around them for their toys and their feet. And cup holders! Plus don't forget how much they like to kick their legs and that those same legs will keep growing. Backseats that can slide back and forth are nice to make leg and cargo space flexible.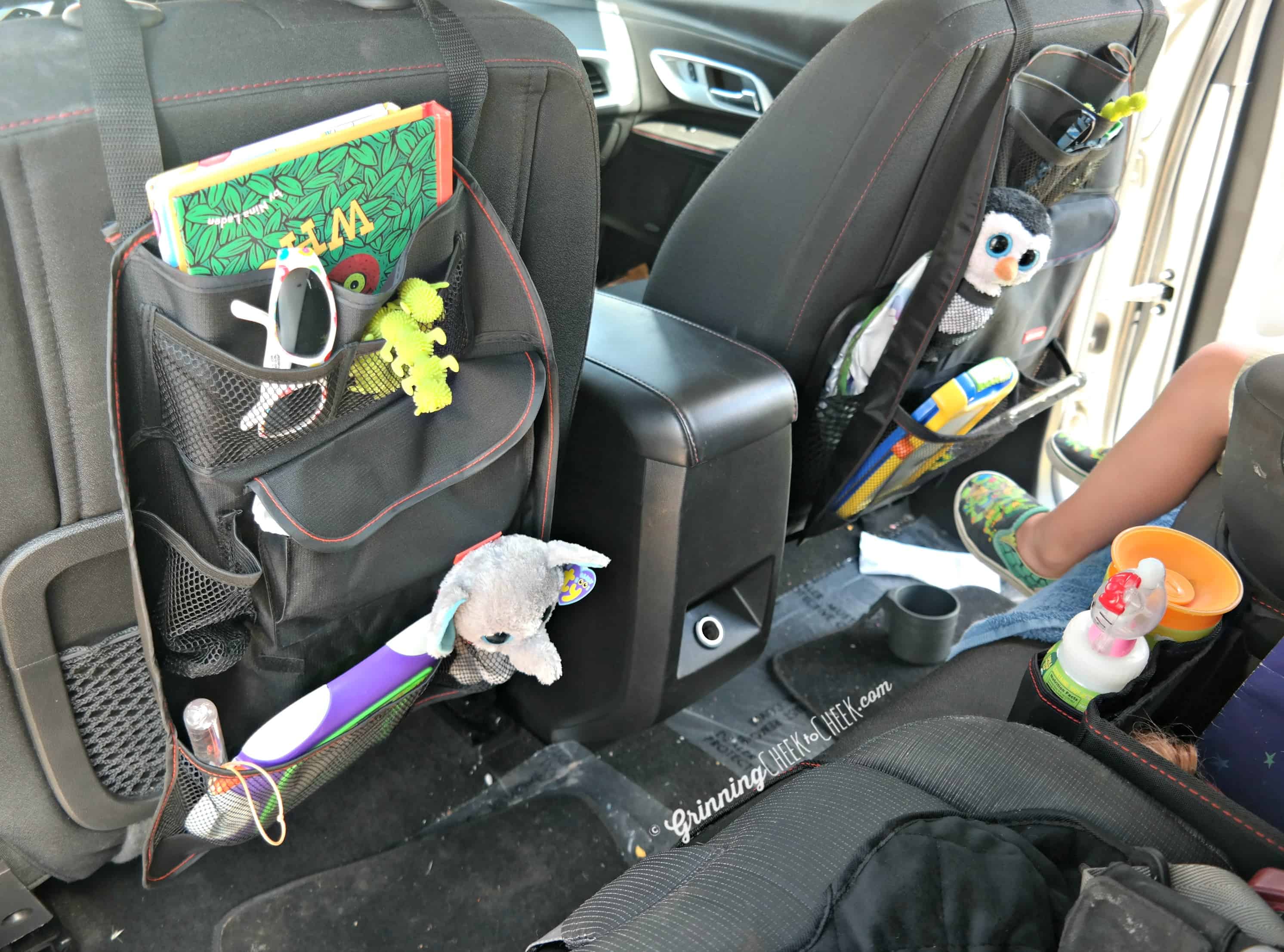 4) Clean-ability. Kids are messy. Pick a car that will be easy to clean. And one that you won't be heartbroken if something gets staine or broken by accident.
5) Technology. If you go on frequent road-trips and want your kids to be able to watch tv on the road, get a car with built-in tvs. If they love music, make sure the radio has all the music options you want. If tablets are their addiction, make sure there is a power source accessible. For all the technology in the car, the easier they are to operate the better. If you can't quickly hit buttons to make things happen while telling your kids to chill while watching the road, it's useless.
6) Enough Seats. If you have two kids and plan on having more, get something with a third row. It's possible to fit 3 carseats across a single row, but not easy. And growing kids will want to bring friends or grandma with someday, so extra seats will come in super handy.
7) You. Your kids aren't the only people in the car. Keep in mind what will make them happy and comfortable, but make sure you consier your needs and interests as well. You are the one driving, make sure your seat is comfortable, everything is in easy reach, and you like the car too! If you aren't comfortable, you can't manage your kids as well either.
8)
Uses.
What you use your car for drastically changes your needs. If you only use it in town, it just needs to be easy to get in and out of. If you drive 30+ minutes daily, the extras and conveniences are helpful. If you are frequently taking
road trips
, the cars ability to drive long-distance and the interior extras that make road-trips more kid-friendly are way more important.
Best of luck in your car-hunting endeavors! Check out
Cars.com
to get a good look at your options and start narrowing down your choices today.