Tiny Love Magical Night Mobile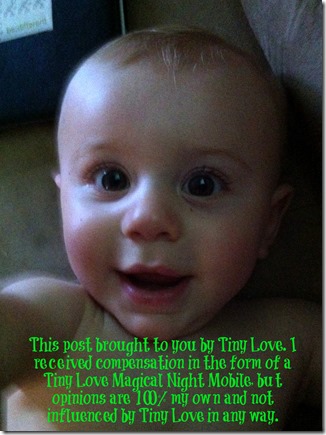 Babies love lights, sounds and movement and a mobile is a great way to bring all these things together for entertainment, relaxation, and putting a baby to sleep. The Tiny Love Magical Night Mobile is a wonderful mobile and night light that grows with baby and Micah loved it! The Magical Night Mobile has 3 different setups: from a newborn mobile to a baby picture show to a big kid nightlight.
So Exited about my Mobile!
As soon as I received my Tiny Love Magical Mobile in the mail, I opened it up and put it together, totally bypassing the instructions. The setup was so simple, the only thing I needed the instructions for was to know that it takes C batteries (I was surprised, since most of Micah's toys take D). So, I ran to the store, bought some C batteries, and had it up and running before Micah woke up from his nap.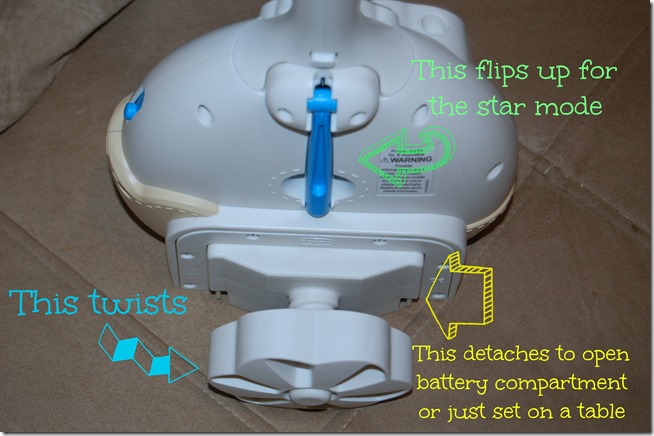 The Magical Night Mobile is so fun!
Micah immediately wanted to play with it, so we started in mobile form on the edge of the changing table. This setup is recommended for 5 months or younger and I quickly saw why: Micah could reach the animals. But he tugged and tugged (he's no weakling) and the mobile held strong. So we took off the mobile arm and turned off the lights to watch the picture show! It took a few minutes to figure out how to get the picture to project to the right spot, but since the mobile is super easy to place, when I found the spot that worked to see the picture right I could easily leave the base there.
Who doesn't love options? The Tiny Love Magical Night Mobile has so many options!
Setup Options: You can easily switch between the mobile, pictures, or a blue star night light. Micah just lights up when I start the music and immediately starts looking for the pictures on the ceiling. He is totally fascinated by the animals on the ceiling that he doesn't even notice I've left him alone to be eventually mesmerized to sleep for a nap. And I'm looking forward to using it as a night light when he starts being scared of the dark.
Music Options: There are 9 cute songs in 3 categories: classical, lullaby, and nature. No matter what, it plays for 30 minutes. The songs are simple and childlike. The only sound it doesn't have is a heartbeat, which seems to relax Micah best, but the songs are soothing enough that he still falls asleep to them.
Volume Options: With buttons to change the volume or even mute it, it is super easy to adjust how loud the Tiny Love Magical Night Mobile plays. When you turn it totally off, it does default back to a medium volume, which is the level that works best for Micah's nursery anyways!
Mobile Options: Within the mobile format, you can make it do any combination of music, lights and/or mobile movement by moving the switch on the side or hitting the mute button. So no matter what helps Micah fall asleep, I can make it happen!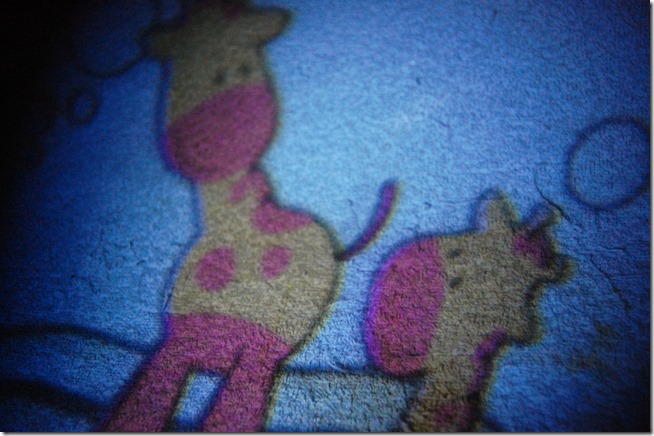 My 6 month old LOVES his Tiny Love Magical Night Mobile!
I've been using the mobile for naptime, anything with lights just seems like a lot of stimulation for bedtime. It also makes a great tool to keep him lying on his back for diaper changes. And the cute little animals off the mobile portion easily come off for him to play with or hang on his carseat! And the base (that projects the pictures) is small and light so it's easy to bring with us to grandma's house.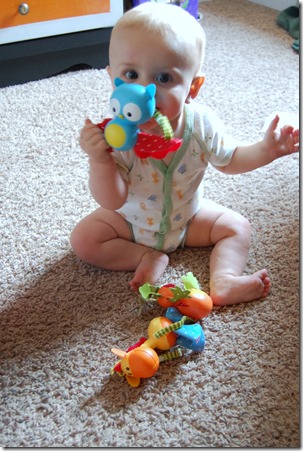 Get One for Yourself!
Check out Tiny Love here, or on facebook! Tiny Love Magical Night Mobile retails for $69.99.
Or Win One right here with us!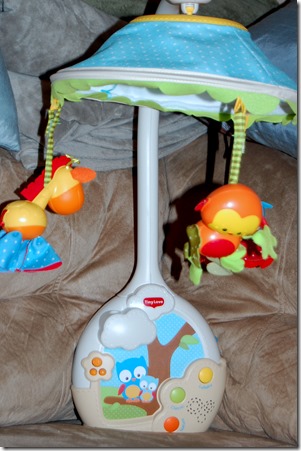 One Lucky Reader will win a Tiny Love Magical Night Mobile~
How to Enter:
Mandatory Entry: Leave a comment about your baby's favorite toy, or if you are expecting your favorite baby toy waiting for the baby to play with!
Then: Fill out the Rafflecopter form.
Be sure to come back each day for extra entries!!    
Rules: You do not have to be a blogger to enter/win. An email address is required to enter. The winner will be chosen randomly through Rafflecopter and contacted via the email registered in Rafflecopter. A reply to the winning email is required within 48 hours before a new winner is chosen. One person entering per household please. US or Canada only please.
This giveaway ends at 11:59 PM EST on August 2nd, 2013